Thing to do in Hue – Hue is a land of cultural heritage with many lyrical poetic natural scenery and typical royal cuisine.
With so many choices, you are wondering what to eat, what to play in Hue for first time? Or you have a chance to come back again, but you don't know where to go. Here, Kha Tran car rental would like to share best things to do in Hue with you, do not miss it!
See more >> Hue tourism: Travel handbook from A to Z
Visiting the Hue Imperial Citadel
If you want to visit the king's palace and to feel the ancient beauty of this city clearly, the first place you must set foot is the Hue Citadel.
Located on the northern bank of the poetic Huong River, just pass Phu Xuan Bridge, you can admire the majestic part of this architecture. Hue Citadel was built on an area of ​​500ha, including Hoang Thanh (royal citadel) and Tu Cam Thanh (forbidden citadel). Hue Citadel is one of the relics belonging to Hue Citadel Complex, which was recognized by UNESCO as a world cultural heritage in 1993.
This architectural work is famous for its ancient, unique architecture, imbued with national historical identity, express the authority of the Nguyen Kings.
Hue citadel has more than 100 buildings with different highlights and functions. This is the place where you can freely admire and produce artistic photos such as Ngo Mon Gate, Thai To Mieu, Thai Hoa Palace … Or just with the ancient walls become artistic in your photos.
See more >> Hue Citadel – Discover the history of The Nguyen dynasty
Dropping by the tombs of the Kings
Tombs are places where Kings and Lords to rest while being alive and also to bury the King when being dead. Therefore, it is not gloomy, cold but very prominent, each tomb represents a unique architecture, the characters and lifestyle of each King.
Tomb system of Hue currently has 7 tombs, each tomb has its own architecture and beauty. However, if not having enough time, the 3 following tombs will be the suggestion that Kha Tran would like to give you first:
Khai Dinh tomb
Location: Chau Chu mountain, Thuy Bang commune, Huong Thuy district, 10km from Hue city
The architecture of Khai Dinh Tomb is considered to be top of the making porcelain and glass art in all tombs in Hue.
The mausoleum is arranged outside the traditional architecture of the Nguyen Dynasty by the incredible blend of East-West style and unique porcelain mosaics.
See more >> Khai Dinh Tomb – The Most Unique Architectural In Hue
Coming here, you will visit Cung Thien Dinh Palace which is also the highest rank and also the main architecture of the mausoleum. You will admire the interior of the palace having high artistic value, is decorated with grafting of porcelain and stained glass. Especially, the bronze statue of Khai Dinh was cast in France in 1922 will make you impressed because of its magnificence and splendor.
Because of being an unique architectural work and admirable artistic value, Khai Dinh Tomb becomes one of hue must see sights when traveling here.
Minh Mang tomb
Address: Cam Khe mountain, near Bang Lang junction, 12 km from Hue city.
This is the most majestic tomb of all the tombs. Coming to Minh Mang tomb, you definitely have to visit Minh Lau – the works with the most outstanding architectural value in the tomb area.
It is a place where the King often comes to at the moonlit nights to rest and enjoy the moon. Moreover, harmony with nature is also what brings excitement to visitors. This is reflected in the winding roads used to rest by the lake and around the mausoleum.
See more >> Minh Mang Mausoleum – The perfect beauty of architecture and nature
Tu Duc Tomb
Address: Duong Xuan Thuong Hamlet, Thuong Ba Village, Thuy Xuan Ward.
This tomb was built by Tu Duc King during the reign. Tombs have sophisticated architecture, charming landscapes and it is one of the most romantic mausoleums you have ever known.
Why is it so romantic? Because Tu Duc King is a man with elegant style, reserved, being keen on writing poetry and is the most profound of Nguyen Dynasty. More than 12ha, Tu Duc tomb has nearly 50 constructions, large and small, with poetic and beautiful scenes.
See more >> Discovering Tu Duc Tomb
When you come here, Luu Khiem lake – where the King stops to watch flowers, read books, write poems, will make you overwhelmed by its charming. In particular, in the middle of the lake is Tinh Khiem island where the King grows flowers and raises rare and precious animals, will make you surprised by the scenery here.
If you having a lot of time, visit these remaining tombs:
Thieu Tri tomb: Cu Chanh village, Thuy Bang commune, Huong Thuy district, 8 km from the city
Gia Long tomb: Huong Tho commune, Huong Tra district
Dong Khanh tomb: Thuong Hai Hamlet, Thuy Xuan Ward
Duc Duc tomb: Tay Nhat Village, An Cuu Ward
Setting foot on Truong Tien Bridge
Coming to Hue icon, do not forget to visit Truong Tien Bridge. Truong Tien Bridge has been associated with the Huong River for more than 115 years. The bridge is designed in Gothic architecture by the famous architect Gustave Eiffel – the person creating the Eiffel Tower and the Statue of Liberty.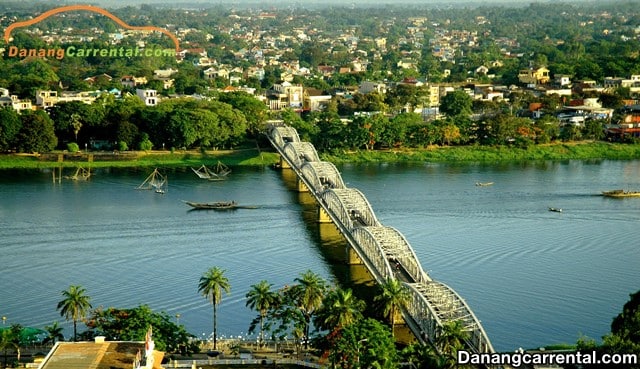 When coming to Truong Tien Bridge, if possible, you can dress in purple "Ao dai" to once transform into a gentle, loving Hue girl.
Enjoying the scenery by cyclo
The special form of transportation in Hue that you can hardly find anywhere is cyclo tourism. You can stroll around the city center to see the life of the people here, one round to Truong Tien Bridge to admire the romantic Perfume River. Or slowly explore the ancient streets.
On the way, you can stop anywhere to eat a typical dish, take a picture or choose for yourself lovely souvenirs.
Going to Dong Ba market
If not knowing what to eat, what to buy as a gift when coming to Hue, go to Dong Ba market right away! Not only small gift bags for relatives and friends, but also a place for you to better understand the people, culture and cuisine of Hue land.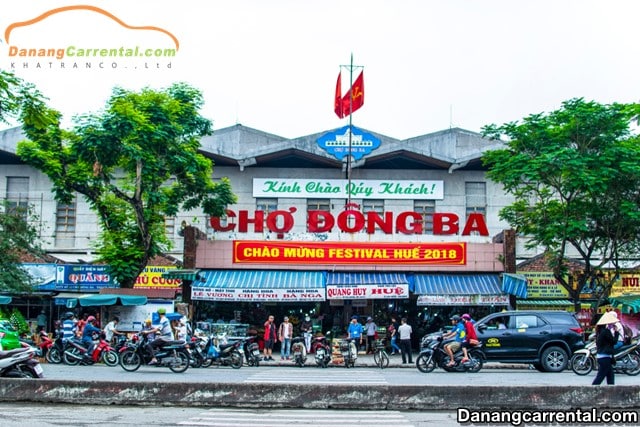 Dong Ba is the busiest and most famous market of Hue. All items of specialties, handicrafts, "Ao dai", silk … are concentrated here. Dong Ba is an ideal place for you to choose original Hue gifts to give to relatives and friends.
See more >> Discover Dong Ba Market – The Most Famous Market Of Hue
Visiting the Hue garden house
So far, Hue has still existed hundreds of garden houses like that, but if possible, you should visit An Hien garden house – the best and most typical garden house of Hue.
The garden is currently located at 58 Nguyen Phuc Nguyen Street, 500m from Thien Mu Pagoda.
Coming to An Hien, you will visit the garden and the house. Discover the artifacts of the old An Hien mistress. Listen to Hue traditional folk songs in a new house built up in the corner of the garden.
See more >> Visiting Hue Garden House
Visiting Thien Mu Pagoda
Thien Mu Pagoda stands out with Phuoc Duyen Tower standing majestically in front of the temple gate, makes anyone impressed and unforgettable.
Not only romantic by charming scenery, but Thien Mu pagoda is famous for the legend of the graceful curse of love as well. However, the temple is still a place of calm and peace in the mind of Hue people . So what you definitely have to do when coming here is to try to visit Thien Mu Pagoda once.
Sitting on a dragon boat to listening to Hue traditional folk songs on the Perfume River:
At night, the Perfume River will wear bright lights from the surrounding bridges and restaurants. This is an ideal time for you to take a boat on the Perfume River and listen to Hue folk songs on the dragon boat. This hobby is something you will not want to miss when visiting here.
See more >> Discover the beauty of Thien Mu pagoda
Enjoy Hue Royal Music
This elegant pleasure is quite picky, but if you have the opportunity, you should try to enjoy UNESCO's "Masterpieces of oral transmission and intangible objects".
See more >> Nha Nhac of Hue Court – Wonderful Cultural Heritage Of The World
Taste the Hue flavor with rustic delicious food
When coming to Hue, you will enjoy countless dishes from the rustic to the royal court. But the following dishes you should try at least once to know the taste of Hue food.
Bun Bo Hue
When you come to Hue without eating Bun Bo Hue. What is a pity! Bun Bo Hue will have the smell of lemongrass and crab rolls extremely delicious.
Here, there are some suggestions for you : Along Nguyen Hue Street, Ba Tuyet 47 Nguyen Cong Tru, Cam 45 Le Loi, …
"Com Hen" – Best street food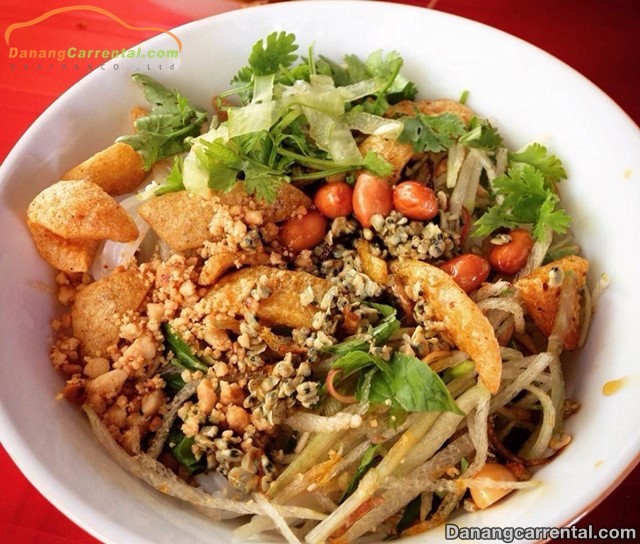 If you are tired of the noodles, you should try "Com Hen" Hue dish that everyone has to remember forever. Rice mixed with sliced ​​banana tree, few herbs with shrimp, peanuts, fried onions, lots of mussels. Adding sweet soup from mussel will make your stomach more warmer when enjoying it in cold weather.
Address: Along Han Mac Tu, Truong Dinh, …
Hue cake
Hue has also a lot of interesting destinations that are worth exploring. Hopefully some above suggestions about best things to do in Hue will help you quickly take your backpack up and come here.
Kha Tran car rental will accompany you in the process of exploring Hue when contacting us via hotline: Ms Katharine: (+84) 91 651 02 01 or (+84) 34 797 67 89.
Wish you and your family a happy journey and many memorable experiences in Viet Nam.
---
For booking or any information please feel free to contact us:
KHA TRAN TRADING & SERVICE COMPANY LIMITED
ENGLISH SPEAKER HOTLINE – LINE – WECHAT – WHATSAPP: (+84) 91 651 02 01
Website: danangcarrental.com
Fanpage Facebook: fb.com/danangcarrental/
Hotline (Ms Katharine): (+84) 91 651 02 01 – (+84) 34 797 67 89
Email: danangcar6789@gmail.com (Sales) – khatrancarrental@gmail.com (Manager)
Office in Da Nang: No.12 Bui Xuan Phai Street, ThuanPhuoc Ward, Hai Chau District, Viet Nam