Danang to Hoi An private car with English speaking drivers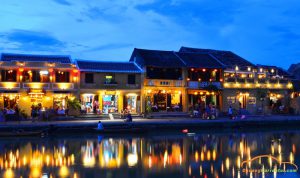 Hoi An ancient town is an ancient city, located in the lower Thu Bon River, Quang Nam province. It takes about 1 hour to transfer from Da Nang to Hoi An and 3 hours from Hue to Hoi An. In Hoi An, there are many landscapes and ancient houses such as Pagoda Bridge, Assembly Hall Phuc Kien, Tan Ky Ancient House, Tran Family Chapel,…
Especially Vinpearl Land South Hoi An is a new attraction in Hoi An.
Arriving to Hoi An, from Hanoi or Ho Chi Minh City, you can flight directly to Da Nang Airport to save time.
HOW TO GET FROM DA NANG TO HOI AN
The distance between Danang and Hoi An is about 40 km, and you have to spend nearly 1 hour moving.
How about Danang to Hoi An taxi ?
The price of taxi service is quite high.  It is charging in the range of 12,000 to 13,000 dong per kilometer. If you transfer by taxi service, the price is 370,000 – 450,000 VND (approximately 16 – 20 $). Moreover, going by taxi will be not safe if you do not choose the reliable company.
Why should you choose our private car service? 
If you are looking for a transportation to transfer from Danang to Hoi An , and vice versa, don't hesitate to choose our car rental service. We specialize in providing car rental service between Da Nang and Hoi An such as: private car Da Nang to Hoi An, Da Nang Airport to Hoi An by transfer service.
6 things to choose our Danang to Hoi An private car
Quick booking – simple process;
If you book in round-trip car rental, sale off 15% in second way;
Newly updated & luxury car fleet, model 2018 or above;
Attentive, professional & non-smoking driving team and cell-phone using is not allowed while driving;
Our car fleet is available for any extensive booking;
Advanced policies for entrepreneurs and loyal customers;
There is no hidden cost.
 3 options that you can choose
Option 1: Transfer Da Nang to Hoi An with English – speaking drivers
Danang to Hoi An private car:
Our vehicles is modern and update every year, friendly and experienced drives. Our driver will pick you up at anytime and anywhere. When coming to Hoi An, our driver will drop you off at your hotel.
Transfer from Da Nang Airport to Hoi An (or Hoi An to Da Nang Airport)
You need provide us the code of flight or flight number, when your flight take off
We will pick you up at airport and back to hotel with you
Welcome Board is already for you to recognize our driver
Option 2: Da Nang to Hoi An with sightseeing

(or Da Nang Airport to Hoi An with sightseeing)
If you have more time, don't want to get Hoi An early and want to see the beauty of Da Nang on the path. You can choose this option, it is the best for your choice. Our driver will pick you up at your location and then start to transfer to Hoi An. On the way, our driver will stop in 3 destinations.
My Khe Beach:
Is a popular tourist destination in Da Nang, attracting a lot of domestic and foreign tourists. Not only the most beautiful beach in Da Nang, but also considered one of the six most attractive beaches on the world by the US magazine – Forbes.
Marble Mountain:
Is well-known as pagodas, caves, traditional stone villages and five mountain are the name of 5 elements in nature: Kim (metal), Thuy (water), Moc (wood), Hoa (fire) and Tho (earth).
Linh Ung pagoda – Son Tra peninsula: 
Son Tra Peninsula is a "precious jewel" of Da Nang tourism with many beautiful landscapes. Linh Ung Pagoda in Son Tra Peninsula is one of the most popular tourist spots in Da Nang. The pagoda is located in a very beautiful position at an altitude of 693m above sea level.
After finished to visit these places, we continue to travel to Hoi An. Upon arriving in Hoi An, our driver will drop you off in Hotel or anywhere you wish. It's the end of the journey to transfer from Danang to Hoi An.
Option 3: Exploring Viet Nam with Long – term car rental
If you have plan to explore Central of Viet Nam and South of Viet Nam, long – term car rental is an ideal choice. In this option, you have opportunity to explore many sightseeing on the path from Da Nang to Hoi An, Da Lat, Sai Gon, Vung Tau,… All of them are the beauty destinations such as Da Lat is known as "Land of Love", Sai Gon as "Modern City", Vung Tau is famous for beautiful beaches,… We always have 2 drivers to make sure your safety through the journey.
PRICE IN USD DANANG TO HOI AN PRIVATE CAR
| ROUTES  | Km | Duration | 4S | 7S | 9S | 16S | 29S | 35S | 45S |
| --- | --- | --- | --- | --- | --- | --- | --- | --- | --- |
| Da Nang - Hoi An/a way | 40 | | 35 | 40 | 90 | 45 | 70 | 80 | 100 |
| Da Nang Airport - Hoi An | 40 | | 35 | 40 | 100 | 45 | 70 | 80 | 100 |
| Danang - Hoi An sightseeing - Danang | 80 | 8h | 70 | 75 | 150 | 85 | 150 | 190 | 230 |
| Hotels in Danang center - My Son - Hoian - Danang | 200 | 12h | 90 | 95 | 190 | 105 | 210 | 250 | 300 |
| Danang - Hue - Hoian - Komtum - Ban Me Thuot - Dalat - Saigon | | 7 days | 1100 | 1150 | 1950 | 1290 | 1690 | 1900 | 2350 |
| Danang - Hoian - Hue - Komtum - Ban Me Thuot - Dalat - Vung Tau - Saigon | | 7 days | 1200 | 1270 | 2090 | 1390 | 1790 | 2000 | 2490 |
Some information for you before booking
The prices is in include fuel, fees, tolls parking fees, passenger insurance;
There is no hidden cost;
If you use the car beyond the km and the time under the contract is committed, the surcharge will be charged, the surcharge is clearly stated in the car lease contract;
You need to provide information: point and pick up time, number of person;
If your flight number has changed, please notify us as soon as possible so that the driver can keep track of your flight status;
We also provide car baby seats and wheelchair if required
Kha Tran Car Rental 's commitment:
The price stated on the car lease contract, no hidden cost;
Safe driving, full professional training, polite, friendly, English speaking drivers (if required);
High quality vehicles (2018 model or above), equipped with fridge and Free Wi-fi – Wet Tissues – Mineral Water;
Pick up, drop off anywhere and anytime, on time.
In Hoi An, to  be more convenient for sightseeing, visitors can use Hoi An car rental service.
See more: 
>> Car rental from Da Nang to Hue
>> Da Nang Airport Tranfer
>> Da Nang car rental with driver
Note:
Rate is quoted in USD, however payment will be settled in VND according to daily exchange rate (Vietcombank/ State bank)
Rate is not applied for festival seasons
Please make reservation at least before 24 hours. And provide us your flight details and accommodation detail.
Fleet Car in Kha Tran Car rental: Manufactured from 2018 to 2021
4 seats:Toyota Vios, Toyota Altis, Mazda 3, Mazda CX-5
7 seater: Toyota Innova, Toyota Fortuner
9 seats: Ford Dcar Limousine
16 mini van: Ford Transit, Hyundai Solati, Dcar Limousine
29 seater bus: Isuzu Samco, Thaco Town, Hyundai County, Dcar Limousine
35 seater bus: Isuzu Samco, Thaco Town
45 seater bus: Hyundai Universe, Hyundai Hiclass
For more information and booking, please send your inquiries at:
KHA TRAN TRAVEL & TRANSPORT CO.LTD
ENGLISH SPEAKER HOTLINE – LINE – WECHAT – WHATSAPP: (+84) 91 651 02 01
Website:danangcarrental.com
Fanpage Facebook:fb.com/danangcarrental/
Hotline (Ms.Katharine): (+84) 916510201 – (+84) 34 797 6789 
Email: danangcar6789@gmail.com (Sales) – khatrancarrental@gmail.com (Manager)
Office in Da Nang: No.12 Bui Xuan Phai Street, ThuanPhuoc Ward, Hai Chau District, Viet Nam.
We also supply business and Danang to Hoi An private car, tour car rental services in Da Nang, Hue, Hoi An daily, monthly or long term period with special offers. Please contact us via email danangcar6789@gmail.com for detail information
Booking Online
Car Rental service in Da Nang, Hue, Hoi An – Kha Tran Car Rental