Ba Na or Ba Na Hills  is located in Hoa Ninh commune, Hoa Vang district, about 30 km southwest of Da Nang city center. Ba Na Hills has a cool climate all year round, at an altitude of 1,489 meters above sea level. The average temperature is between 15 and 20 degrees Celsius.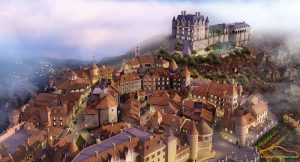 Ideal time to visit Ba Na
If visitors like exciting and animated, the most suitable time is from April to September each year. From November to January is for visitors who want a peaceful space.
Where to buy tickets? How to price Ba Na Hills?
Visitors can book tickets at Ba Na Hills sales office at 93 Nguyen Van Linh, Hai Chau, Da Nang.
Tel :  +84 (0236) 3.749.888 /   Email : banahills@sunworld.vn
HOTLINE: 0905 766 777 /  0905 753 777 or at the ticket stand at the foot of the mountain.
Adults and children over 1m3: 700,000 VND and 600.000 VND for children (1m-1.3m) . Children under 1.0m in height are free.
Price for Da Nang resident is 400.000 vnd for adult and 300.000 for Children (1m-1,3m). Children under 1.0m in height are free.
Remarks
The above prices include return Cable car fees
Include 10% of VAT
The above prices include all free games in Fantasy Park: over 105 games and free Knight Game (Chute).
Included entrance fees for Funicular, Debay ancient wine cellar & Le Jardin D'Amour' Fee)
The above prices exclude the fee for visiting Wax Museum, cotton animal game and carnival skill at Fantasy Park
How to transfer from Da Nang to Ba Na Hills?
From Da Nang city center to Ba Na Hills, there are many ways by motorbike, taxi, Car rental from Da Nang to Ba Na Hills, bus,…
Motorbike
With friends, the best choice is motorbike for rent. The price is from 100.000 vnđ – 150.000 vnđ / 1 day/1 motorbike. Visitors can watch the entire city of Da Nang on high and stop to take pictures. Visitor can contact the hotel for advice and rent the cheapest.
Bus
Tickets are around 150,000 VND for return – ticket and 100,000 VND for 1 way. This ticket includes guide staff, a 500ml bottle of water, pick up and drop off in urban areas of Da Nang. Departure time in Da Nang is from 7h30 to 8am and Departure time in Ba Na is from 14h30 to 15h30 every day. It takes about 70-80 minutes from Da Nang to Ba Na Hills.
Taxi
Taxis are the most convenient transfer from Da Nang to Ba Na Hills for group 4-7 people. The taxi fare is around VND 350.000 – 420.000 for 1 way and between VND 500.000 and 600,000 for return – ticket (standby time is 4 hour). Visitor can refer to the following taxi company numbers:
Mai Linh Taxi: 0236.3.52.52.52 or 0236.3.522.666
Tien Sa Taxi: 0236.3.79.79.79
Han River Taxi: 0236.3.655.655
Vinashin Taxi: 0236.3.82.82.82
Airport Taxi: 0236.3.27.27.27
Private car from Danang to Bana Hills

Car rental from Da Nang to Ba Na is the most popular form of car rental for visitors. Visitors have flexible time, enjoy the beautiful scenery in the journey form Da Nang to Ba Na. Da Nang Car rental is a prestigious address that visitors can choose. Visitors can view more details and booking on website danangcarrental.com or hotline  (+84) 91 651 02 01 – (+84) 34 797 6789. 
PRICE IN USD PER CAR FROM DA NANG TO BA NA HILLS
| | | | | | | | | | |
| --- | --- | --- | --- | --- | --- | --- | --- | --- | --- |
| ROUTES | Km | Duration | 5S | 7S | 9S | 16S | 29S | 35S | 45S |
| Hotels in Da Nang center – Bana hills – Da Nang | | 7:00 | 65 | 70 | 150 | 75 | 120 | 150 | 190 |
See more: 
Service Includes:
New and air conditioned car, Fuel, Driver Allowance
Toll fee and parking fee
Free wifi – Wet Tissues – Mineral Water
Note
Rate in USD/ transfer
Rate is quoted in USD, however payment will be settled in VND according to daily exchange rate of the State bank or Vietcombank
Fleet car of Kha Tran – Da Nang car rental services: Model 2016 – 2018
9 seats VIP Ford Dcar Limousine
4 seats car: Chevrolet Cruze; Toyota Vios; Toyota Altis; Toyota Altis; Toyota Camry; Mercesdes C200, C250, E250; Audi A4, A5, A6, A7.
7 seats car: Toyota Innova; For Everest; Chevrolet Captival; Toyota Fortunner; Huyndai Santafe.
16 seats minibus car: Ford Transit; Mercedes Printer (model 2010 – 2012); Toyota Hiace.
24 – 29 seats car: Isuzu Samco; Huyndai County; Thaco County; Thaco Town.
34 seats car: Huyndai Thaco; Isuzu Samco; Thaco Town; Huyndai Univer.
45 seats car: Huyndai Universe; Huyndai Space; Huyndai Hiclass.
For booking or any information please feel free to contact us:
ENGLISH SPEAKER HOTLINE – LINE – WECHAT – WHATSAPP: (+84) 91 651 02 01
We also supply bussiness and tour car rental services in Da Nang, Hue, Hoi An daily, monthly or long term period with special offers. Please email us danangcar6789@gmail.com for detail information
Booking Online