Dong Ba Market is a famous stop for visitors who loves shopping and walking. Experience Hue tourism, just visit the Dong Ba Hue, you can enjoy the full flavor of Hue and bring home the most special gifts in just one afternoon. Kha Tran car rental would like to share this exciting destination for you to keep in note.
Like many other important markets in every province and city across the country, Dong Ba market also has enough goods to serve life and souvenirs with the essence of art Hue, so that you can buy as gifts for your family and relatives when visiting Hue.
History of Dong Ba Market
At a different side, Dong Ba Market – Hue  with many historical events from its inception. Dong Ba market under King Gia Long is outside Chanh Dong Gate (East Gate). After the 1885, the market was destroyed by the French colonialists. In 1887, King Dong Khanh rebuilt with the name "Dong Ba market". In 1899, King Thanh Thai moved from Dong Ba Market to its current location.
With a history of more than 100 years, Dong Ba market has been associated with many ups and downs of Hue old capital during the resistance war against French colonialism and American imperialism. Since the establishment of the Dong Ba Market, it has actively responded to anti-tax, anti-soldier movements and support of patriotic activists.
See more >> Hue car rental
The best time to visit Dong Ba Market
In order to have the most enjoyable experience at Dong Ba Market, you should start your journey around 3:00 pm because of the following reasons:
Hue is very hot in the summer. Therefore, most of the tours or self-discovery schedules are often preferred destinations for example Hue's mausoleums, pagodas departing in the morning. In the afternoon, experience the Dong Ba market in this time will help you not to waste a precious holiday.
Hue people are very delicate in every way of life, so it is difficult to avoid trading hard people. There will be no good experience if you have difficulty picking up or putting down bargains for items that you like in the morning.
Dong Ba market Hue is very different in other markets in Thua Thien Hue province, the stalls at Dong Ba market open from early morning to late evening. However, the best food tavern only really sells bustling late in the afternoon.
So, starting at 3:00 pm with rich booths to glitter and shopping delight without any worries and obstacles, then ended with charming Hue specialties in Dong Ba market. What is a precious experience, isn't it?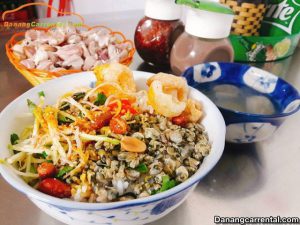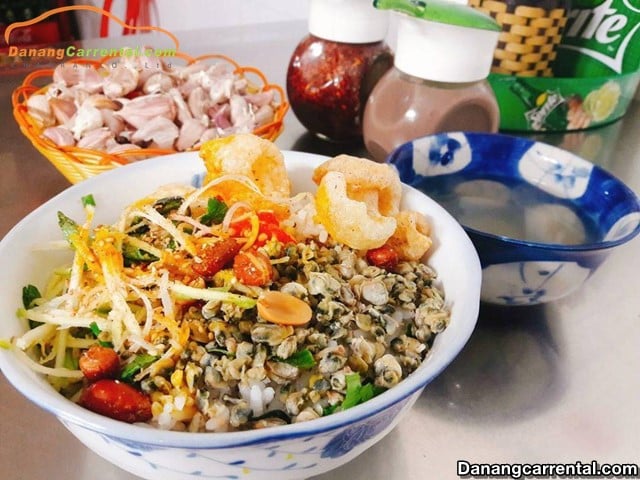 What is there interesting in Dong Ba market Hue?
Dong Ba area
Dong Ba market extends from Gia Hoi bridge to Truong Tien bridge with an area of nearly 15,600 m². There are thousands of lots of stalls for sale, if you do not have the orientation, you are very easy to lose and miss many interesting options.
Dong Ba Market Hue Vietnam is a square three-storey building, called "bell tower".
First floor – Floor of Hue specialities:Hue conical hat, mam, tom chua,…
The first floor is a home of the stalls selling various types of dried seafood and dozens of kinds of Hue specialty fish sauce, from shrimp paste, shellfish sauce, shrimp paste sauce.
Here is also the place for the dry seafood of the Central and sauces (specialty Hue) …. These types of sauce are very delicious, so don't forget to buy some as a gift for your friends or relatives.
Second floor – floor of souvenir and fine arts
Drop by the second floor many customers are not dazzled with the art crafts as souvenirs Hue tourism. From the leaf hat of Phu Cam village, the scissors of the smithy village of Hien Luong, to the exquisite pieces of jewelery village of Ke Mon. A little more pottery village of Phuoc Tich. Here, we also encounter the famous cast products such as incensory, bronze bell is sold in Ngo Mon Gate.
Third floor – floor of farbic and cloth
To choose for themselves the beautiful ao dai, go to the 3rd floor. In addition, here you can choose your favorite clothes, traditional Hue costumes. The price here is not expensive, but remember to ask for price before you buy it!
Gastronomy area with a variety of food
Go to Dong Ba market Hue you can not ignore the food here. If you accidentally come across the food court, you will certainly be very difficult to get out of there, because the food here is not only delicious, strange, beautiful, but also extremely cheap.
The dishes that you should try at the market are "bun nghe"(turmeric vermicelli), "bun thit nuong" banh canh Nam Pho ,banh loc, beo, nam, mixed tea, pleasure cake, nam cake, roasted pork tea …
Along with Truong Tien Bridge, Perfume River, Dong Ba Market is also considered as a symbol of Hue romantic in the heart of visitors.
Dong Ba market with enjoyable experience will bring you unforgettable moments. Come on do plan your trip to Hue to enjoy fully the beauty of this poetic city!
Do not forget to contact Kha Tran Car rental via hotline Ms Katharine: (+84) 91 651 02 01 – (+84) 34 797 67 89 to rent Hue tourist car to many famous attractions such as Citadel, Thien Mu Pagoda, Lang Co, Bach Ma National Park, Khai Dinh Tomb, Minh Mang Tomb, Tu Duc Tomb … when you have a chance to visit Hue.
Wish you have the best and wonderful time in Hue.
---
For booking or any information please feel free to contact us:
KHA TRAN TRAVEL & TRANSPORT CO.LTD
ENGLISH SPEAKER HOTLINE – LINE – WECHAT – WHATSAPP: (+84) 91 651 02 01
Website: danangcarrental.com
Fanpage Facebook: fb.com/danangcarrental/
Hotline (Ms Katharine): (+84) 91 651 02 01 – (+84) 34 797 67 89
Email: danangcar6789@gmail.com (Sales) – khatrancarrental@gmail.com (Manager)
Office in Da Nang: No.12 Bui Xuan Phai Street, ThuanPhuoc Ward, Hai Chau District, Viet Nam