Minh Mang mausoleum is impressed by magnificent architecture in harmony with beautiful landscapes, a great destination for lots of visitors in Hue.
>> See more: Hue travel information
Minh Mang Mausoleum (also known as Hieu Lang) is the resting place of the second emperor of the Nguyen Dynasty, which was recognized by UNESCO as a World Cultural Heritage in 1993. The mausoleum lies in a prime location, on the Cam Khe mountain. It is located in Huong Tho commune, Huong Tra district, about 14 km in the West of Hue city. This is the interference between two rivers – Ta Trach river and Huu Trach river, merging into Huong river.
Together with the overall architecture of the other 40 large and small works, Minh Mang tomb is impressed by magnificent architecture in harmony with beautiful landscapes, a great destination for lots of visitors in Hue.
Visiting Minh Mang mausoleum, tourists will find themselves lost in the space of painting, poetry and philosophy. The majesty as well as the calm of the architecture show strict character, erudite knowledge and erotic scenery of nature, flowers. All of them help to show the romantic soul of the emperor and they are so harmonious together to make a the historical relicof the Complex of Hue Monuments.
History of the Minh Mang mausoleum
Emperor Minh Mang was the fourth son of King Gia Long. During the years on his own thrones, Minh Mang wanted to build a lacquer for himself to rest after stressful meetings with all mandarins. It was also the place where he was worshipped when he died.
The process of choosing the location to build the mausoleum takes a lot of time, so it must go through 14 years to find a great location – on Cam Khe mountain. Emperor Minh Mang renamed mountain into Hieu Son mountain and named his mausoleum was Hieu Lang.
The work was emphasized by emperor Minh Mang in each stage of mausoleum construction. As a Confucianist with wide andwisdom knowledge, so the architectural color of Minh Mang's mausoleum completely reflects the all characters of this talented emperor.
The mausoleum began to be built in April 1840. In early 1841, the emperor died between the age of 50. Then emperor Thieu Tri continued to build the mausoleum and until 1843 Minh Mang mausoleum was completed.
The structure of Minh Mang mausoleum
Minh Mang mausoleum is considered as one of the most majestic and famous mausoleum in the architecture of the Nguyen Dynasty. From the high position looks down, the shape of the mausoleum is like a person lying in a very comfortable rest: head toward Kim Phung mountain, the two sides are the two sides of the Trung Minh lake and the foot is placed comfortably at the confluence of three rivers.
The whole area of La Thanh has an area of 1750m2, from Dai Hong Mon (the main gate of the mausoleum) to the end of La Thanh is about 700 meters apart.
The Dai Hong Mon is 9m high and 12m wide and has the typical features of the Nguyen Dynasty. This is a three-way gateway composed of three aisles and is decorated by many unique and refined motifs such as a carp turns into dragon statue. Especially, this port was opened only once when the coffin of emperor Minh Mang was put in, while ordinary people had to move at two extra ports, Ta Hong Mon and Huu Hong Mon.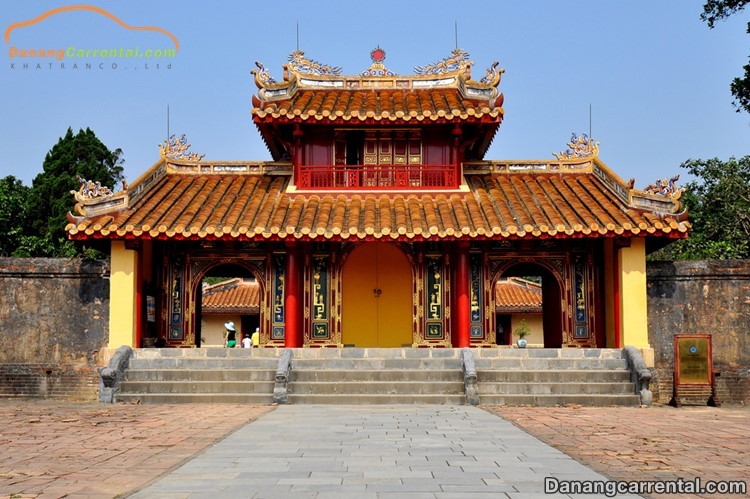 Buu citadel is built in a circle representing that the emperor is the sun, the god of religion has the power to govern the entire monarchy. In front of the mausoleum , the density of architecture is sparse and airy, the further into the interior, the thicker the architecture. Inside La Thanh, the architectural works are arranged together of each pair through the central axis to form a beautiful architectural complex. All of them were arranged in a strict and systematic order, so they somewhat reflect the personality and style of emperor Minh Mang.
In addition to the main works located along the spiritual path, Minh Mang mausoleum has many works counterbalance each other as a pair of Ta Tung Phong on Tinh Son, Huu Tung Rooms on Y Son, Linh Phuong Cac on Dao Thong Son, Tuan Loc Hien on Duc Hoa Son, Hu Hoai Ta on Tran island, Truy Tu Trai on Phuc Am Son,…
According to the researchers' assessment, the high and low works in the mausoleum accordances with a rhythm of the consistent law, alternates yin and yang in order to create unique beauty for Minh Mang mausoleum .
In addition, the harmony between natural landscapes and man-made buildings also bring architectural value to the mausoleum. Tourists when coming to Minh Mang mausoleum will see the promenade ways around the big lake and surrounding the mausoleum have many small and big structures used for sightseeing. This makes it easy for visitors to visit the magnificent architecture of the Minh Mang mausoleum.
In addition, Minh Mang mausoleum also owns nearly 600 letters engraving the poems on Bi Dinh, Hien Duc Mon, Sung An temple and Minh Lau temple. These are invaluable works which have an outstanding cultural value, a "poetry museum" was selected from the Vietnamese poetry in the early 19th century.
Minh Mang mausoleum still retains its own ancient, colorful beauty and tradition from the Confucian. When looking at the wonderful art of Minh Mang mausoleum, the master architects today also show their admiration.
To visit the Minh Mang mausoleum as well as magnificent and splendid mausoleums system and other famous Hue tourist sites such as the Citadel, Thien Mu pagoda, Bach Ma national park, Lang Co beach, … visitors can contact Kha Tran car rental for travel in Hue to have a perfect trip with high quality from 4 to 45 seats and a team of professional and dedicated drivers. You just need to contact hotline (+84) 03 760 67 89.
Ticket price to visit Minh Mang mausoleum
The current price of tickets to visit Minh Mang mausoleum (Source: Vietnam National Administration of Tourism)
The tickets to Minh Mang mausoleum:
100,000 VND / ticket for adults
20.000 VND/ticket for children 7 – 12 years old
If you plan to visit both the Citadel and the mausoleum, you can economize on your own money by buying tickets at some routes below:
Route 03 the Hue Citadel – Minh Mang mausoleum – Khai Dinh mausoleum: 280,000 VND/ticket for adults and 55,000 VND / ticket for children 7 – 12 years old.
Route 04 of the Hue Citadel – Minh Mang mausoleum – Tu Duc mausoleum – Khai Dinh mausoleum: 360,000 VND/ticket for adults and 70,000 VND/ticket for children 7 – 12 years old.
For more information or rent cheap car to visit famous sites in Hue, do not forget to contact Kha Tran Car rental hotline Ms Katharine: (+84) 916510201 – (+84) 34 797 67 89.
Wish you have a trip to Hue is fun and complete!
Kha Tran Car Rental
---
For booking or any information please feel free to contact us:
KHA TRAN TRAVEL & TRANSPORT CO.LTD
ENGLISH SPEAKER HOTLINE – LINE – WECHAT – WHATSAPP: (+84) 91 651 02 01
Website: danangcarrental.com
Fanpage Facebook: fb.com/danangcarrental/
Hotline: Ms Katharine: (+84) 916510201– : (+84) 34 797 6789
Email: danangcar6789@gmail.com (Sales) – khatrancarrental@gmail.com (Manager)
Office in Da Nang: No.12 Bui Xuan Phai Street, ThuanPhuoc Ward, Hai Chau District, Viet Nam.