Ba Na Hills is an attractive tourist destination that visitors can not ignore when traveling to Da Nang. It is about 30km from Da Nang, 1500m above sea level, is a tourist destination with many world records, owns many works and new playgrounds.
Kha Tran Car Rental would like to share travel experiences in Ba Na, including cable car, food, hotel, transportation, cheap tour … to help visitors have one-day-trip to Ba Na with fun and meaning …
The appropriate time to travel Ba Na
From April to August every year is the most beautiful time in Ba Na. Around this time, the weather in Ba Na is very nice, suitable for walking and participating in outdoor activities here. However, this is also the crowded time in Ba Na.
From January to March Ba Na weather is quite cold, many fog, however, Ba Na still attracts many visitors to visit by the dim light. Especially this is the occasion of 'bell' peach flower – symbol Ba Na, blooming.
What transportation to travel to Ba Na?
From the center of Da Nang to Ba Na Hills there are many ways to go: by motorbike, by taxi or car rental service from Da Nang to Ba Na. Depending on how many people visitors go with, We can suggest the most suitable means of transportation.
The most useful means to travel to Ba Na are: Cars, Motorbikes and Ba Na cheap joining group tour.
Motorbike: The choice of many visitors to explore freely, and have the most cost savings. The rent of motorbikes in Da Nang is about 120K – 150K / day. Visitors can easily rent at the hotel, or other services can be delivered to the airport, hotel. However, visitors need to study the path and start early.
Bus: Everyday at about 8h45, there will be bus to Ba Na with a fare of 70,000 VND / person. The latest time will be at 18h so visitors consider if visitors want to go in a day. To catch this bus, come the 72 Nguyen Chi Thanh, Hai Chau District, Da Nang.
Taxi: There are many taxi companies for visitors to choose, visitors will easily catch a taxi to Ba Na right near visitors or visitors can ask visitorsr hotel staff to call taxi to travel to Ba Na. If visitors travel with visitorsr family, taxi is quite appropriate because visitors can control time, itinerary.
Car rental to Ba Na: If visitors contact car rental, visitors will be often more comfortable than taxi, especially the big groups. Visitors will control the time to play on Ba Na that costs are not too high if the car rental time (rent two-way car will be better). Especially when renting car to Ba Na in Kha Tran Car Rental, visitors can assure about the quality of service, reasonable price, professional driver, courtesy. Visitors will be surely pleased with using the car rental service at Kha Tran Car Rental. Besides, We have supported ticket Ba Na in advance for guests needs. Contact car rental to Ba Na: (+84) 916 510 201
Ba Na tourist ticket price
From 01/01/2018, Ba Na cable car fare as follows: (List price of Ba Na Hills tourism)
For foreigners and non-residents:
Adults and children 1m3 or more high: 650,000 VND
Children from 1m to 1m3: 550,000 VND
Children under 1m: Free
For the people of Da Nang:
Adults and children up to 1m3: 400.000 VND
Children from 1m to 1m3: 300,000 VND
Children under 1m: Free
Note: Tickets are available only in a day, so if visitors buy without going, the ticket will not be valid the next day. Danang residents will need to bring their ID card or birth certificate for discount. When traveling by cable car, do not smoke in the cabin, do not litter or eat in the cabin, do not open the cabin door or lean out. Visitors should book tickets in advance if visitors do not want to queue long (especially in many people season, a lot of visitors come here so visitors can spend hours waiting to buy tickets). If visitors come to Ba Na, there are people who offer tickets (at cheaper price), visitors should not buy them because they may be outdated, not available (Ba Na tickets are in the form of cards so visitors can not check the date. ). Tickets should be booked at the ticket counter, travel agency, or travel companies.
Hotels in Ba Na Hill
Most of the visitors to Ba Na Hills often go in one-day tour Ba Na Hills, rarely want to stay overnight. However, overnight in Ba Na is quite interesting, thanks to looking from Ba Na to Da Nang at night or enjoy the view of beautiful morning dawn from the mountain Ba Na.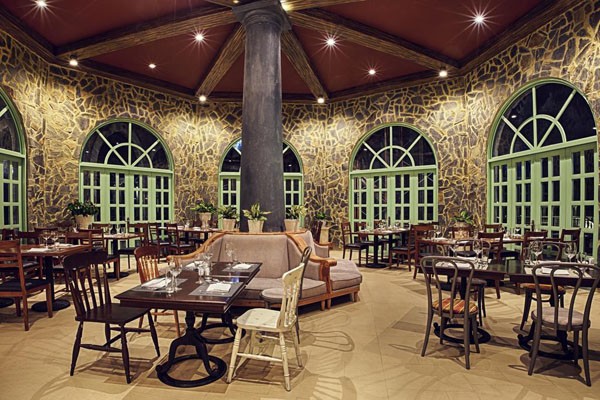 Visitors can choose the Mercure Bana Hills French Village hotel. The hotel has 4 star standard with many services for visitors such as spa, sauna, fitness room, games, massage and indoor swimming pool, hot tub for visitors to rest and relax. Room prices range from $ 42 to $ 90 per night. Visitors should book the room in advance to avoid there are no rooms and visitors could know the promotion to travel the most economical
There are some more hotels to choose such as Debay, Morin, Hoang Lan villas, Hoa Rung hotel, L'Indochine hotel.
However, if visitors like the excitement visitors should not stay here, because at night Ba Na activities are quite small and boring.
If visitors want to see the night scene here visitors can stay, because the cable is still active at night in twice, at 19h and 21h.
What are there in Ba Na Hills?
Cable car system
From the height of more than 1,000 meters, when the cable car to the top of the mountain visitors can experience and see the vast space of Ba Na as a perfect picture with clouds, mountains and majestic waterfalls below. When admiring the Ba Na cable car visitors will feel like flying into the Wonderland.
Linh Ung Pagoda
Linh Ung Pagoda is a famous tourist destination in Ba Na. Although it was opened in 2004, Linh Ung Pagoda still has the traditional architecture of Vietnamese people. In particular, the presence of the statue of Shakyamuni Buddha as high as 27m can be seen from far away making Linh Ung pagoda more elaborate.
Wine Cellar
Wine Cellar is where visitors will be able to see the tools as well as wine decanter that was used by the French in 1923. Today the wine cellar displays only symbolic items but in the wine cellar there is no wine. If visitors want to enjoy a glass of fine French wine, visitors go at the end of the way to see the wine bar with a lot of wine for visitors to choose.
Love flower garden
This is a beautiful location in Ba Na for photograph enthusiasts. The system of scences includes areas such as Suoi Mo Garden, Eden, Bi An (Secret) Garden, Uyen Uong Garden, Suy Tuong (Reflection) Garden, Than thoai (Mythology) Garden, Memories Garden, Sacred Garden, Grape Garden and Uoc Hen Square will be very excited to come here to relax.
Ba Na Hill entertainment area – Fantasy Park
Visitors will be lost in the entertainment paradise on the mountain because this is the only amusement park built in the mountains. There are countless games and activities for visitors to choose from:
Cinemas 4D, 5D, 3D Mega 360 degrees
Artificial climbing wall
Dinosaur Park, wax statues gallery
Tram games
Powerful games, handheld games, shotguns, horse riding …
Especially sliding game
Here visitors only spend money if visiting the wax gallery and buy coins to play games, the rest is free.
Temple of Spiritual Goddess
This is the temple of the Goddess Thuong Ngan, who protects the entire Ba Na area is safe, and make people happy. From here visitors can admire immense panorama of the mountain Ba Na ajestic as well as romantic. This is the best scenic spot in Ba Na for nature-loving tourists.
Mountaineering Train
From Debay Station, before visiting the ancient cellar of Debay, the Le Jardin d'amour flower gardens and Linh Ung pagoda, visitors will take a short trip on the train of Garaventa (Switzerland)
The train can accommodate 80 people / cabin moving through cable length over 400m. Running between the mountain side and mountain train will bring new feelings only in Ba Na
Operating time: 8h00 – 16h45. Every 15 minutes there is a trip
Service time: 8h00 – 18h00
Fare: Free.
What should visitors eat when traveling Ba Na Hills?
In Ba Na, there are many dining options for visitors to choose. Notably, there are 30-dish buffets priced at 180,000 VND / adult and 90,000 VND / child at the Hoa Lan (Orchid) Club. This is the most economical option, visitors do not worry that there is not enough food for the delegation, food is also rich enough 3-region dishes for visitors to choose.
An interesting option is to enjoy the food at the Kavkaz restaurant. Typical dish is the Plop Kavkax rice, which is beautifully described and delicious, or grilled lamb, lamb soup, which is a specialty of the Central Asian Caucasus. The ingredients are imported and the famous chef Zakharov Roman Jurivich cook.
Visitors can also eat at Morin Restaurant with a set menu of 7 dishes from 180k – 250k / person or book a BBQ buffet at a price of 225k / person at Restaurant: Le Jardin Restaurant.
Visitors can bring food to Ba Na, here, there are places for guests, visitors can comfortably eat here, but keep it clean.
Some notes when traveling Ba Na
Bring visitorsr jacket because Ba Na weather has some days of hoarfrost so it is quite cold
Bring sunscreen, hats, because of the afternoon here is hot like summer and quite harsh
Dining in Ba Na is quite expensive so visitors want to travel to Ba Na cheaply, visitors should bring food, drink.
Book visitors hotel room in Ba Na in advance if visitors decide to spend the night here
Visiting time in Ba Na is about 6 hours. Start early to buy tickets and tour, or pre-order
It is important to know operating times of the cable car to avoid waiting cable.
The cost of cable car between station 1 and station 2 in Ba Na is free.
The above is a summary of experiences as well as things visitors need to know before traveling Ba Na.
If Visitors need to rent a car from Da Nang to Ba Na, contact Kha Tran Car Rental : (+84) 916 510 201
See more: EXPERIENCE TRAVELING FROM DA NANG TO HOI AN