Bach Ma Village, Hue expected to operate in May, 2019, will be a new attractive tourist destination of Hue in particular and Vietnam in general. Let Da Nang car rental find out about interesting things there!
See more >> Hue Travel Infomation
1. Introduction of Bach Ma Village tourist area – Truot waterfall
Where is Bach Ma village?
It is located in Truot waterfall – Bach Ma National Park. It is located in Khe Su village, Loc Tri commune, PhuLoc district, Thua Thien Hue province.
How to get there?
From Hue City to Bach Ma Village, it is about 40km, it takes more than 1 hour to transfer by car. You can go along the National Highway A1, then go to Ly Thanh Tong Street, then turn right at Tran DinhTuc street, running to the entrance to Bach Ma National Park will have a sign on the tourist area.
Or you can ask for directions to PhuLoc District Education & Training Department, local people will show you the way.
However, because the terrain is difficult to move, we recommend that you hire a car to travel to Hue for convenience and safety.
2.  Reasons why Bach Ma Village Hue becomes extremely hot spot
Beautiful natural scenery
From the moment it was publicized on social networks, Bach Ma Village resort quickly attracted the curiosity of visitors and made a strong impression. This place features beautiful natural scenery with extremely unique design and decoration. The image of interlocking mountain clouds, clear water are also adorned with artificial works such as grass hills, trails, flower gardens, lovely stone houses or diverse shapes of islands.
Further more, the combination of thousands of details makes the scene of Bach Ma Village as a village in the ancient Nordic, it is so quiet, peaceful but full of intense vitality.
Perfect resort destination
This resort well exploits natural resources to provide a perfect space  for relaxing. Natural streams will help visitors reduce the intense heat of the summer. You can soak for hours under the cool and clean water or watch the water flowing and the clear water to sees pebbles in the bottom. Especially, surrounding baths are equipped with free loungers, parasols for visitors to rest and relax.
Ideal campingsite
This is the next reason you have to choose this resort. Here is an extremely professional night camping area with perfect view, safe night lighting system, well-invested. Overnight camping will help you and your family get along with nature, giving you a new experience when traveling to Hue.
Unique Cuisine
Besides that, Bach Ma Village also has a culinary system serving you with a vegetable Buffet (with entrance ticket), a Water Village, a unique coffee bar. Visitors will have the opportunity to enjoy hundreds of delicious dishes, bearing the characteristics of Hue Ancient Capital in general and Bach Ma Mountain in particular. And please rest assured that the food here is affordable, quality food hygiene and safety.
Many other utilities
In addition, the Bach Ma Village Hue tourist area also specially built a system of lockers, wifi FREE with a clean toilet and bathroom system, meeting the standard as a real hotel. Therefore, Visitors are completely assured that you are not afraid of being stolen, comfortable and more convenient when bathing in streams, water falls,… Powerful wifi system can hold 500 users at the same time, satisfying your for connect, check-in. And of course the concern about toilets will no longer exist when Bach Ma Village brings to the bathroom, clean toilets, security with superior level!
In the near future, this resort also invests many new types of entertainment and resorts for both adults and children. Promising to build mini zoo for children who love to experience and explore.
See more >> Hue car rental services
3. Fares for Bach Ma Village tourist area 
Da Nang car rental Kha Tran would like to update the ticket price for Bach Ma Village sightseeing so you can easily choose the best service packages at this resort:
Fares apply for adults: 100,000 VND / ticket. (Applied from May 16 to December 31, 2019), the official fare is 150,000 VND.
Fares apply to children:
Children under 0.9m high: free
Children from 0,9m high – 1m3: 60% of adult fare
Children over 1m3 tall: 100% of adult fare
NOTE: Visitors DO NOT bring food and drinks outside to Bach Ma Village tourist area. The above fare includes:
Natural spring bathing service at all lakes and streams
Use life jackets, umbrella seats, free cabinets
Service of freshwater bath, changing room
Free 01 voucher with 01 drink at Bar coffee.
Fare for overnight camping at Bach Ma Village (Applicable to check-in after 16:00 and overnight at tourist area by camp)
Adults: 200,000 VND/ticket
Children from 0,9m – 1m3 high: VND 60,000/ticket
Children under 0.9m high: Free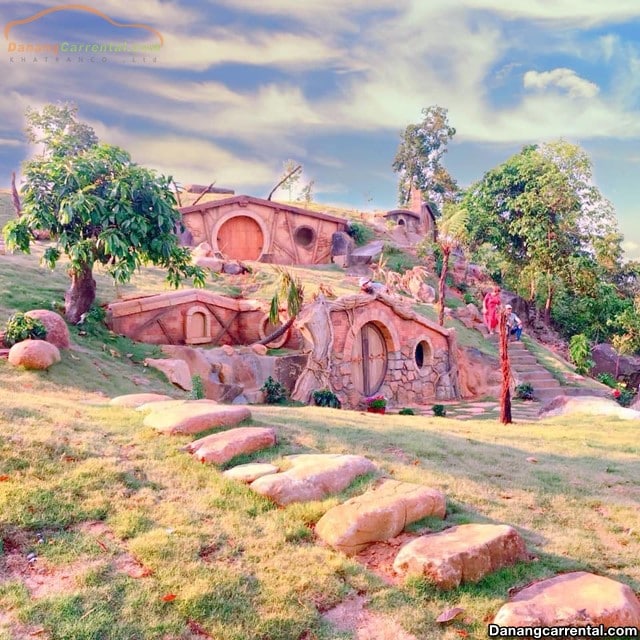 NOTE: Visitors receive a tent after 18:00 and return the tent before 08:00. The above price includes:
Tickets to the resort
Tents for night stay for 2 guests / 1 tent (sleeping guests), customers have to request a single bed to pay additional fees.
Natural spring bathing service at all lakes and streams;
Use life jackets, umbrella seats, free cabinets;
Service of freshwater bath, changing room;
Breakfast: 01 dish + 01 free drink.
Hopefully, this article will help you to update more useful information about Bach Ma Village tourist area. Do not hesitate anymore to schedule your trip, to become one of the first customers. We are sure that you will have the most rewarding trip!
See more >> Bach Ma National Park
Bach Ma village and the latest information on this unique resort of Hue we have updated for you. Hopefully, with the above useful information, you will enjoy a wonderful holiday in this wonderland!
For more information and advices to Da Nang tourism or rent a car in Da Nang, do not forget to contact us via hotline Ms Katharine: (+84) 91 651 02 01 or (+84) 34 797 67 89.
Wish you and your family a happy journey and many memorable experiences in Bach Ma Village.
---
For booking or any information please feel free to contact us:
KHA TRAN TRAVEL & TRANSPORT CO.LTD
ENGLISH SPEAKER HOTLINE – LINE – WECHAT – WHATSAPP: (+84) 91 651 02 01
Website: danangcarrental.com
Fanpage Facebook: fb.com/danangcarrental/
Hotline (Ms Katharine): (+84) 91 651 02 01 – (+84) 34 797 67 89
Email: danangcar6789@gmail.com (Sales) – khatrancarrental@gmail.com (Manager)
Office in Da Nang: No.12 Bui Xuan Phai Street, ThuanPhuoc Ward, Hai Chau District, Viet Nam