Ngu Hanh Son or Non Nuoc mountain (Marble Mountain) is a popular tourist destination in Da Nang city. In memory of many people here, this also have been the "spirit region" of the Quang people up to now.
1.Where is Ngu Hanh Son mountain?
The mountain is located on a yellow sand strip about 2 kilomiters long, about 800 meters wide. It belongs to Hoa Hai ward, about 8 kilometers from the Southeast of Da Nang city. Therefore, it is very convenient for tourist to rent a car for exploring the landscapes here.
According to the indigenous people, formerly Ngu Hanh Son mountain stood alone between the endless sand of the Tien Sa peninsula. Because of the impact of time, climate and many other factors, they create a lot of large caves in the mountain with unique shapes and subtle colors.
See more >> Da Nang Travel Experiences
2. Ngu Hanh Son marble mountain overview
Ngu Hanh Son is a complex of include Thuy Son ,Moc Son in the East, Tho Son, Kim Son, Hoa Son in the West. In the China's Five Elements Philosophy, "Kim, Moc, Thuy, Hoa, and Tho" are elements to form the universe. Number 5 is extremely important. It is in thinking and in the life of Asian people. Thus, top 5 Kim Son, Moc Son, Thuy Son, Hoa Son, Tho Son have already contained the mysterious in themselves.
Each mountain of Ngu Hanh Son has its own beauty in terms of location, shape, material, cave systems, pagodas inside. In the mountains, Thuy Son is the largest and most beautiful and the largest concentration of caves and temples. The mountain has a height of 106 meters, with 3 mountains on 3 floors like 3 stars (Tam Thai).
The most interesting to visit the Ngu Hanh Son tourists can not find anywhere is after climbing up hundreds of steps to visit caves and pagodas, they just need to step out a few hundred meters in order to contemplate the smooth white sand and blue water with smooth waves to relax their body into salty water.
3. Some famous attractions in Ngu Hanh Son
There are lots of caves here such as: Hoa Nghiem, Huyen Khong, Van Thong, Thien Long, Ban Co, Tang Chan, Chiem Thanh, Linh Nham, Lang Hu, Vong Hai Dai, Vong Giang Dai. About the pagodas, there are: Linh Ung pagoda, Tam Thai pagoda, Tam Ton pagoda, …
Linh Ung pagoda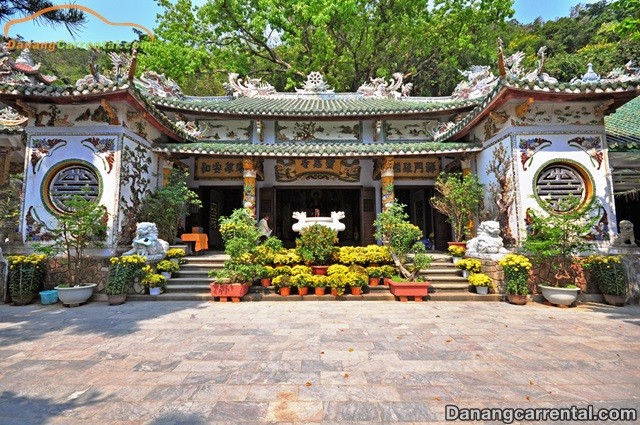 Discover 3 famous Linh Ung pagodas
Tam Thai pagoda
Tam Thai pagoda is located on the Western side of Thuy Son mountain. It is also a spiritual tourist destination that attracts many visitors to visit. The pagoda consists of 3 majestic floors and is designed basing on the word "Vuong" in the Chinese characters. In front of the pagoda, there is the Maitreya Buddha statue. Whereas,inside of sanctum, statue of Amitabha Buddha Tathagata, Avalokitesvara Bodhisattva, Dai The Chi Bodhisattva statues are worshipped
Huyen Khong cave
If having a chance to discover Ngu Hanh Son mountain, you can not ignore Huyen Khong cave because of spiritual beautiful and fanciful cave. This is open-air cave with circular arch and circumference of about 25meters, flat floor and 5 holes through the outside to take the sunshine into the cave. In addition, there are stalactites sticking around the dome which create many unique shapes such as two elephant's heads, ostriches, birds, old man's faces, …
Am Phu cave
The Am Phu cave is considered to be a very special cave. This is the largest, the most mysterious of Ngu Hanh mountain. In front of the cave gate is the Yin-Yang bridge, which is said to be used for the soul of the dead going over. In the Am Phu cave, there are two directions, one towards theheaven and one down to the hell.
Quan Am cave
Belonging to the system of the famous landmarks in Ngu Hanh Son, Quan Am caveis visited by many visitors because there are many stalactites shape and color fanciful here. The most impressive feature of the cave is the Bodhisattva Avalokiteshvara which is holding a Cam Lo vase in her hand. The statue looks really solemn with a glittering layer of jewelry.
Hoa Nghiem Cave
Hoa Nghiem cave is located in Thuy Son district. It is a small cave which is only 17 meter long. Inside the cave has the statue of the Buddha Guan Yin.There are 4 statues of Kim Cang guardians outside the door and on the wall is the rarely ancient inscriptions Linh Trung. Hoa Nghiem cave is also one of the most fanciful beauty in the Ngu Hanh Son mountain.
Non Nuoc stone carving village
Located at the foot of Ngu Hanh Son mountain, Non Nuoc stone carving village is an indispensable stop on the Da Nang tour. Being formed in the 18th century, Non Nuoc stone carving village is one of the oldest traditional craft villages of the city. You will have the opportunity to watch the skillful artisans make the unique and impressive art of stone sculptures. Therefore, you can select a lot of meaningful gifts or visit the famous Thach Nghe To Su temple.
Ngu Hanh Son Da Nang is regarded as an attractive destination for tourists when coming to the Central. You can forget all tiredness and stress from their work and daily life when stepping into the wonderful scenes. Besides that, the deep cultural values of spirituality have contributed to the magic and appeal of Ngu Hanh Son. This make you be attractive and impressive.
We hope to bring you an interesting information on your trip to Da Nang.
For more specific advice or rent cheap car to visit famous sites in Da Nang, do not forget to contact Kha Tran Car rental via hotline Ms Katharine: (+84) 91 651 02 01– : (+84) 34 797 6789.
Wish you have a fun trip with many memorable experiences! 
Kha Tran Car Rental
---
For booking or any information please feel free to contact us:
KHA TRAN TRAVEL & TRANSPORT CO.LTD
ENGLISH SPEAKER HOTLINE – LINE – WECHAT – WHATSAPP: (+84) 91 651 02 01
Website: danangcarrental.com
Fanpage Facebook: fb.com/danangcarrental/
Hotline: Ms Katharine: (+84) 91 651 02 01– : (+84) 34 797 67 89
Email: danangcar6789@gmail.com (Sales) – khatrancarrental@gmail.com (Manager)
Office in Da Nang: No.12 Bui Xuan Phai Street, ThuanPhuoc Ward, Hai Chau District, Viet Nam.