Techcombank Ironman 70.3 Vietnam 2018 will be hold in Danang City on May 13 with the message "Be Greater Together". More than 1,600 athletes from 56 countries, including 620 from Vietnam, will take part in the triathlon race Techcombank Ironman 70.3 Vietnam 2018 in Danang City on May 13.
The fourth edition of Ironman with the message "Be Greater Together" starts with 1.9 kilometers of swimming from Hyatt Regency's beach that is followed by a 90 kilometer track bike race along the coastline, and ends with 21 kilometers of running.
It is one of the few sports where professional and amateur athletes compete alongside as they all strive to be greater in their goal to reach the finish line.
This is an international sporting event organized by Sunrise Events Vietnam with great support from the Danang Department of Culture and Sports.
From a one-day event that was held in 2015, three years later, the TechcombankIronman 70.3 Vietnam 2018 is a multi-day event, with many categories and activities for family to join.
See more: DA NANG EVENTS 2018 – IRONMAN 70.3 VIETNAM 2018
Individual participants will have a chance to qualify for both the Ironman 70.3 Asia Pacific Championship in Cebu in the Philippines on August 5 and the Ironman 70.3 World Championship in Nelson Mandela Bay, South Africa on September 1 and 2 with 50 slots and 30 slots, respectively based on top placements in their age groups.
Complementing the Techcombank Ironman 70.3 Vietnam on May 13 will be a number of other engaging activities which will be organized throughout the weekend, including the third edition of Ironkids and the second edition of the Sunrise Sprint to be held on Saturday, May 12 as well as the third edition of the Newborns Run Out on May 11.
Ironkids will feature an ocean swim for those participating in the Aquathlon (swim/run) category with a 100-meter swim and a 1-kilometer run for ages 6 to 10 and a 300-meter swim and a 2-kilometer run for ages 11 to 14. Similar to previous editions, there will be a run-only category for both age groups.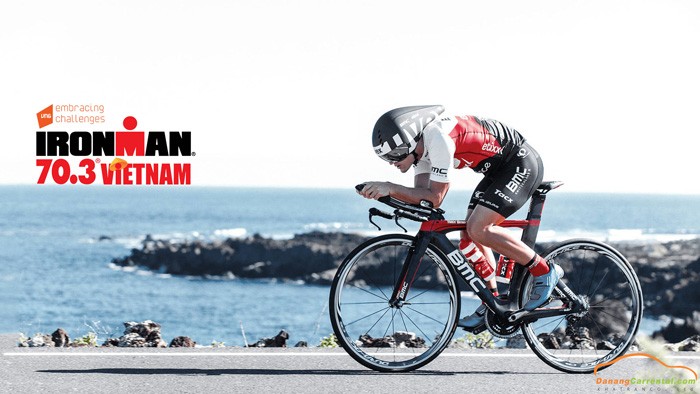 IRONMAN 70.3 Vietnam 2018 is the biggest international sporting event held in Vietnam with over 1400 participants from 59 countries. It is one of the hottest sports competitions in the planet, gathering the best athletes, the most persistent around the world.
Following the success of previous years' events, Ironman 70.3 continues to be the event with the great interest of athletes, locals  and visitors to Da Nang city.
Participants will be treated to a fast and scenic course that begins with a 1.9–km ocean swim in front of the beautiful Hyatt Regency Da Nang Resort & Spa, host hotel and race central. From there, athletes will enjoy a scenic two–loop 90–km bike course on smooth, well paved roads that runs along Danang´s pristine coastline and past some of the city´s key landmarks. The final 21–km out–and–back run course is flat and passes by many of Danang´s famous beach resorts before returning to the Hyatt for a stunning beach front finish. With tropical conditions, this warm-weather destination event is the perfect mid–season race to prepare athletes for their summer IRONMAN events.
Location: Hyatt Regency Danang Resort & Spa
Date: Sunday, May 13, 2018
(From: www.danangfantasticity.com)