Da Nang – the most livable city in is the top 10 trending destinations in 2020. So what makes this place so hot? The following article of Kha Tran will explain to you why travel to Da Nang?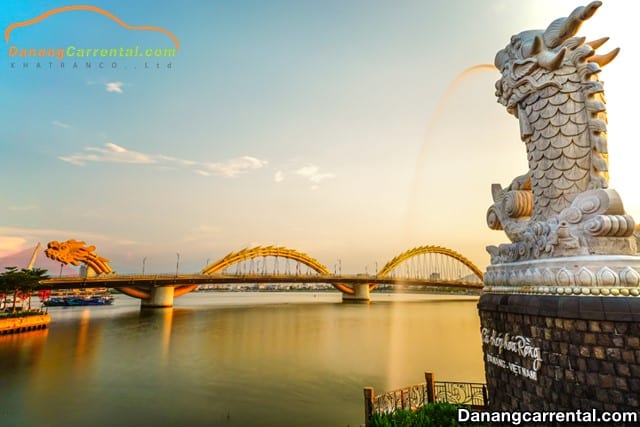 Danang weather
Da Nang is the region with tropical monsoon climate affected from South of Viet Nam, so there are two distinct seasons, dry season (from January to July), rainy season (from August to December).
This is the ideal place that many tourists choose to rest in the summer. It is an opportunity for you to immerse yourself in the cool, clear waves, save beautiful moments on white sand dunes and dreams.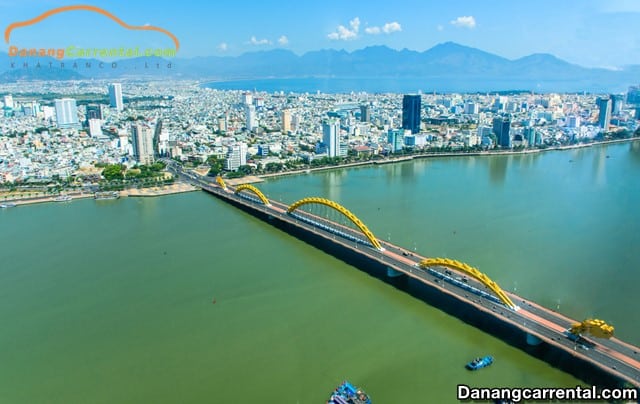 Visitors often choose the period from March to September each year to have favorable weather conditions: dry, sunny and sunshine, helps to fully enjoy the beauty and relaxation from this place.
See more >> Danang weather – The best time to explore Da Nang
Best beach in Da Nang
My Khe Beach and Non Nuoc Beach are two charming beaches that are sought by tourists. If you want to be near the city center, convenient for traveling, My Khe beach is the best choice for you. Here, you can combine beach volleyball and many other sea sports or simply watch The sea on the sunrise or sunset.
For those who choose Non Nuoc beach will enjoy the utmost peace. Under the coconut groves, listening to each wave of gentle waves, dropping your soul to watch the sunset is enough to make many young people love the romance.
See more >> Da Nang Beach – Beautiful Beach As The Picture Of Nature
Son Tra district
Referring to Da Nang beach, the place is regarded as the "green lung of the city" located in Tho Quang ward, Son Tra district with stunning landscapes is no stranger to many people.
The first destination is Linh Ung Pagoda. The pagoda is famous for its 67m high statue of Quan Am Buddha leaning against the mountain, eyes facing the big sea, hands giving peace to the local people.
In addition, you also admire the beautiful scenery here that makes your mind relieved and peaceful. From here you can zoom in to see a dynamic Danang.
After going through a challenging journey when traveling along mountain roads, climbing long and steep steps, you will also fully enjoy the beauty of Da Nang city from the top of the Ban Co Peak of the Son Tra Peninsula. This is also a place for photographers to create artistic masterpieces.
See more >> SON TRA PENINSULA TOURISM
Ba Na Hills – Lost in a French village
It is about 30km from the city center to the Southwest, Ba Na Hill attracts visitors by the lyrical beauty of many world records. Along with Linh Ung Pagoda in Son Tra Peninsula, Linh Ung Pagoda is also called "Linh Ung spiritual triangle" with a statue of Gautama Buddha with 27m height, sitting on a lotus carved subtle.
Coming to Ba Na Hill, visitors will have a chance to admire "French village", a Europe on the top of Ba Na with ancient architecture of the 19th century. And you will be very interested in experiencing in the brilliant cabin Colorful to admire the panoramic view of Ba Na on one of the ten impressive cable car.
More interestingly, when choosing Toc Tien waterfalls – L'Indochine cable car, visitors will enjoy the longest cable car in the world and the height difference between the highest arrival and departure station in the world.
Recently, Golden Bridge Ba Na Hills is becoming a global destination, the bridge with a unique and delicate architecture is attracting millions of tourists to visit and take photos. Additionally, Thien Thai garden – where you can check in and relax in a romantic, poetic space. What a pity if you come to Danang without stopping by this place!.
See more >> Golden Bridge – Da Nang, The Heaven In The Earth
Da Nang – The City of bridges
If you want to find romantic scene of Han River, Dragon Bridge at night, or hanging key chains at Love Bridge to express the faithfulness, Da Nang famous bridges are the place you should not ignore.
Then you will be enjoyable when walking along the street to watch Han Bridge, or wait for a long time to admire Han river swing. What is a magical bridge! Especially, if coming to Da Nang on 29 th- 30th of April annually, you will have a chance to watch unique fireworks display on Han River. Don't forget to miss this chance!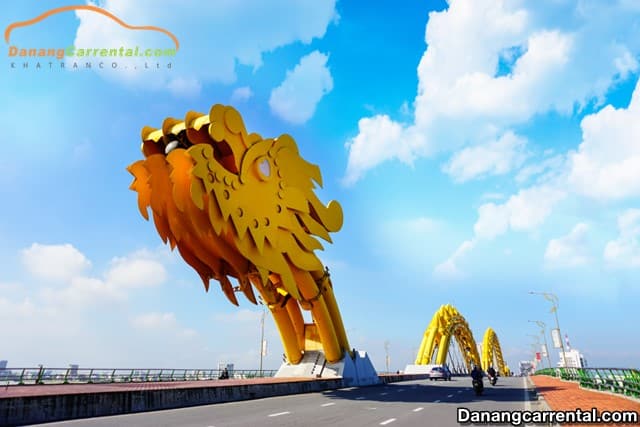 In addition to Han Bridge, the heaviest Dragon Bridge in Viet Nam has a strong dome with the lighting system of 15,000 LED bulbs, which also attracts many tourists. More specifically, this bridge also has the ability to spray both water and fire which are attracting attention, interest and curiosity for many visitors.
Besides 2 this famous bridges, Da Nang also has other unique bridge: Golden bridge Ba Na hills – one of the most trending destination, Tran Thi Ly – the bridge with stunning architecture,…
See more >> DA NANG – THE CITY OF THE BRIDGES
Da Nang cuisine
After enjoying the poetic beauty, lyricism of the mountains, the sea of Da Nang, it is time for you to taste Da Nang food. These are Quang noodles, ram rolls of cabbage leaves, Nam O fish salad, Xeo Cake,… fresh seafood dishes, unexpectedly cheap prices that hold the tourists every time for visiting.
See more >> Delicious food in Danang
What is there attractive in Danang? The famous landscapes, cool climate, and luxurious resorts and hotels that Kha Tran introduced above also answered you reason Why travel to Da Nang?
For more specific advice or car rental in Da Nang Viet Nam, do not forget to contact us via hotline Ms Katharine (+84) 91 651 02 01 or (+84) 34 797 6789.
Wish you and your family have a happy journey and many memorable experiences in Da Nang city.
---
For booking or any information please feel free to contact us:
KHA TRAN TRAVEL & TRANSPORT CO.LTD
ENGLISH SPEAKER HOTLINE – LINE – WECHAT – WHATSAPP: (+84) 91 651 02 01
Website: danangcarrental.com
Fanpage Facebook: fb.com/danangcarrental/
Hotline (Ms Katharine): (+84) 91 651 02 01 – (+84) 34 797 67 89
Email: danangcar6789@gmail.com (Sales) – khatrancarrental@gmail.com (Manager)
Office in Da Nang: No.12 Bui Xuan Phai Street, ThuanPhuoc Ward, Hai Chau District, Viet Nam