Da Nang International Airport, famous for domestic and foreign tourists, has reached the top 30 airports in Asia in 2015. And nowadays, it is still the third largest international airport of Vietnam. To help you get more information, Da Nang Car Rental would like to share useful things with you.
Some basic information about Da Nang International Airport (DAD)
Da Nang Airport is known as Da Nang International Airport and has reached the top 30 airports in Asia in 2015. Da Nang Airport consists of four domestic airlines and 22 international airlines with a total length of 3,045 meters and a total area of 842 hectares.
Services at Da Nang International Airport Vietnam
Customer service in the area waiting for Danang airport is very interested such as providing Wifi, watching TV and drinking water free …
If you are looking for a place to rest while waiting for your flight, you can use the airport accommodation service. If you do not like or want to find a more private place, then you can rent hotels, motels near the airport to rest.
Danang airport food

 & drinks
Like other airports, it also integrates restaurants, cafes to serve the needs of passengers. Some drinks shops, restaurants you can refer to as Lucky Restaurant, Burger King, Massco Coffee Shop, K Coffee.
Not only that, if you are in a hurry and do not have much time, the mini supermarket with quite a variety of drinks and fast food is place where solve your demand before the flight.
In addition, the airport location is quite convenient so if the food here is not good and expensive, it is easy to go to restaurants and other restaurants in the city.
Some of the ideal restaurants that you can choose, such as Mua Quang noodle at 95A Nguyen Tri Phuong street, Thanh Khe or Hot Chilli at 28 Nguyen Tri Phuong street, Thanh Khe. You should rent a car to move quickly and easily.
See more >>Da Nang Airport Transfer
You are a foreign passenger and want to use the duty-free shop here should arrive about 2 hours before take off. Typical duty-free items you can use as perfumes, cosmetics, alcohol,….
Da Nang Airport also has 5 additional souvenir shops with some nice items such as keychains, handmade items … However, like other services, the products at the souvenir shop is more expensive than the outlets. So, if you have time, I think you should go to other stores in the city to shopping, just have more affordable.
Withdrawal at the airport:
In some case, you are in need of cash withdrawal, please visit the ATM or the bank in the hall.
This is really a great progress in the management of staff here. This is because the check – in service of this plane that customers no longer have to work hard and time to queue waiting for procedures as before.
In addition, this service also gives customers the option of seating favorite as the whole team is sitting near each other, along the way, near the window …
Supporting in Da Nang airport
In the trend of industrialization – modernization, the number of passengers choosing aircraft as a means of moving more and more. Accordingly, issues such as buying tickets, schedules, fares … are more interested customers. Thanks to this airport supporting service, customer's problems have been resolved quickly and easily.
This service is provided by Da Nang airport to assist foreigners in visa entry procedures, payment of fees, writing testimony,… when they arrive at Vietnam
Notes to do procedures at Da Nang International Airport?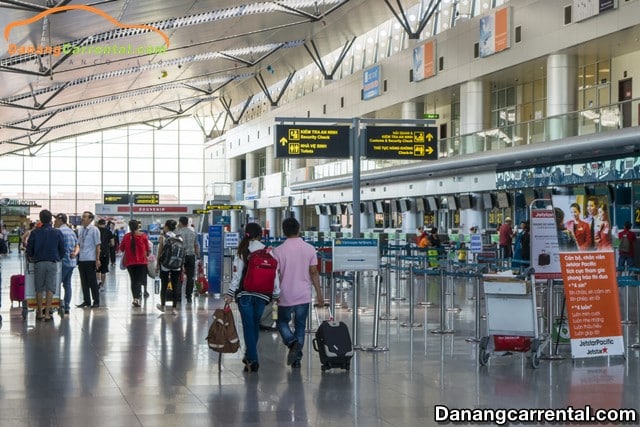 Check in time before the flight:
Opening hours: Check-in time before flight departure time is 2 hours for domestic flights and 3 hours for international flights.
Ending time: For domestic flights, check-in time is 40 minutes before departure and 50 minutes before departure.Therefore, you should come early to do procedures, avoid affecting your flight schedule.
In order to get your flight ready, you need to find out about baggage regulations such as the maximum number of kilograms permitted, the prohibited items to carry and the documents you need to carry with you. In addition, you should write your name, home address, recipient's phone number … onto a piece of paper and stick it on your luggage to avoid getting lost.
How to move quickly from Da Nang airport to Hue, Hoi An and neighboring districts?
As we mentioned above, Da Nang airport is quite close to the city center so the travel time as well as the distance to the districts of Da Nang is quite close. Specifically, Da Nang airport is about 4km from Hai Chau and Cam Le districts; the distance to Thanh Khe and Son Tra districts is about 5km; The most remote is HoaVang ward with a distance of 19.3 km.
In addition, the famous tourist attractions near Da Nang that you can visit like Hoi An, it is about 30km, Hue with a distance of 98.3km.
The transportation is Uber, Grap taxi, Grap bike, but in my opinion, the fastest way is to contact the car rental service. They not only pick you up at the right time but also can introduce you famous tourist attractions should visit, the delicious food should be enjoyed, beautiful cafe and the hotel clean, cheap,…
Hotels near Da Nang International Airport you can stay
This is a luxury hotel located at No. 41, Nguyen HuuTho, Hai Chau, Da Nang. If it is a shuttle bus, it only takes about 5 minutes to transfer from the airport to this hotel.
Professional service, dedicated staff, courtesy and clean rooms, will certainly bring you the best comfort.
In addition, you can admire the scenery of the city, the romantic Han River and the beautiful nightlife of the four famous bridges in Da Nang.
Room price: From 500,000 VND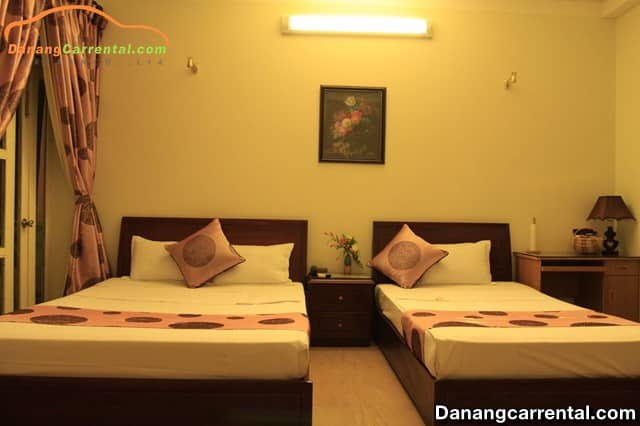 Dai Long Hotel is also the ideal accommodation that you can refer. This hotel is located at 192-194 Ha Huy Tap street, Thanh Khe district, Da Nang city, it close to the airport, the central bus station, the gas station and the famous tourist attractions. Although it is a 2 star hotel but furnished with luxury, elegance and comfort.
Room price: From 350.000 VND
The address of this hotel is 136 – 138 – 140 Phan Chau Trinh street, Hai Chau district, DaNang. This is a 4 star hotel designed very luxurious and modern French style. The furniture used in the hotel is very comfortable and the quality of service is also very good.
Not only that, the facilities from coffee shops, bars, gyms, massage parlors, convention rooms with a capacity of 250-200 people and quiet space … of Moonlight make customers very satisfied.
Room price: From 600,000 VND
Da Nang International airport with above information will partly help you understand more about the procedures, note necessary when using services at this international airport, hotel accommodation,… If you have demand for car rental moving and visiting places in Danang, please contact us. The quality of service as well as the modern car, luxury, comfort here will surely make you satisfied.
For more specific advice or rent cheap car to visit famous sites in Da Nang, do not forget to contact Kha Tran Car rental via hotline Ms.Katharine: (+84) 91 651 02 01 – (+84) 34 797 67 89.
Wish you and your family a happy journey and many memorable experiences in Da Nang.
---
For booking or any information please feel free to contact us:
KHA TRAN TRAVEL & TRANSPORT CO.LTD
ENGLISH SPEAKER HOTLINE – LINE – WECHAT – WHATSAPP: (+84) 91 651 02 01
Website: danangcarrental.com
Fanpage Facebook: fb.com/danangcarrental/
Hotline (Ms Katharine): (+84) 91 651 02 01 – (+84) 34 797 67 89
Email: danangcar6789@gmail.com (Sales) – khatrancarrental@gmail.com (Manager)
Office in Da Nang: No.12 Bui Xuan Phai Street, ThuanPhuoc Ward, Hai Chau District, Viet Nam