Danang Travel Experience 2019 – When should we travel to Danang? Transportation to Danang? Where to stay in Danang? What to do in Danang? Special food in Danang?
Danang Travel Experiences 2019 – Danang is a famous tourist city. It is located between three world cultural heritages: Hue Imperial Citadel, Hoi An Ancient Town and My Son Holy Land. Danang tourism is particularly attractive to visitors from all the world with My Khe beach (It is one of the most beautiful beach on the world), Marble mountain, Non Nuoc, Son Tra peninsula, Ba Na Hills,… and a lot of interesting destinations.
Kha Tran Car rental would like to share travel experiences Danang 2019. We hope to bring you the most useful information for the upcoming trip.
See more: Da Nang travel
When should we travel to Danang?
The best time to travel to Danang is from March to August. At this time in Danang has a beautiful climate, little rain, blue sky is extremely suitable for tours, convalescence and fun activities and entertain. This is the peak season, the tourists are crowded, so the hotel services, room rates, airfare, car rental in Danang and other services can increase. You also need to prepare early booking, car rental services, tickets, … to travel smoothly, with the best price.
However, with the diverse terrain, Danang has not only beautiful beach but also clean river,lush mountain, poetic plain. That's the reason why Danang tourism is always attractive. If you like to explore and adventure, you can still travel to Danang in the period from September to February. Danang travel in the low season is the choice of those who do not like the crowded and noisy. Moreover, this time less tourists, so the price of related services will also be much cheaper.
Means of transportation to Danang
Airplane: Danang travel by airplane is very convenient because domestic airlines such as Vietnam Airlines, VietJetAir, Jetstar,… all have flights to Danang. These airlines also regularly offer fare promotions to Danang very attractive. You should spend time contacting the company directly to get the cheapest ticket price.
Trains: Danang has a station located in the city so it is very convenient. From Hanoi and Saigon, there are 7 Thong Nhat trains running to Danang every day. Depending on your time to choose the right train. (Run from Hanoi with SE1, run from Saigon with SE2, the same departure time).
Coaches: From all provinces, there is a route to Danang, so if you intend to travel by passenger cars, you can easily go to Danang by this means.
Besides that, you can travel in Danang by motorbike, take the initiative on time and be comfortable watching the roadside. However, you should follow a large group of people to ensure safety.
Transportation for visiting Danang
There are many means of transportation in Danang such as bus, taxi, motorbike. Taxi is quite popular, you can easily see everywhere in the city. However, the taxi service in Danang is relatively high compared to other provinces, about 15,000 VND/km for 4 seats car, 16,000 VND/km for 7 seats car.
To travel to Danang is comfortable, safe with cost savings, you should use travel car service. The needs of pick-up and drop-off airport, gas station to the famous tourist attractions Danang, hotels, resorts, entertainment aresare met quickly. Advantages when renting a travel car in Danang is the safety, comfort and convenience. Travel car standards and drivers specializing in tourism, having knowledge about the points. With self-driving or driving, rent a car by day, available schedules or the schedule suggested by agency car rental, you can take the initiative in your journey. Kha Tran – Da Nang car rental is a professional car rental company in Danang, professional – reliable address for your travel.
Where to stay in Danang?
At Kha Tran car rental, in addition to advising on attractive destinations in Danang, we also help you to booking in advance at the hotel. Here is a list of resorts, quality hotels in Danang. Let's refer!
Luxury Resorts in Danang
InterContinental Danang Sun Peninsula Resort: Room rates range from 7 to 9 million VND
Vinpearl Premium Danang: Room rates range from 5 to 7 million VND
Hyatt Regency Danang Resort and Spa: Room rates range from 4 – 6 million VND
Furama Resort Danang: Room rates range from 4 to 7 million VND
Pullman Danang Beach Resort: Room rates range from 5 to 7 million VND
Popular hotels in Danang
A La Carte Hotel Danang Beach: Room rates range from 2 to 3 million VND
Brilliant Hotel Danang: Room rates range from 1.5 – 2 million VND
Grand Mercure Danang: Room rates range from 2 – 2.5 million VND
Northern Hotel Da Nang: Room rates range from 1.2 to 2 million VND
Eden Plaza Danang: Room rates range from 1.2 to 2.4 million VND
Cheap hotels in Danang
Frangipani Boutique Hotel: Room rates range from 7 to 1 million VND
Orange Hotel: Room rates range from 1 – 1.5 million VND
Sanouva Danang Hotel: Room rates range from 1 – 1.5 million VND
Grand Mango Hotel Danang: Room rates range from 9 to 1.3 million VND
Iris Hotel Danang: Room rates range from 5 hundred – 9 hundred thousand VND
Danang tourist spots – Danang Travel Experience
Danang has many interesting destinations for your reference:
The most beautiful beach in Danang
Enjoying a cool bath in the coastal city of Danang with many famous beaches such as My Khe, Bac My An, Pham Van Dong, Thanh Binh, Xuan Thieu, Nam O and the beaches of Son Tra peninsula (Bai But, Tien Sa beach, Bai Nam beach, Bai Bac beach, Bai Con Beach,…).
My Khe Beaches voted one of the six beautiful beaches in the world by Forbes. My Khe beach attracts tourists with clear blue sea, white sand with coconut trees lines. It is located in convenient location, from the center city of Da Nang, moving through Han River turning bridge, straight road Pham Van Dong about 1.5km to My Khe beach.
My Khe beach has 3 main beach areas including: Pham Van Dong central park beach, beach 1,2,3, T20 beach always crowded, bustling Da Nang people and tourists to Relax, take a cool bath and experience many exciting sea sports.
Son Tra Peninsula
Son Tra is about 10 km northeast of Danang city, the name of a peninsula and mountain in Son Tra district, Danang city. Son Tra peninsula covers an area of 60 km2, 13 km in length, 5 km in width, 2 km in the narrowest. Along with Hai Van Pass, Son Tra Peninsula covers and protects Danang City and Danang Bay.
Famous tourist sites on Son Tra Peninsula includes Bai Rang, Bai Da, Bai But, Indochina. Linh Ung Pagoda is also destinations attract many visitors.
Cham Museum of Sculpture
The Museum of Cham Sculpture is the largest museum of Cham artifacts in Vietnam built by the French. This is a collection, display and storage of sculptural artifacts found in the Cham towers and ramparts of the Kingdom of Champa in the South Central Coast (from Ha Tinh to Binh Thuan and the Central Highlands provinces).
The museum exhibits a total of about 500 objects, grouped according to the rooms corresponding to the geographic area discovered. Including: My Son, TraKieu, Thap Mam, Dong Duong and other corridors in Quang Tri, Quang Nam, Quang Ngai, Kon Tum, QuangBinh and BinhDinh. The museum is open for tourists seven days a week, is a must visit destinations for many visitors to Danang.
Con Market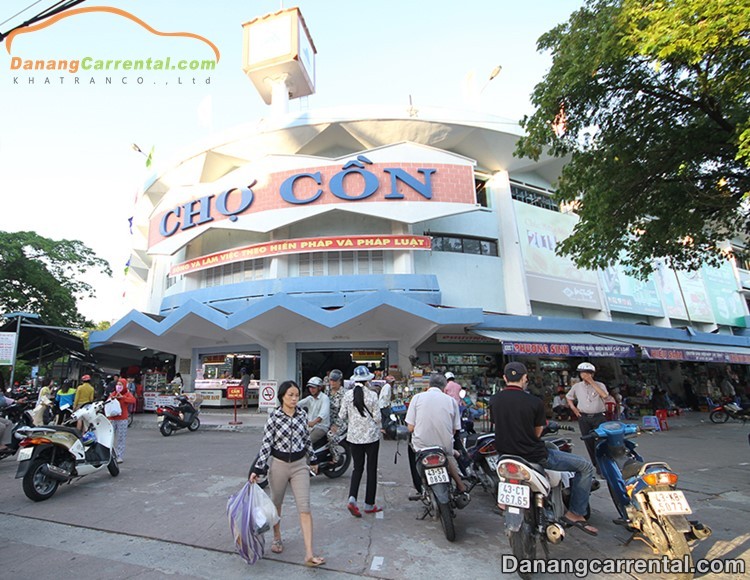 It was built in 1940, Con market is one of the largest and oldest markets in Danang, located on a high landmark in the heart of the city, so called Cho Market. Today, Con Market is known as one of the busiest shopping centers in Danang and also a very popular tourist destination. If you want to explore the cuisine of Danang with delicious snacks, strange and cheap or buy specialties as gifts for relatives, do not forget to visit the market in Ong Ich Khiem street, the road in the center of the city.
Sun Wheel – Asia Park
Sun Wheel is located in the amusement park area of Asia Park, a tourist attraction that attracts a large number of Danang people and tourists in recent times. It has 64 cabins, can accommodate up to 384 guests and has wheel time of 15 minutes. At a height of up to 115m, visitors can explore Danang panoramic view with a completely new, a Da Nang sparkling in the light or fanciful under the sunset.
Marble Mountain – Ngu Hanh Son
Ngu Hanh Son is in the village of Hoa Khue, Son Thuy Hamlet, Hoa Vang District Ngu Hanh Son District, located on Da Nang – Hoi An Road, about 8 km southeast of Danang. Ngu Hanh Son is a masterpiece that nature offers Da Nang city with five mountains located under Ngu Hanh, called Kim Son, Moc Son, Thuy Son, Hoa Son and Tho Son. Fantasy space, romantic scenery of Ngu Hanh Son always give visitors the pleasure of visiting the exhibition.
Ba Na Hills Resort
Danang tourism can not mention Ba Na. Ba Na Hills is about 30 km southwest of the center of the city, on the top of Chua Mountain, 1487 m above sea level. Ba Na is also known as the "green lung" of Central Vietnam, the "jade climate" of Vietnam with cool climate all year round. You can enjoy here 4 spring – summer – autumn – winter in just one day. For tourists who intend to travel eco-tourism, Ba Na Hills tourism is the ideal choice.
Danang cathedral – Con Ga Church
The building was built in French colonial style with Gothic style: ancient, impressive and unique. Con Ga Church became a tourist destination Danang meaning for visitors to Catholicism. It is also an outstanding attraction for those who are passionate about ancient architectural.
Van village
Van village is also called leprosy village, a small village located at the foot of Hai Van pass about 20 km from Danang city. This is a place of living of people living with lifestyle separated from normal life in the 80s. There is no big road to Van village, tourists have only 3 ways: boat from the bay, go pass Hai Van then down the mountain or go through the trains tunnel.
Dubbed the "The most beautiful pass on the world", Hai Van Pass always has a special appeal for those who love to experience and explore. Hai Van Pass is 20 km long, 500m above sea level, one side is mountain forest with cloud cover over the year. Hai Van Pass is also known to many international tourists when it entered the "Top 10 most beautiful roads in the world" by the British Guardian Magazine. From the Hai Van Pass, visitors can also admire the beautiful scenery of Danang, Cu Lao Cham, Son Tra peninsula, Lang Co, … Conquer this beautiful and dangerous road, sure to bring you many unforgettable emotions.
The famous bridge in Danang
Danang is famous for being the city of bridges. Let Kha Tran car rental list the unique bridge, impressive in Danang that everyone would want to see one.
Dragon Bridge
Dragon Bridge is designed and built with the shape of a dragon reaching out to the sea. Dragon has the ability to breath fire and breath water, it is very unique, impressive. Dragon Bridge is praised by CNN not only by the majestic architecture, but also the symbol for the development of Danang. Currently, the Dragon Bridge breath fire and breath water at 21h00 on the big holidays and Saturday, Sunday every week.
Han River Bridge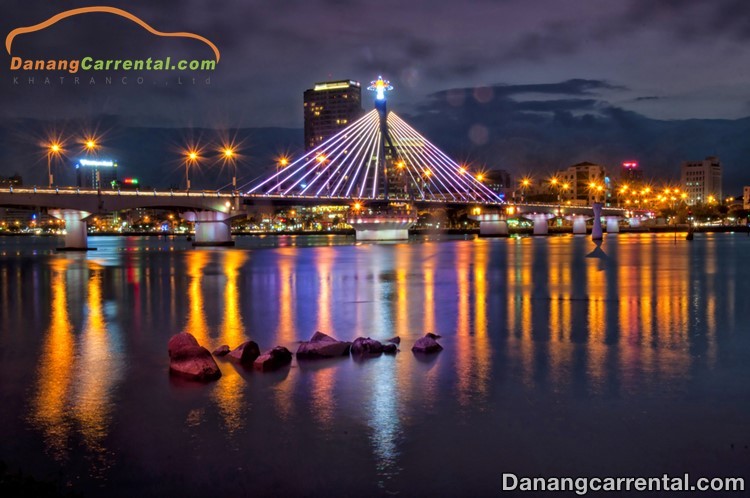 This is the first rotary bridge designed and built by Vietnamese engineers and workers. Up to now, the Han River bridge is the only rotary bridge in Vietnam. Every night at around 1am, the center of the bridge rotates 90 degrees around the axis and lies along the Han River to open the way for larger ships to cross. About 4 hours the bridge will return to the same.
Tran Thi Ly Bridge
Tran Thi Ly Bridge was a railway bridge, under the French colonial era, the bridge was called De Lattre de Tassigny. The bridge is designed with unique shape, positioning the main tower 145 meters high tilted 12 degrees to the west with 3 flat wire forming a sail stretched wind direction to the East Sea.
Thuan Phuoc Bridge
Thuan Phuoc bridge is located between Hai Chau district and Son Tra district. Look at all angles,Thuan Phuoc bridge has a modern look, splendid but also full of charm.
Danang Seafood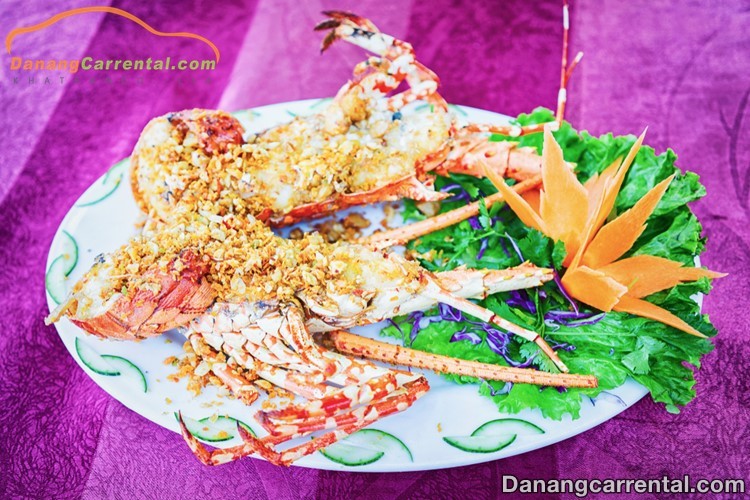 Fresh seafood is also the "plus point" attracting tourists of Danang. You can go to the market located at the crossroad Hoang Sa Giao Le Duc Tho, Tho Quang ward, Son Tra district. Near the coast, selling dozens of seafood from crabs, oysters, snails, to fish, shrimp, squid has just been caught. In addition, you can go along the Hoang Sa street to choose a casual pub to eat seafood at cheaper prices than restaurants in the city center.
Local food in Danang
Quang noodle
Quang noodle is a specialty dish of Quang Nam, made from rice flour, thinned, chopped and then added some additives to achieve crisp, tough, on the noodles are lean pork, shrimp, chicken and Stewed broth from the bones. They also added dried peas and dried parsley, sliced green onions, herbs, red peppers and fresh vegetables.
Chicken rice
Danang chicken rice is famous because it is not too fat, not too ripe yellow, just sweet, just delicious with delicious rice fried chicken. Therefore, chicken rice always has a special place in the heart of tourists when referring to Danang cuisine.
Pancake Rolls With Pork
This is a delicious but easy to make but equally attractive other dishes. Pancake Rolls With Pork wrapped in pork, fresh vegetables that are especially seasoned fish sauce is bold, aromatic according to the formulas make great taste for this dish.
Danang Travel experience is the wonderful thing that Kha Tran Car rental has just introduced to you above. To receive specific advice as well as answer questions related to Danang tourism experiences, the famous tourist attractions in Da Nang, cheap car rental in Danang,… or all the problems of travel guide Da Nang from A to Z, do not hesitate to contact Kha Tran hotline: Ms Katharine  (+84) 91 651 02 01 or (+84) 34 797 67 89.
Wish you have a trip to Da Nang is fun and complete!
Kha Tran Car Rental
---
For booking or any information please feel free to contact us:
KHA TRAN TRAVEL & TRANSPORT CO. LTD
ENGLISH SPEAKER HOTLINE – LINE – WECHAT – WHATSAPP: (+84) 91 651 02 01
Website: danangcarrental.com
Fanpage Facebook: fb.com/danangcarrental/
Hotline: Ms Katharine  (+84) 916510201 or (+84) 34 797 6789
Email: danangcar6789@gmail.com (Sales) – khatrancarrental@gmail.com (Manager)
Office in Da Nang: No.12 Bui Xuan Phai Street, ThuanPhuoc Ward, Hai Chau District, Viet Nam.