Lang Co beach has been recognized as one of the most beautiful bays in the world in 2009. So, it attracts a large number of domestic and international visitors to resort tourism annually.
Lang Co beach Hue is located in Phu Loc District, Thua Thien Hue Province, 30 km south of Danang city and 70 km north of Hue City. It is located between the three Monuments Conservation Centre: Hue Ancient Capital, Hoi An Ancient Town and My Son Sanctuary (average distance is about 70km), if you intend to visit Lang Co It is also very convenient to visit the other points in the tour Central.
How to get Lang Co Beach
There are many ways for people to travel from the south and vice versa from the north. Here, we would like to offer the ways and means of travel for you to choose.
First way: You fly to Hue and then rent a car to Hue. The distance from Phu Bai – Hue airport to the Lang Co about 75km, take almost 1 hour because the speed limits, the car is not fast.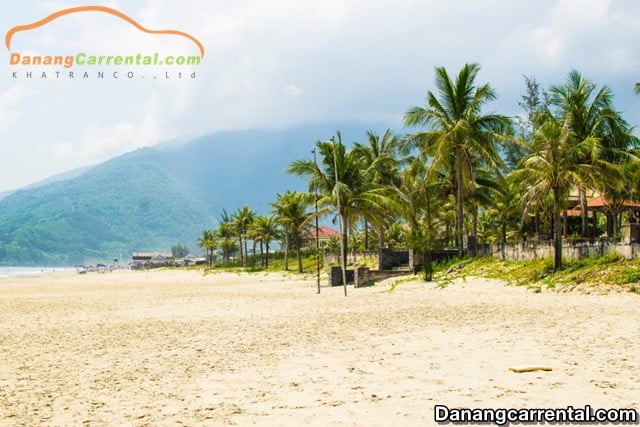 Second way: Flying in Da Nang and then renting cars in Da Nang through the Hai Van tunnel (about 15km) or through Hai Van pass (35km). If you want to go fast, you need to chose go through the tunnel but go through the pass is really a wonderful experience because the Hai Van pass is knows as the most beautiful pass in the world.
Note: If you book a room in advance, you can ask the hotel to rent a car. Or rent a car to Lang Co in Kha Tran Car rental- professional car rental in Hue, Da Nang, Hoi An. Fast, safe and comfortable, it is extremely convenient for you to visit the famous tourist attractions via hotline Ms.Katharine: (+84) 91 651 02 01.
See more >> Car rental from Da Nang to Lang Co beach
The best ideal time to travel to Lang Co beach Vietnam
Lang Co has gentle coastline, white sand, clear blue sea and average temperature about 250oC in summer, It's very cool. The best time to travel to Lang Co is from April to July. In addition to these months, Lang Co Beach is often to cold weather and rain all day, so it is not very convenient.
When coming here, you can hardly resist the beauty and tranquility of Lang Co town with great relaxation time and many interesting beach games. In addition, you can enjoy seafood dishes and visit some attractions such as Chan May port, Lang Co fishing village near the beach, …
What to eat in Lang Co?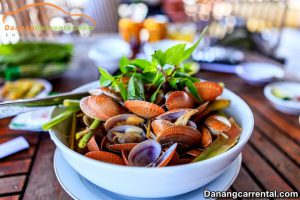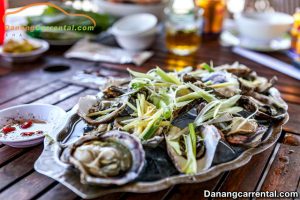 Regarding the diet at Lang Co, there are too many things to choose. Some famous eating places such as Be Den Restaurant are located at the foot of Hai Van Pass with distance not far, range 2.5 km, or many beach resorts. The dishes ranging from 29,000 VND to 35,000 VND/section, seafood is priced at 60,000 VND/section, seafood dishes are varied from lobster to cuttlefish, crabs,… Be Than Seafood Restaurant – Lang Co is located in the town of Phu Loc, Viet Long restaurant, Be Den Black Star – fresh seafood,… are also many visitors to visit Lang Co tourism.
Other attractions near Lang Co
Talking about going to sea tourism, of course, swimming is the number one, especially with a beach as pure as in Lang Co. But unfortunately, if you miss some interesting points in Lang Co:
You can go to the market by motorbike taxi, or rent a motorbike at the resort reception, it is better than rent a motorbike outside. There you can buy the things you need at a very cheap price. Then, you are free to explore the favorite places. Be sure to bring your camera, other accessories for self-portraits to capture the wonderful moments with everyone, surely your journey will be more interesting and have many unforgettable memories.
Chan May beach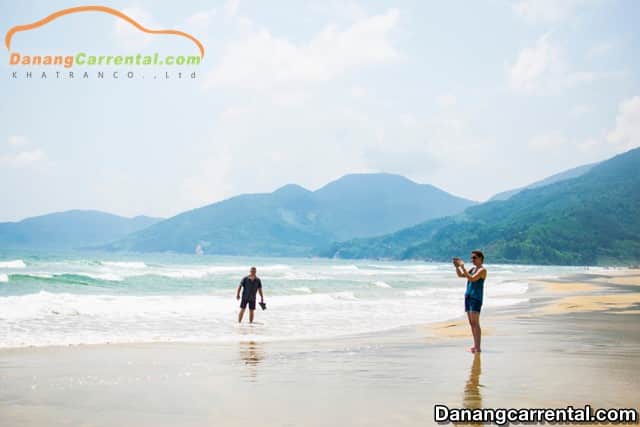 To reach Chan May beach, take 3km to the east, go on this route, you can admire Laguna Lang Co resort from above. If you are planning to bathe in this area, then pay attention. Because there is no sign of safety in the depths of the sea or no rescuers.
Bach Ma National Park
Bach Ma is located about 30 km west of Lang Co. Being ranked at the national level, Bach Ma National Park is a famous tourist destination in Hue, attracting many visitors to visit the majestic natural landscape and the diverse flora and fauna. The highest point of Bach Ma is Hai Vong Dai, from here can see Lang Co bay, Truoi lake … With a temperature range from 4 to 26oC will give you a very pleasant feeling.
We hope to bring you an interesting information in your tour to Lang Co Beach. For more specific advice or rent cheap car to visit famous sites in Hue, do not forget to contact Kha Tran Car rental via hotline Ms.Katharine: (+84) 91 651 02 01 – (+84) 34 797 67 89.
Wish you have a fun trip with many memorable experiences.
---
For booking or any information please feel free to contact us:
KHA TRAN TRAVEL & TRANSPORT CO.LTD
ENGLISH SPEAKER HOTLINE – LINE – WECHAT – WHATSAPP: (+84) 91 651 02 01
Website: danangcarrental.com
Fanpage Facebook: fb.com/danangcarrental/
Hotline (Ms Katharine): (+84) 91 651 02 01 – (+84) 34 797 67 89
Email: danangcar6789@gmail.com (Sales) – khatrancarrental@gmail.com (Manager)
Office in Da Nang: No.12 Bui Xuan Phai Street, ThuanPhuoc Ward, Hai Chau District, Viet Nam