Da Dam waterfall is a small waterfall in Duong Hoa, Huong Thuy town, Thua Thien Hue province. It is more than 23 kilometers to the Southwest. The scenery here preserves pristine beauty which is a tourist attraction in Hue city to attract tourists to experience the cool water in the hot summer days.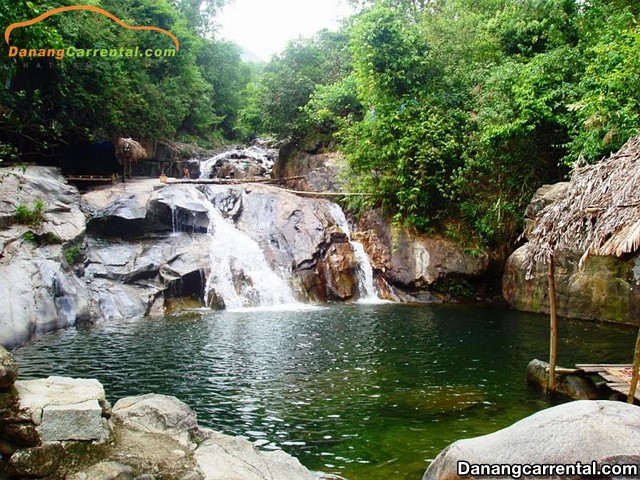 Let's Kha Tran car rental to prepare enough equipment in taking photos to do not miss any beautiful pictures at this famous Da Dam.
To reach the Da Dam waterfall, you will have two choices. One is to follow the direction of the Tuan bridge through Tan Ba wharf. Another way is from the center of Hue city follow the road to Ta Trach lake. If you choose the second one, you will have explored the large Ta Trach lake and gaze with veneration at the majestic mountains.
See more >> Hue tourism: Travel handbook from A to Z
Crossing the Ta Trach lake, the road to Da Dam is quite bumpy and dangerous. The long, rugged, rocky road can be considered as a suitable road for young people who want to "phuot" and challenge to them to control their the steering wheel. Driving until the end of the rugged rocky mountain road, you will see a small house of Huong Thuy Forest Rangers, then you can make sure you are on the right track at that time.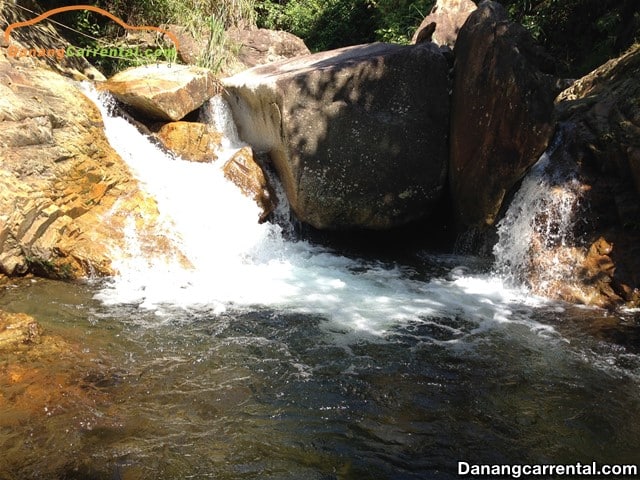 The road to Da Dam is quite wild, so it is suitable for those who like adventure by motorcycle, especially the young.
Surrounded by magnificent mountains and forests, Da Dam waterfall is a masterpiece that nature has given to this region with white water from the top down in order to create cool blue water. These lakes of about 30 meters are ideal places for visitors to take a bath. The pristine beauty of the scenery here together with the falls and the small streams, the blooming flowers in the fresh space, all of them give people the feeling of refreshing and being full of energy.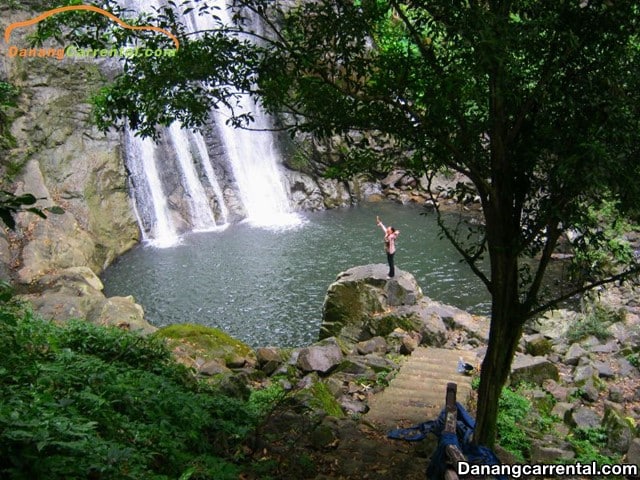 The lake is not too deep, so the adults' foot can touch the rock surface at the bottom. If you want to learn swimming, this place is also ideal to carry it out. However, it is important to note that if the group has children, then you should be careful because the lake is quite deep for children and the sheer rocks are quite high and dangerous.
If you want to conquer high altitude and get the waters head, you carefully prepare and go so as not to slip when climbing on the high cliffs. You can also have fun in the cool water beneath the waterfall. And someone who loves romantic things can pick up wild flowers or even find wild fruits here,…
Refresh yourself under the Da Dam waterfall pool
Another interesting experience you should try is to sit under the cliff, then let the cool streams flow from your head to your toe. You will feel the flow of water throughout the body in order to help you shake off the anxiety and sorrow of everyday life.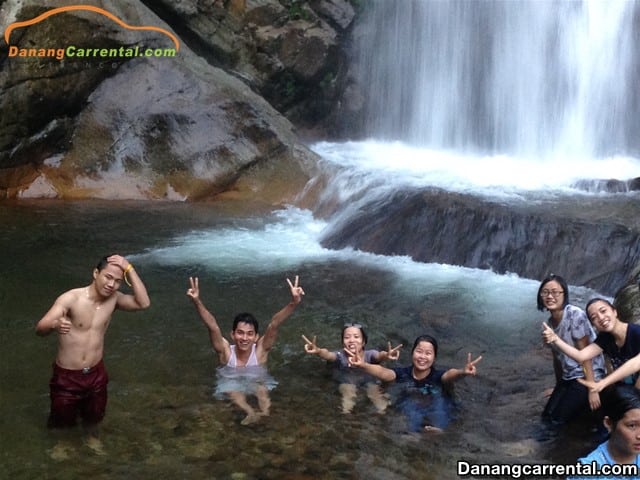 Not far from the city, Da Dam waterfall is an ideal place for you and your family to choose for their weekend to be immersed in fresh pristine nature. In addition, Kha Tran would suggest you many other famous Hue tourist attractions,which are attracted a lot of visitors to visit or take part in the entertainment activities in summer days such as Thuan An beach, Lang Co beach, Thanh Tan hot spring, etc. We hope to bring you an interesting information in your tour to Han river.
See more >> Car rental departure from Hue
For more specific advice or rent cheap car to visit famous sites in Hue, do not forget to contact Kha Tran Car rental via hotline Ms Katharine: (+84) 91 651 02 01 – (+84) 34 797 67 89.
Wish you have a fun trip with many memorable experiences.
---
For booking or any information please feel free to contact us:
KHA TRAN TRAVEL & TRANSPORT CO.LTD
ENGLISH SPEAKER HOTLINE – LINE – WECHAT – WHATSAPP: (+84) 91 651 02 01
Website: danangcarrental.com
Fanpage Facebook: fb.com/danangcarrental/
Hotline (Ms Katharine): (+84) 91 651 02 01 – (+84) 34 797 67 89
Email: danangcar6789@gmail.com (Sales) – khatrancarrental@gmail.com (Manager)
Office in Da Nang: No.12 Bui Xuan Phai Street, ThuanPhuoc Ward, Hai Chau District, Viet Nam