Hoa Trung lake – an ideal address for those who like to find peace, immerse in the beautiful nature and relax the soul. Let's discover what is interesting in this lake, what to eat and play and experience of visiting poetic lake.
Introduce Hoa Trung lake
Hoa Trung lake is located in Hoa Lien commune, Hoa Vang district, Da Nang city, about 20 kilometers in the West of the city center. This is a man-made lake in order to supply water for daily life and irrigate for the fields and crops of people.
In addition, this lake is regarded as "the yellow grass of Da Nang city". With a beautiful natural landscape like a water-based, peaceful and wildlife picture, this place has become a popular tourist destination of Da Nang.
The special attraction of Hoa Trung lake is the lake surrounded by artificial floating islands. Additionally, grass lands are lined with downhill slopes which are very suitable for outdoor activities such as picnics, or overnight camping by the lake.
Best time to visit Hoa Trung lake Da Nang
The end of September and the beginning of October is considered to be the best time for you to travel. At this time, the water in the lake is a little, therefore this is an ideal campsite with green meadow.
See more >>Da Nang Travel Information
You can come here early in the morning, when the morning dew drops on the lush grass or in the late afternoon. The tranquil beauty of Hoa Trung lake attracts visitors by the very simple familiar images. For instance, the cows gently graze grass or each flock of white storks fly and parked down the green, vast grass.
How to get to Hoa Trung lake
Some means of transports to get there
You can rent Da Nang tourist cars to go to Hoa Trung lake at about 20 kilometers. It may take you 40 minutes to get there. Besides that, you can drive motorcycle to freely contemplate the views on the way.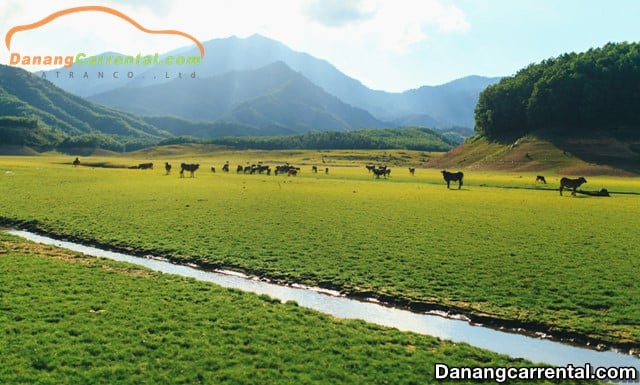 Ways to Hoa Trung lake Da Nang
If you go in the dry season: You should depart from Da Nang city center, go along Hoang Van Thai street, then turn right at National Highway 1A. After that, you go straight Tan Ninh street until you see your destination. To move down the lake, you have to run on the left side of the road with a small path.
If you go in the wet season, you have to choose other roads to avoid flooding. After turning right at National Highway 1A, you have to turn left at Au Co street. Then turn left keep driving this way there will be a trail leading to the lake.
What to play at Hoa Trung lake?
Taking photos with your relatives and friends to save memories in the beautiful scenery of beautiful lake is the first thing. This is also a beautiful venue for taking wedding photos in Da Nang city.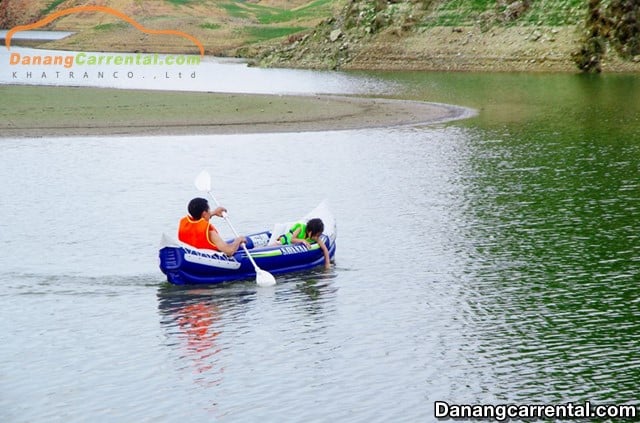 Particularly, when traveling here, you also have the opportunity to sail boats on the blue river. With its pristine beauty, you can freely admire and take the best photos.
Camping here is also an extremely enjoyable experience, but do not forget to prepare enough food and water for your picnic.
Hoa Trung lake in Da Nang city and all information about it we have just shared, Kha Tran car rental hope to bring you a perfect choice of tourist attractions in Da Nang city. For more specific advice or rent car, do not forget to contact us via hotline Ms.Katharine: (+84) 91 651 02 01 – (+84) 34 797 67 89.
Wish you and your family a happy journey and many memorable experiences in Da Nang.
---
For booking or any information please feel free to contact us:
KHA TRAN TRAVEL & TRANSPORT CO.LTD
ENGLISH SPEAKER HOTLINE – LINE – WECHAT – WHATSAPP: (+84) 91 651 02 01
Website: danangcarrental.com
Fanpage Facebook: fb.com/danangcarrental/
Hotline (Ms Katharine): (+84) 91 651 02 01 – (+84) 34 797 67 89
Email: danangcar6789@gmail.com (Sales) – khatrancarrental@gmail.com (Manager)
Office in Da Nang: No.12 Bui Xuan Phai Street, ThuanPhuoc Ward, Hai Chau District, Viet Nam