In order to meet the needs of inquiries to make a plan before traveling, Kha Tran car rental service would like to provide "Price tickets to visit destinations in Da Nang 2019" of the most famous tourist attractions Da Nang.
1. The Ba Na Hills Ticket Prices
Located about 25 km from the center of Da Nang city, Ba Na – Suoi Mo ecotourism area is located at the 1487m altitude above sea level so the weather is very cool. Every day, there are four spring – summer – autumn – winter, attracting many visitors come to admire.
Fare for tourists from many provinces in Vietnam (except Da Nang):
Adults: 750,000 VND
Child: (1m – 1.3m): 600,000 VND
2. The Marble Mountains Ticket Prices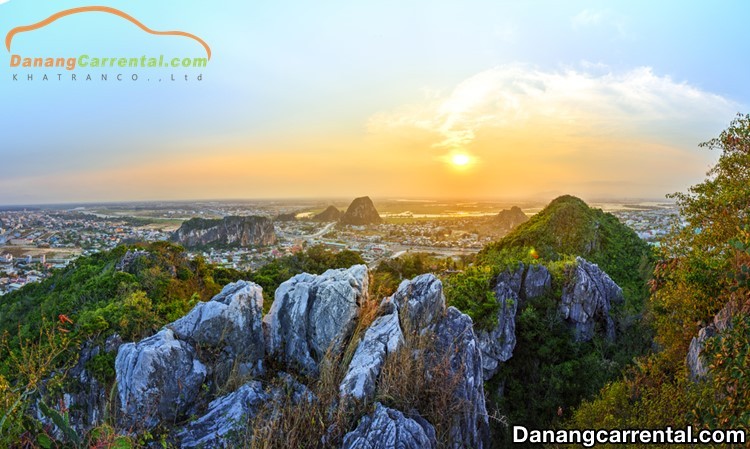 This ticket is valid from 1st Jan 2017.
Ngon Thuy Son Tourist Attraction
Adult: 40,000 VND/person/time
Students: 10,000 VND/person/time
Children under 6: Free of charge
Dong Am Phu Tourist Attractions
Adult: 20,000 VND/person/time
Students: VND 7,000/person/time
Children under 6 years old: Free of charge
Elevators up to the mountain: 15,000 VND/person.
Sighting Vong Canh Hill: 10,000 VND/time.
3. Champa Sculpture Museum
Entrance fee: 40.000 VND/Person.
4. Hoi An Ancient Town
120.000 VND/International visitor.
5. Thanh Ha Pottery Village – Hoi An
25,000/International visitor.
6. Tra Que Vegetable Village
20.000 VND/International visitor.
7. My Son Sanctuary
150,000 VND/International visitor.
8. Son Tra Peninsula
You should not miss Son Tra peninsula – a famous tourist destination but absolutely free Da Nang. On the road to Son Tra Peninsula, there are many beautiful landscapes such as Linh Ung Pagoda, multi-year tree, Green Lake, Dinh Ban Co,…
However, there are some places required to buy tickets to visit such as:
Bai Rang, Bai But: free entrance, and you only pay when renting a shed, mats, (price range from 200,000 – 400,000 VND). There is food and no surcharge when you bring food.
Tien Sa Port: 25,000 VND/Person (car deposit included).
Hai Dang: 20,000 VND/Person/time.
Lam Thuy Tea Trang: 10,000 VND/Way (car deposit included)
9. The Asia Park Da Nang Ticket prices
Entrance fee:
300,000 VND/Adult
150,000 VND/Child
The ticket price includes Experience 20 outdoor and indoor games with 64 games, sunblaster area, soft play, Sun Wheel rides and visit the finest architecture here.
10. 3D Museum tickets in Da Nang
Adults: 140,000 VND/Person
Child ticket (1m – 1.3m): 80.000 VND/Child
Baby under 1m: Free.
Children over 1.3m: Calculated as adult fare
11. Than Tai Mineral Springs Resort
Entrance fee:
300,000 VND/Adult
150,000 VND/Child from 1m> 1m3
Children under 1m: free
12. Hoa Phu Thanh Resort
Entrance fee: 30,000 VND/Time
Waterfall ticket: 180,000 VND/Time
Tickets Massage by fishes: 30,000 VND/Time
Zipline tickets: 50,000 VND/Time
That is "The latest price list to visit destinations in Da Nang 2019". In addition, visitors are free to explore and experience the popular tourist attractions Da Nang.
THE FREE TOURIST DESTINATIONS IN DA NANG
1. Non Nuoc Stone Village: located in Hoa Hai ward, Ngu Hanh Son district
2. Ran Nam O: Nestled at the foot of the Hai Van Pass, Nam O Village in Hoa Hiep Bac Ward, Lien Chieu District, Da Nang, is a land of legendary stories, showing off its unique spiritual and cultural values.
3. Hoa Trung Lake: Hoa Trung Lake is located in Hoa Lien Commune (Hoa Vang, Da Nang) about 20km from the center of the city.
4. Bach Ma Mountain: If you go from Danang, after crossing 3 passes including Hai Van, Phuoc Tuong and Phu Gia, go through Lang Co beach that you have come to Bach Ma.
5. Linh Ung Pagoda, Son Tra Peninsula: If you are a follower of spiritual tours, this is an ideal destination for you. With a beautiful location, large scale and outstanding architecture, Linh Ung Pagoda is an interesting destination
6. Cam Nay Village: Located 14 km southwest of Da Nang City, Hoa Tien Commune, Hoa Vang District, Da Nang City.
7. Tuy Loan ancient village: It is located in Hoa Phong commune, Hoa Vang district, about 15km from Da Nang city center.
8. Bai Rang: With a motorbike, it takes just over ten minutes from the city center to Bai Rang, you have found yourself lying along Hoang Sa Road, through Linh Ung Pagoda.
9. Tam Thai Pagoda: Located in the west of Thuy Son Mountain, one of the five famous mountains of Ngu Hanh Son.
10. Bridge of love: Bridge of love located right at the bridge Dragon, Tran Hung Dao Street, Son Tra district. It free when visitors come to visit. At night, hundreds of red heart-shaped lanterns are lit, making the area extremely romantic..
11. Da Nang Children's Culture Palace: located in Hoa Cuong Bac ward (Hai Chau district), south of the Memorial, in front of 2/9 street.
12. Looking at Dragon Bridge Da Nang spray fire, spray water: Dragon Bridge Da Nang spray fire spray water at what time? Every two nights at the weekend at 21h, Dragon Bridge will have a fire and fire spray interesting. Around this time, the two bridgeheads will block the car to serve for spraying water, the fire of Dragon Bridge. So, you can go along the way looking for Small snack store to sit drinking water and watching the dragon bridge, that is the best ideal.
See more >> The time and places to see Dragon Bridge Da Nang breath fire, squirt water
13. Han River bridges turn from 23h – 24h on Saturdays and Sundays every week. At the same time, pause the vehicles through the bridge before 15 minutes when the bridge starts filming until the end.
That is "The latest price list to visit destinations in Da Nang 2019" and "The free tourist destinations in Da Nang". Hopefully, it will be useful for you to choose interesting destinations at good prices for your delegation.
Kha Tran Car rental
---
For booking or any information please feel free to contact us:
KHA TRAN TRAVEL & TRANSPORT CO.LTD
ENGLISH SPEAKER HOTLINE – LINE – WECHAT – WHATSAPP: (+84) 91 651 02 01
Website: danangcarrental.com
Fanpage Facebook: fb.com/danangcarrental/
Hotline (Ms Katharine): (+84) 916510201 – (+84) 34 797 6789
Email: danangcar6789@gmail.com (Sales) – khatrancarrental@gmail.com (Manager)
Office in Da Nang: No.12 Bui Xuan Phai Street, ThuanPhuoc Ward, Hai Chau District, Viet Nam.