Da Nang new attractions are interested by domestic and foreign tourists. Along with Kha Tran explores 8 following places to prepare yourself a trip to this liveable city completely.
1. Van Village Tourism – one of 8 Da Nang new attractions
Van Village is a small area located at the foot of Hai Van Pass. Previously, it was the residence of people who had leprosy and live separate from the outside world. The village is isolated, so there only 3 ways to get there by walk: climbing up the Hai Van Pass and following the mountain slope, taking a boat from the bay or going through the train tunnel to reach your destination.
See more >> Car rental from Da Nang to city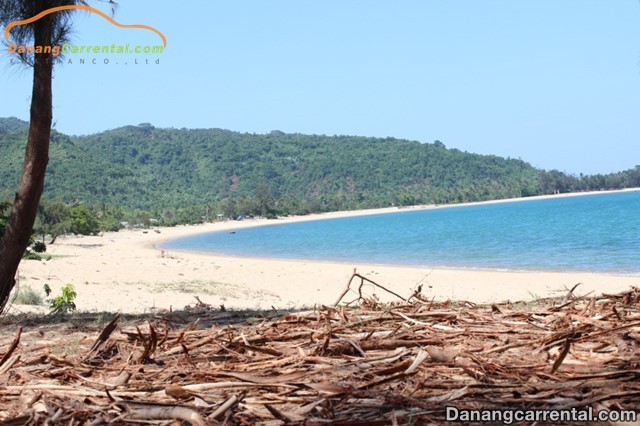 Recently, this place is as an ideal check-in venue for young people for weekend camping trips. You will be immersed in the natural scenery of tranquility, find the moment to relax for the soul or to enjoy fun with relatives on the beautiful golden sand.
See more >> Van village tourism experience
2. Dong Dinh Museum – best new attraction in Da Nang
Dong Dinh Museum is located on Hoang Sa street (Son Tra peninsula). Here, you will see many collections of poet Doan Huy Giao. It is like a memorial garden recreates the ancient features in harmony between conservation of forest ecology and cultural space art..
The collection consists of two ancient houses built in the architectural style of Kim Bong and a modern architectural house built on a gentle hill.
Opening hours: From 8:00 am – 5:00 pm Saturdays, Sundays and public holidays. Ticket price: 20,000 VND / person.
3. Tien Sa lighthouse- Da Nang new attraction for the youth
Tien Sa lighthouse is located at Son Tra mountain with altitude about 223m above sea level. It has the mission to help ships operating in Da Nang – Hue sea area can orient and determine its position. This is the most beautiful lighthouse in Viet Nam. And from here, you will have a panoramic view from the mountains to the vast sea with beautiful scenery.
4. Thuan Phuoc lighthouse – new attraction in Da Nang
Thuan Phuoc lighthouse has the appearance of stretching out to the sea and connected to the mainland by stone breakwater. It is near Da Nang city center and Han River.
Here, you can clearly see Thuan Phuoc bridge and three famous bridges of Da Nang. Not only that, Thuan Phuoc lighthouse is the place to take fresh air and watch the sunset in the late afternoon. Why should you try once to have the most wonderful moment?
5. Dong Xanh Lake 
Dong Xanh Lake is about 25 km to the west of Da Nang city, in Hoa Khuong commune, Hoa Vang district. With the area of 2.4 km², covered by a green grassy,and open view, it is attracting many tourists. This is also ian ideal spot for weekend picnic thanks to peaceful sight and charming scenery.
Setting foot on here, you will experience exploring the streams or taking boat trips, kayaking,… All will bring you moments of relaxation.
6. Bai Rang beach – the most popular Da Nang new attractions
From the city, it only takes you 15 minutes to get there. The road to Rang beach is sloping but flat, and quiet. On the way you will admire the beautiful scenery on both sides, and view the city of Danang from above.
Most of the area at Rang beach is not yet exploited, so it still keeps own pristine beauty. Besides, this place is separated from the residential area that is ideal for those who love to watch the sea or immersed in the blue sea, diving to see the coral.
See more >> Discover the beauty of Bai Rang beach in Da Nang
7. Bang reef – unique new attraction in Da Nang
"Ghenh Bang" – Son Tra is a peaceful place with a coastline of about 2 km, surrounded by numerous small rocks and green trees. It is about 20 km from the center of Da Nang. This is suitable for those who like to admire charming, tranquil scenery. Due to not being expoited, it almost has retained the original wilderness with large rugged rocks, golden sand with shadow of the coconut lines.
In addition, travelling here, you should try a scuba diving the coral experience – the most favorite activity. Besides that, experience fishing is so interesting. Surely, you will relax, relieve stress and have booty treat your friends.
8. Nam O Reef
Nam O reef always provokes curiosity, fun for those who have ever come to. However, its coral reef is still a new tourist destination for many tourists to discover.
With area of 2 ha width, including 2 clusters :Ca reefs and Con reefs, it is also the favorite destination. Beside the beautiful natural scenery, Nam O reef is also a paradise of seafood specialties.
Further more, raw fish and vegetables are famous dishes combined with many different types of fish to create a unique flavor of this land. Coming here and enjoy the most delicious food to have enjoyable experience.
See more >> Explore Nam O Reef
With the list of 8 new tourist attractions in Da Nang, we hope to bring you many interesting suggestions of wonderful experiences when traveling the beautiful coastal city.
For more specific advice or rent cheap car to visit famous sites in Da Nang, do not forget to contact Kha Tran Car rental via hotline Ms Katharine: (+84) 916510201– : (+84) 34 797 6789.
Wish you and your family have a happy journey and many memorable experiences in Da Nang.
---
For booking or any information please feel free to contact us:
KHA TRAN TRAVEL & TRANSPORT CO.LTD
ENGLISH SPEAKER HOTLINE – LINE – WECHAT – WHATSAPP: (+84) 91 651 02 01
Website: danangcarrental.com
Fanpage Facebook: fb.com/danangcarrental/
Hotline: Ms Katharine: (+84) 91 651 02 01– : (+84) 34 797 67 89
Email: danangcar6789@gmail.com (Sales) – khatrancarrental@gmail.com (Manager)
Office in Da Nang: No.12 Bui Xuan Phai Street, ThuanPhuoc Ward, Hai Chau District, Viet Nam