Da Nang tourist – Danang weather – The four seasons of the year carry their own beauty that affects people and things from a certain perspective. Not full of vitality like the warm, cold winter brings a beautiful and mysterious beauty. While the collection is pleasant and gentle, with the yellow leaves, the hot and hot summer helps the beaches become more vibrant and colorful.
The article below hopes to help visitors better understand the weather in Da Nang and famous attractions to enjoy the trip to explore this beautiful city in the most complete way, avoiding traveling in the seasons which bad weather.
Overview of Da Nang weather
Da Nang – a small city on the Han River, belongs to the central of Viet Nam. Da Nang has a tropical monsoon climate with high temperature and low volatility. Danang is believed to be the influence of both northern tropical climate and Southern Vietnam savanna. However, under the influence of the South more, the weather in the year is divided into dry season (from January to July), rainy season (from August to December). Occasionally, in winter, Da Nang is affected by cold weather from the North, which flows down but is not cold and does not last long.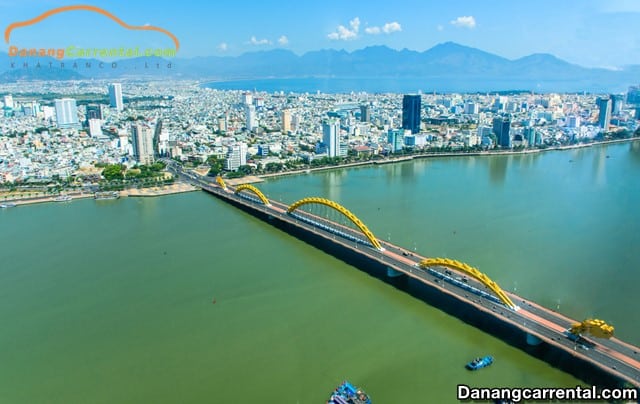 The advantage of Da Nang is a coastal city so it makes Da Nang quite comfortable, not too hot. In the summer, June, July and August, the average temperature is about 28-30 degrees Celsius. In Ba Na Hill tourist paradise, because of the height of 1,500 meters, the temperature is usually around 20 degrees Celsius. Favorable weather, the fever of Ba Na Hill tourism search has not cooled down recently. But also because of the East Sea, every year, Da Nang is affected by two big and small storms and tropical depressions. It is also a point to note, closely monitoring the weather so that the journey to Da Nang is convenient and smooth.
See more >> Da Nang car rental with driver
Rainy season in Da Nang (from August to December)
This is said to be a period of time when tourists should not travel, just in case a bad case occurs: Storm, heavy rain easily causes slippery, roads are obstructed, difficult to travel. Not only affect visitors but also during this time, trees and landscapes when it comes to rain, strong winds will be difficult to have the most beautiful views, most perfect compared to sunny days, clear and clear blue on dry season.
During this time, visitors will not be able to enjoy swimming, climbing, skiing, or going to Linh Ung Pagoda, the top of the Ban Co Peak … to see the whole view of Son Tra Peninsula. Another obstacle is the preservation of daily life items and appliances that are quite difficult when it comes to rain.
However, if tourists come to Da Nang on a rainy day, don't worry. Because this place also has a list of interesting experiences: going to the movies, going to entertainment areas, shopping … and many other options.
Dry season in Da Nang (January to July)
In the dry season, Danang's climate is very mild, blue and clear, not too hot during the day, not too cold at night. This is said to be a quite convenient time for traveling, walking, swimming, climbing and enjoying the full of beautiful natural beauty. For that reason, every year, in the dry season, the number of tourists looking to Da Nang is high, causing congestion, fire tickets for airplanes, cars, hotels and amusement parks. So, if you want to choose Da Nang as a destination in this summer without the time and health conditions to go by motorbike, you need to contact the airline and hotel reservations at least 3 months before Departure to make sure the exploration takes place smoothly.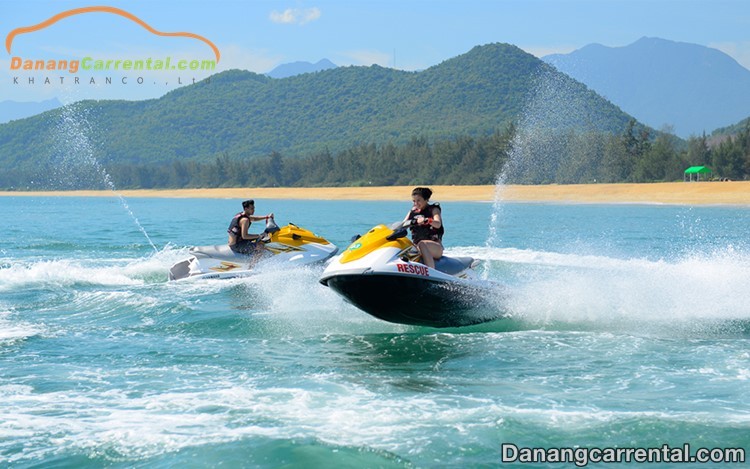 Da Nang tourism
If coming to Da Nang, tourists should not miss the occasion of International Fireworks display on April 29 – 30. With shimmering light of all shapes and colors of fireworks coming from many countries in the world, reflecting on the surface of the Han River creates a magical, romantic scene. Relaxing along the Han River to learn about some beautiful bridges here will help tourists enjoy because they have seen firsthand the Dragon Bridge spraying water and fire. And later, at 00h30 minutes every night, the Han River Bridge will rotate at the center of the bridge at a 90-degree angle and will end at 3:30 am. This moment has always been patiently awaited by many tourists coming here.
On sunny day, clear blue, visitors can comfortably visit Ba Na Hill, Son Tra peninsula, go to Linh Ung Pagoda, … Some tourists like to explore, like the adventure can go Motorcycle rides experience on the beautiful and zigzag paths and clouds of Hai Van Pass. Here, the young people will have pictures of "check in" for life, the most beautiful corners to focus on both the majestic and poetic beauty of the mountains and forests. If you want to turn to Hue Citadel or visit Hoi An ancient town, then it is very close and convenient to go from Hai Van Pass.
Hue weather
The two seasons are as distinct as Da Nang, but the climate in Hue is a bit different: the dry season starts later (from March to August) and from August to January it is called the flood season because there are many years of the heat drops to 10 degrees C. In September 11, Hue Citadel will be full of romantic purple lavender, yellow phoenix color on every road. And Hue winter is as dense as a young woman, erratic with cold rains. In the rain, if visitors look, admire the tombs, the temple will feel more ancient, or it can rain to make the human soul more nostalgic.
But it's great if you visit Da Nang in the dry season and visit Hue. The white, smooth sand dunes on summer, Thuan An beach, Lang Co … green, bustling, bustling are places that should not be missed. At night, charismatic and equally charming as Dragon Bridge, Han River Bridge, Hoi An Ancient Town – magnificent royal palace, magnificent with red lanterns. Only 30km from Da Nang, visitors will be lost in a dreamy, romantic world with dishes, beautiful scenes and even drop flower lights to pray for health and luck.
See more >> Car rental from Da Nang to Hue
Hopefully the article helps visitors understand more about Da Nang weather to choose the time to relax and explore Da Nang city in a reasonable and smooth way!For more specific advices or rent cheap car to visit famous sites in Da Nang, do not forget to contact us via hotline Ms Katharine: (+84) 91 651 02 01 or (+84) 34 797 67 89. Wish you and your family a happy journey and many memorable experiences in Da Nang.
---
For booking or any information please feel free to contact us:
KHA TRAN TRAVEL & TRANSPORT CO.LTD
ENGLISH SPEAKER HOTLINE – LINE – WECHAT – WHATSAPP: (+84) 91 651 02 01
Website: danangcarrental.com
Fanpage Facebook: fb.com/danangcarrental/
Hotline (Ms Katharine): (+84) 91 651 02 01 – (+84) 34 797 67 89
Email: danangcar6789@gmail.com (Sales) – khatrancarrental@gmail.com (Manager)
Office in Da Nang: No.12 Bui Xuan Phai Street, ThuanPhuoc Ward, Hai Chau District, Viet Nam