Cua Dai beach Hoi An is located about 5km from the East of Hoi An and 30km from the South of Danang. With original beauty, tranquility with blue water and smooth white sand bank, Cua Dai beach has been an ideal destination for domestic and international tourists.
Cua Dai beach Hoi An overview
Cua Dai beach is the most beautiful beach of Dang Trong from the Champa period and has been ranked 18th in the top beaches in Asia by the famous travel site TripAdvisor.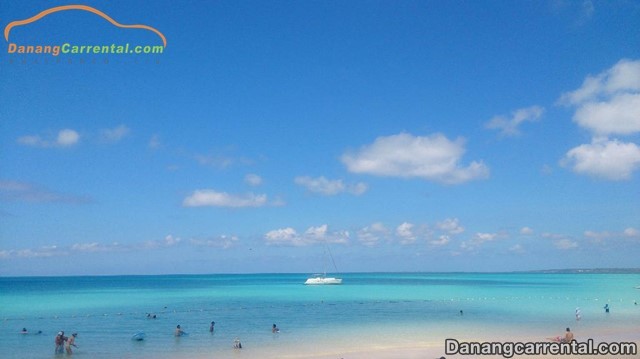 The beach is large to several tens of hectares, small waves, clear blue water, white sand and always overwhelms with sunshines making Cua Dai beach more beautiful. For that reason, Cua Dai beach attracts many investors so as to develop into a tourist area with many kinds of entertainment such as swimming, water sports and resorts…
Cua Dai beach used to be eroded seriously. However, the sea was expended with deposits of sands and the government spent nearly 70 billions to make embankments, and pump more sand. Therefore, Cua Dai still has kept the romantic and gentle beauty inherent. The sea is still blue, the white and smooth sand is still spreading out to enchant people.
What is the most interesting thing there?
New High-end resorts 
Along the beach is high-end resorts with different styles. The resort system is built environmentally friendly, there is almost no tall buildings. The architecture of the countryside in Vietnam is chosen to beautify for the charm of Cua Dai beach. Besides that, there are still splendid houses, surrounded by brightly colourful and fragrant flowers to make the tourists' souls passionate.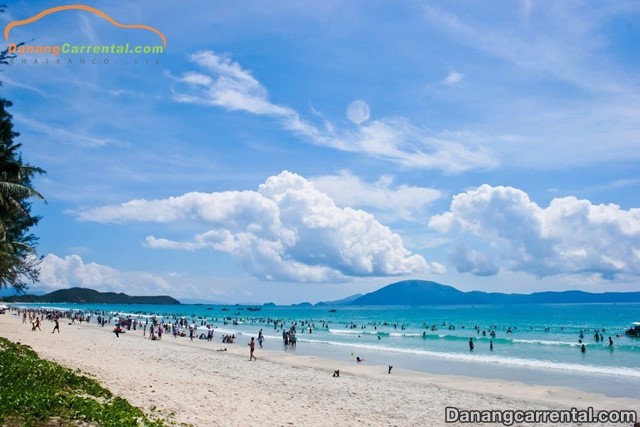 A clean and blue beach 
With many ideal conditions, you can freely travel and bathe anywhere on the beach. How wonderful when you can immerse yourself in fresh nature and cool sea water to feel relaxed, pleasant and forget the worries about everyday life.
Cua Dai beach Hoi An Vietnam brings wonderful experience that you always feel more and more attractive when discovering.
Throughout 7 km, Cua Dai beach is still clean and that is what tourists love. Europeans come here for holidays. Especially, Cua Dai is not too noisy, it always has a peaceful, quiet, very clean and fresh space. Even though Hoi An beach tourism has developed quite strongly with many hotels near the sea, Cua Dai beach always keeps a distinct characteristic. That is the reason why many tourists choose Cua Dai to rest after visiting many famous tourist sites in Danang, Hoi An.
A place of experience in fishing, sitting on the basket boats
As the place that Thu Bon river flows into the sea, there are many fishes in Cua Dai. One of the tourist attractions here is fishing. Catching predatory fish such as eels, tenches, red snappers … is an exciting experience. Guests can go fishing near the shore, or can fully rent a small bamboo basket boat to be floating in the sea amidst immense waves.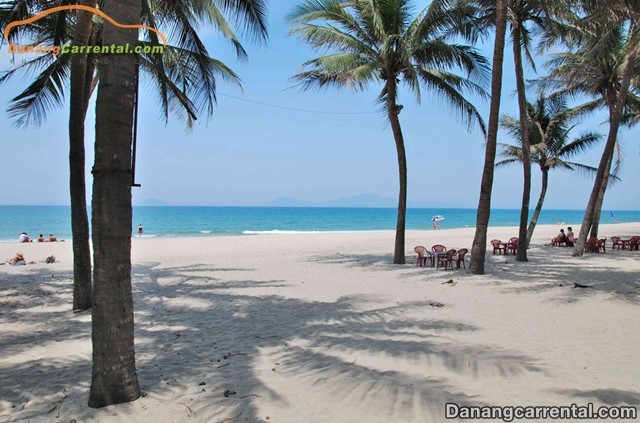 A place of relaxation
From a distance at night, Cua Dai beach Hoi looks shimmering as a flower garland with many kerosene lamps of hawkers. Only a few minutes away from the high-end resorts, the locals are free to trade in fresh seafood, dried squids,… with a very polite attitude. They are also very aware of environmental protection. They do not litter indiscriminately and always put available brasses or baskets for the garbages and cleaning up everything before leaving. Sitting in the middle of a clean space with one or two kerosene lamps, enjoying fresh seafood and looking at the sea, they must be very interesting!
Bring calm as the soul of Hoi An ancient town, so the experience for Cua Dai beach Hoi An tourism of Kha Tran car rental is just to go, come and explore. There are special things that can not be expressed in words, but only experienced all that great things when you arrive.
Kha Tran Car Rental
---
For booking or any information please feel free to contact us:
KHA TRAN TRAVEL & TRANSPORT CO.LTD
ENGLISH SPEAKER HOTLINE – LINE – WECHAT – WHATSAPP: (+84) 91 651 02 01
Website: danangcarrental.com
Fanpage Facebook: fb.com/danangcarrental/
Hotline: Ms Katharine (+84) 916510201 or (+84) 34 797 6789
Email: danangcar6789@gmail.com (Sales) – khatrancarrental@gmail.com (Manager)
Office in Da Nang: No.12 Bui Xuan Phai Street, ThuanPhuoc Ward, Hai Chau District, Viet Nam.