Bridges in Danang – the highlight of the city's tourism. Inside, the most prominent are Han River Bridge, Thuan Phuoc Bridge, Nguyen Van Troi Bridge, Dragon Bridge and Tran Thi Ly Bridge. These bridges have created a new face for Da Nang and the pride of Da Nang people.
Danang Golden Bridge
Da Nang Golden Bridge, located on the top of Ba Na Hill, makes the international media constantly praise. With extremely impressive design, two large mossy hands reach out from the mountain to grab the yellow silk path suspended in the sky, this masterpiece is also referred to as Danang Hands Bridge – one of virtual living not to be missed when traveling to Danang.
Ba Na Hill Golden Bridge was built in less than a year, inaugurated and opened in June 2018. In just a short time, the Golden Bridge Da Nang tour has attracted hundreds of thousands of visitors, and has become a viral phenomenon on social networks. Chief designer by Mr. Vu Viet Anh, of TA Landscape Architecture.
With a length of 150 meters and located at an altitude of 1414 meters above sea level, the Golden Bridge has created a walkway in mid-air, in the middle of a misty picture frame like a fairy-tale place of Ba Na mountain. Standing in the position of mossy hands, visitors can see the primeval forests stretching headline, far away is the panoramic view of the beautiful city of Da Nang
Han River bridge
Han bridge is representative of Da Nang. Talking to Danang,  people will think of this bridge immediately. The bridge was inaugurated and operational since 2000. The bridge connects the two banks of the Han River with 11 spans, each span of 33 m. At 12 o'clock, the bridge will automatically move to make the boat easier to cross, and at 3h30, the bridge will return to its original position. Not only facilitate transportation, tourism, arouse economic potential of Da Nang city, Han River bridge is also a cultural mark of Da Nang people in the early 21st century.
See more >> Car rental service in Da Nang
Thuan Phuoc Bridge
The bridge is located in the east of the city, across the Han River, connecting Nguyen Tat Thanh with Man Quang Bridge, between Hai Chau and Son Tra districts. Thuan Phuoc Bridge was built in 2003 and started to operate in July 2009. The bridge is 1,856 m long, 18 m wide and 92 m high. Thuan Phuoc bridge is the longest cable stayed bridge in Vietnam.
Nguyen Van Troi Bridge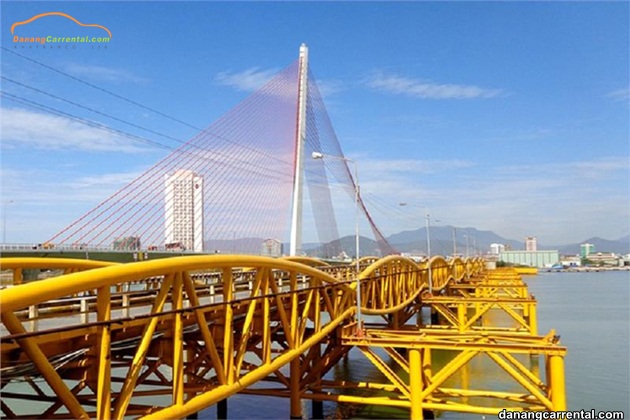 Nguyen Van Troi bridge is considered as "cinderella" of Da Nang. With a life of half a century, Nguyen Van Troi Bridge is regarded a souvenir of the city. At now, Nguyen Van Troi Bridge is the bridge with the most strange architecture in Da Nang ever.
Dragon Bridge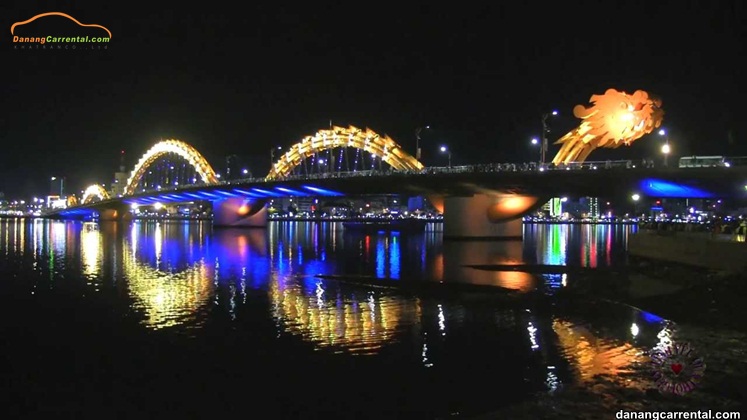 Dragon Bridge is the most famous bridge in Danang at now. Inaugurated in 2013, the Dragon Bridge stretches between Nguyen Van Linh Street and Vo Van Kiet Street, with a total length of 666 m, consisting of 5 main spans and 3 spans, 64.15 m long, dragon spans is 72 m long.
Especially, you can watch Danang dragon bridge spray water and fire on Saturdays, Sundays, and grand festival. Surely, it will bring you an excellent and impressive show. Don't miss it to be regretful!
Tran Thi Ly Bridge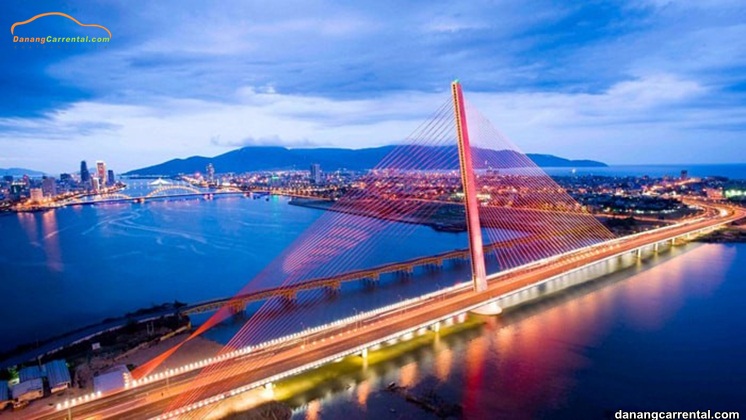 Tran Thi Ly Bridge is a railway bridge in the past, French colonial period called De Lattre de Tassigny then renamed Trinh Minh The Bridge. About 20 meters from Nguyen Van Troi Bridge. The bridge was renamed Tran Thi Ly Bridge after 1975 and has been upgraded to a road bridge.
See more: ASIA PARK – SUN WORLD DANANG WONDERS
Bridges in Danang are interesting spots that anyone coming here want to discover and snap beautiful photos. Hopefully, above information will help you know more about Danang- the city of bridges.
To rent a car to stroll around Danang bridges and behold Danang sceney at night, please contact us via Hotline:  (+84)916510201 (Ms Katherine)
Wish you have a nice trip to Danang!