Da Nang attracts tourists not only by its poetic and majestic natural beauty, but also many famous museums, which mark time traces, and testify to a magnificent history of the Vietnam people.
And today Kha Tran will introduce to you a very famous museum with an impressive name Fifth Military Division Museum Da Nang.
See more >> Da Nang travel information
1. Introduction of Fifth Military Division Museum
Visiting the Fifth Military Division Museum, you will have the opportunity to learn and enhance more useful historical knowledge to better understand Vietnam wars history. From there, revive and awaken many souls who appreciate what they have today to build and strive for a better life. For that reason, Fifth Military Division Museum is one of the most  popular for visitor to drop by.
Fifth Military Division Museum is on 01 Duy Tan Street, Da Nang City. The museum has been in operation since January 7, 1982 until now and covers an area of 8,819m2. In 1995, the museum won prize with honourable title " second-class National Museum".
Opening time: Open on days of the week:
Morning: from 7h30 to 11h00
Afternoon: from 13h30 to 16h00
The Fifth Military Division Museum has been dubbed the place to store historical memorabilia and recreate the development process of the armed forces of Fifth Military Division from 1945 up to now.
In addition, it has a construction structure consisting of two main parts with thousands of photographs and precious reality that gives every visitor the most vivid view of time and history.
Outdoor display area:
Visiting the outdoor display area, you will be amazed by all kinds of small to large weapons, modern of French colonialism, the US imperialism. With an area of 5,451m2, Outdoor display area shows and exhibit all kinds of aircraft, tanks, armored vehicles,…
Here, many emotions are resurrected in the tourists' hearts about the heroic time, The resilience of his father went first. In particular, being able to "touch" the artifacts that before only knew through media, books and newspapers also left many interesting and memorable things.
Gallery inside: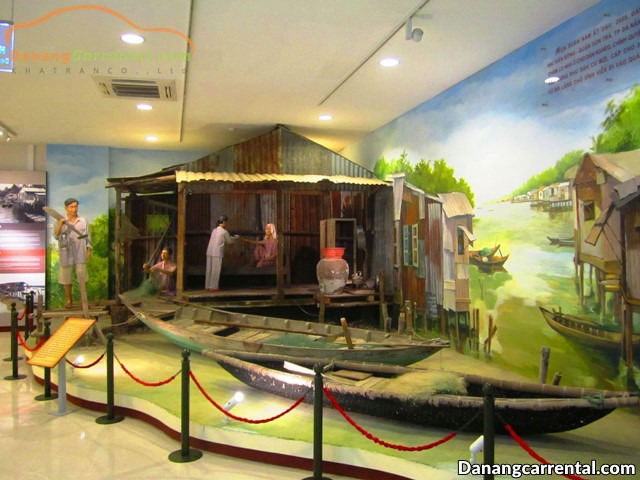 If you have a good view of the external display area of the Fifth Military Division Museum, do not miss the opportunity to experience 12 inside galleries, totaling up to 3,368m2.
Additionally, thousands of war materials, images, memorabilia are kept and vividly reproduced in each room. Through the precious film, you will feel the loss, pain but still resilient, indomitable before the invaders to protect the country, the country of his father generation.
Moreover, it is also valuable evidence to expose the crimes of the invaders and the concerns and ambitions of many national heroes who have not been implemented, must lie down for the people, for the country. Living up the true feelings of loss, great sacrifice and the sense of pride of national pride will bring every visitor a wonderful experience.
See more >> Da Nang Airport Transfer
2. The position of the Fifth Military Division Museum
The Fifth Military Division Museum is located at 01 Duy Tan Street, Da Nang. However, many tourists are confused with Ho Chi Minh Museum at No. 3 Duy Tan Street.
Although belonging to the Military Museum system and memorial monuments of President Ho Chi Minh, they are  so different. Da Nang Fifth Military Museum is a place to save the historical process of formation, development of it. Whereas, Ho Chi Minh Museum is the place to display presenting, recreating the political life and career of President Ho Chi Minh.
With such close proximity, you can conveniently visit both of them. Coming here, you will more understand about historical war of Vietnam.
Da Nang Fifth Military Division Museum – a place of awakening, the place where strong emotions, determination, and efforts to build the country are more beautiful and prosperous as the ancestor desire. Hurry to book now to have new experience!
For more information and advices to Da Nang tourism or rent a car in Da Nang, do not forget to contact us via hotline Ms Katharine: (+84) 91 651 02 01 or (+84) 34 797 67 89.
Wish you and your family  have a happy journey and many memorable experiences in Da Nang.
---
For booking or any information please feel free to contact us:
KHA TRAN TRAVEL & TRANSPORT CO.LTD
ENGLISH SPEAKER HOTLINE – LINE – WECHAT – WHATSAPP: (+84) 91 651 02 01
Website: danangcarrental.com
Fanpage Facebook: fb.com/danangcarrental/
Hotline (Ms Katharine): (+84) 91 651 02 01 – (+84) 34 797 67 89
Email: danangcar6789@gmail.com (Sales) – khatrancarrental@gmail.com (Manager)
Office in Da Nang: No.12 Bui Xuan Phai Street, ThuanPhuoc Ward, Hai Chau District, Viet Nam