Ba Na Hills – Known as the first place in the heart of Da Nang, Ba Na Hills is increasingly asserting the difference, unique looks like the dream from the first time.
With many world records and entertainment areas built, sophisticated design, Ba Na Hills is an attractive destination for you next summer. Let's explore the beauty of Ba Na Hills and consult the latest price list of Ba Na Hill here.
Overview of Ba Na Hills tourism
From Da Nang, tourists travel about 35km from south west to Ba Na Hills. Ba Na Hills is located 1500m away from the sea level, so the climate is cool all year round, the heat background fluctuates around 17 – 20 degrees. Coming to Ba Na Hills, many tourists were surprised because they could feel clearly 4 rotation seasons in just 24 hours.
In the morning, cold and fresh spring weather came, starting the day with a fog that covered the space. In the afternoon, the bright sunshine on the summer day is shining with a warm, warm yellow which makes everything stretch and full of vitality, fragrant flowers sparkling in the sun and wind. The Autumn is over in the period of 15 – 18 hours to bring a completely different space. In the evening, the dark night crept in the bright corners of the street, if you did not like to wear a light jacket, many tourists would choose to sit by the fireplace to enjoy the glass of light wine or a cup of rich coffee from Da Nang.
Appropriate weather to visit Da Nang, Ba Na Hills is about from April to August.
Ba Na and the places that make tourists happy
Ba Na Hills is a popular tourist area in Central of Viet Nam, it is located in An Son village, Hoa Ninh commune, HoaVang district, Da Nang. Arriving in this fairy place, visitors will be amazed by the overwhelmingly beautiful landscapes.
Ba Na Hills cable car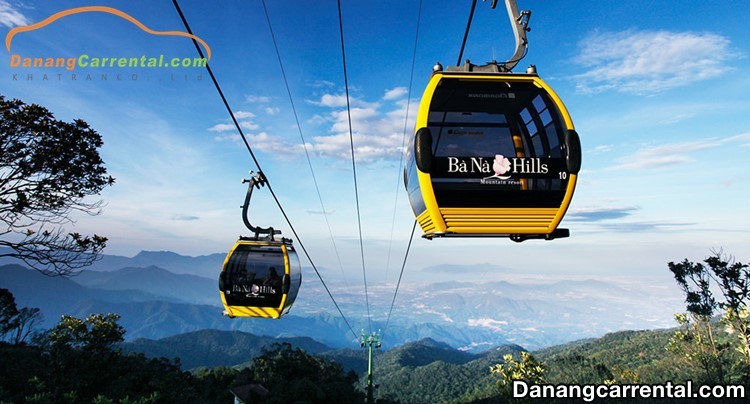 Experience the Ba Na cable car with many world records is an interesting thing that many tourists did not miss when coming here. With modern European standard system, including 22 axes, 96 colorful cabins of all colors can serve 1500 guests / hour. Sitting on the cable car, from Vong Nguyet Hill through primeval forest, to Ba Na resort will bring you beautiful and memorable moments in your life. Collecting the poetic landscape of Ba Na from above, dim in the slight fog and the sound of the wind, the birds, the animals on the waterfall flowing non-stop bring great comfort.
Ba Na Hills French Village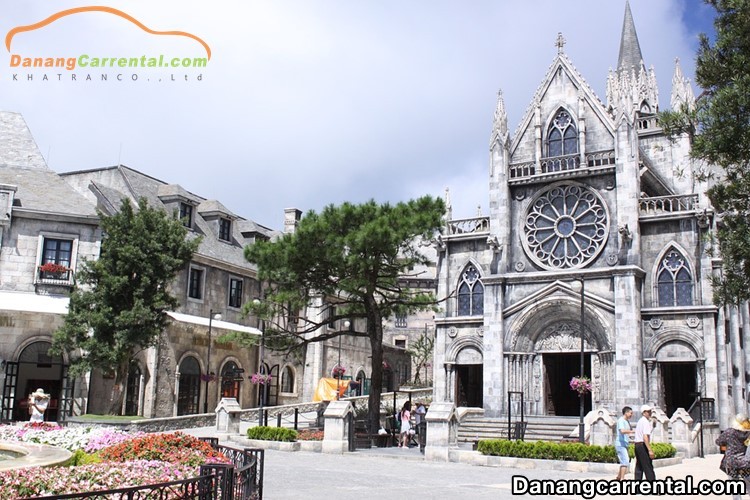 Not only the cable car system, the French village – style European village area brings a lot of special feelings, awakening all the visitors' senses because of the design and structure sophistication with all people. These are restaurants, cafes, churches, bakeries but L'Etable restaurants, Cafe 'Louge Sur le Fil, St Denis church and Le Grenier bakery in French village to form a European space of the 12nd, 13rd, and 14th centuries was incredibly sophisticated. Each line of carvings to each of the space reminds visitors of their own soulful stories imprinted with the ancient French architecture and thought to be a place of the scene of Ba Na Hills. Visit each piece of the puzzle to create a complete picture of the French village, subconsciously every tourist will surely show an invisible bond that binds between France and Viet Nam throughout history line . It will be interesting experiences inviting visitors from the cross to come to this fairy place.
The Le JardinD'Amour flower garden
The Le JardinD'Amour flower garden has a design of 9 gardens associated with various interesting stories that are becoming one of the places to be missed when traveling to Ba Na Hills. 9 gardens are the Suoi Mo garden; Garden of Eden – the place where the yin-yang and the Heaven – Earth; Mysterious garden highlights the world with towering walls; Mandarin garden; Thinking garden with European style; Mythological gardens are associated with ancient Greek gods; Thieng garden; Memories garden and vineyard. Lost in every garden space, visitors will have interesting experiences that are hard to forget.
Linh Ung Pagoda Ba Na Hills
To admire the statue of Shakyamuni Buddha in the largest of Asia, Linh Ung Pagoda is a place for visitors of all regions to find their hearts and pray for good things. The special thing of Linh Ung Pagoda, also known as Ba Chua Thuong Ngan Temple, there is a Buddha statue of 27m high, around 8 sides, recreating 8 stages of Buddha's life.
See more >> Travelling to Da Nang city – Discover 3 famous Linh Ung pagodas
Ba Na Hills Golden Bridge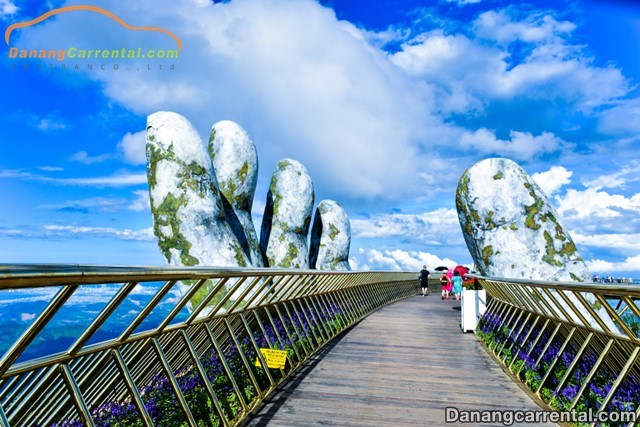 Besides Linh Ung Pagoda, Buddha's Hand Bridge or Golden Bridge is also the place that makes young people search because of the unique design and construction. The Golden Bridge is connected to Marseille and Bordeaux station to take guests from the foot of the mountain or the French village to visit the flower garden. The bridge has a length of 150m, including 8 spans on a height of 1400m. The bridge has a height of 23.8m above the ground, 12.8m wide and 2m in diameter. From the bridge, visitors can admire the panorama of nature and majestic mountains below. A little bit of fog and light and thin clouds make the space extremely romantic. Many tourists come here to say that this is a unique "check in" place.
See more >> Golden Bridge – Da Nang, The Heaven In The Earth
In addition, visitors can visit Linh Tu Temple – the place where heaven and earth, the place of worship, remember the merit of Ba Chua Thuong Ngan, who has been carrying cover for Ba Na Hills. Or pilgrims who choose Mieu Ba to pray for good things are also ideal choices. The shrine was built in 1931 and underwent a storm of storms and storms, the temple was not destroyed. In order to meet the needs of Buddhists near and far, the temple is continuing to be restored and upgraded to more fully.
Relaxing and entertainment in Ba Na Hills
Ba Na Hills hotel
Along with focusing on developing natural ecosystems, Da Nang is deploying to build many high-class resorts and hotels to serve the needs of tourists. Located on the first place of Ba Na Hills, hotels, resorts of international standards, fully equipped with many attractive services bring every visitor a comfortable and comfortable feeling. Some hotels: DebayHotel , Morin or Mercure Ba Na Hill French Villas has 494 rooms, 4-star standard of Accor Hotel is designed in the classic French style with full amenities and luxurious furniture. Each room has a window overlooking the nearby mountain or French village. Some rooms above can enjoy the panoramic view of the majestic mountains and beautiful scenery of Ba Na in the misty, romantic fog.
The Fantasy Park
Coming to Ba Na Hills, visitors also experience modern games, catching up with the "trend", the trend of the era at the International Fantasy entertainment area. Regardless of age, many parents and young people can immerse themselves in fun entertainment games to have relaxing moments.
Referring to playing in Ba Na Hills, visitors can not miss the opportunity to experience in Ba Na Hills Goft Club – the best goft yard in Viet Nam; The best new goft yard in Asia – Pacific and the symbol for the best goft yard in the world. This is a new goft yard designed by goft world famous Lucke Donald right under the poetic Ba Na valley, near Ba Na Hills tourist area. Not only is the 7800-yard Vietnam's longest goft yard and the new in the design of holes and alleys, to Ba Na Hills Goft Club, will you have the opportunity to experience the unique goft nights, the best suitable for businessmen who have just traveled on a business trip.
Cuisine in Ba Na Hills
Dubbed as a miniature Europe in the heart of Da Nang, you will not be surprised here with enough European – Asian cuisine. Some restaurants are loved by tourists, voted as Le Jardin restaurant – one of the restaurants in the French village with deep colors, combining natural light from the glass windows to create a lively space to help visitors have just eaten, can see the outside. Here, visitors will be able to choose the buffet full of specialties of three regions and unique barbecue BBQ.
If you want to enjoy pizza or pasta in Europe style, the small restaurant called Brasserie is located right behind Saint Dennis church in the French village will meet the needs of visitors. There are also vegetarian pizzas that are as delicious as regular ones. So, visitors who want to lose weight, stay in shape and still have good pieces, this will be a bad choice.
Another suggestion for you to choose is La Crique& Cafe Postal – where there are subtle and poetic Spanish dishes. The famous dishes of this Buffet restaurant are Pizza, Hambuger, Sandwich which are loved by many tourists.
The Du Dome Beer Garden in Du Dome Square of Ba Na Hills tourist area is a unique point that many tourists enjoy and impress. It can be said that the beer garden just adorns the beauty of Europe, has just recreated the bustling beer festival in Germany so it makes Du Dome square always attract all the eyes, making tourists gather very crowded and not forget take pictures, "check in".
Referring to Ba Na Hills, many tourists immediately think of the wine cellar through the mountain of Debay. With 14 niches, 11 small niches and 3 large niches, each pocket has its own owner. They may be residents of Ba Na or the owners of hotels and villas here. In order to maintain a delicious wine cellar, the temperature inside the cellar must be maintained at 16 – 20 degrees Celsius. Many relatives who worked for the French in the past recounted that they used to store alcohol in these niches and only take out to treat precious guests or on special occasions.
Tickets for visiting Ba Na Hill 2019
(Updated from April 1 to December 31, 2019):
For foreign visitors or visitors Da Nang without household registration:
Adult: 750,000 VND
Children (1m – 1m4): 550,000VND.
Baby (under 1m): Free
For tourists with Da Nang household registration:
Adults: 450,000 VND
Children (From 1m – 1m4): 350,000 VND
Baby (under 1m): Free
Note:
The above price includes 10% value added tax (VAT).
Free chute games and many activities at Fantasy Park Amusement Park.
Service of Climbing Train, Golden Bridge tour, flower garden, Debay cellar (not charge wine).
Price list does not include tickets for wax museums and some other games at Fantasy Park.
Fares to visit Ba Na Wax Museum:
Adults (above 1m40): 100,000 VND.
Children (under 1m40): Free
Tour ticket price for Ba Na 2019 (updated from April 1 to December 31, 2019)
To serve visitors, Ba Na Hills has issued the following package combo price list:
Combo includes: Cable car ticket + shuttle bus + cable ticket from 16 to 22 hours daily.
Adult: 600,000 VND.
Children (1m – 1m4): 425,000 VND
Children (under 1m): Free
Note:
Fares include value added tax (VAT), free buses from Da Nang city to Sun World Ba Na Hills tourist resort and vice versa. Visitors can go or not, ticket prices are unchanged.
Buy a combo ticket, you will get 1 free dinner buffet + 1 liter of beer or 1 unit of other drinking water.
Price Buffet of Ba Na Hills 2019 (updated from April 1 – December 31, 2019):
To Ba Na tourism, visitors will enjoy a rich menu, spoiled for choice, attractive from Europe to Asia. Good meals will satisfy all guests.
Adult buffet prices:
Vietnamese buffet: 225,000 VND
Korean / Asian buffet: 245,000 VND
Buffet Dinner Beer Plaza: 250,000 VND.
Buffet price for children (1m-1m40):
Vietnamese Buffet: 113,000VND VND
Korean / Asian buffet: 123,000 VND
Buffet Dinner Beer Plaza: 125,000 VND
Above is an overview of the beauty and the latest updated fare when visiting Ba Na Hills. Of course, there are still many new and interesting things waiting for you to experience and discover.For more information and advices to Da Nang tourism or rent a car to visit famous sites in Da Nang, do not forget to contact us via hotline Ms Katharine: (+84) 91 651 02 01 or (+84) 34 797 67 89.
Wish you and your family a happy journey and many memorable experiences in Da Nang.
---
For booking or any information please feel free to contact us:
KHA TRAN TRADING & SERVICE COMPANY LIMITED
ENGLISH SPEAKER HOTLINE – LINE – WECHAT – WHATSAPP: (+84) 91 651 02 01
Website: danangcarrental.com
Fanpage Facebook: fb.com/danangcarrental/
Hotline (Ms Katharine): (+84) 91 651 02 01 – (+84) 34 797 67 89
Email: danangcar6789@gmail.com (Sales) – khatrancarrental@gmail.com (Manager)
Office in Da Nang: No.12 Bui Xuan Phai Street, ThuanPhuoc Ward, Hai Chau District, Viet Nam