Ba Na Hills Danang Vietnam with 4 seasons in a day with beautiful landscapes is becoming a tourist destination for all visitors. Come along with Kha Tran to discover what is there interesting in Ba Na Hills, what to eat, what to play there and experience of traveling this dreamy land.
1. Where is Ba Na Hills Vietnam?
Ba Na Hill is located in the area belonging to Truong Son Mountain range. It is in Hoa Ninh commune, Hoa Vang district, 25 km southwest of Danang.
2. Ba Na Hills how to get there
From Da Nang, tourists travel about 35 km from south west to Ba Na Hills. There are 2 main routes:
Ba Na – Suoi Mo Route: From the city center, you go through Duy Tan Street, then turn right at Nguyen Van Linh street. Arriving at the second round, turn left at Nguyen Tri Phuong street. Going on Dien Bien Phu street. Go to the fourth round following 1A Highway. Then turn left to Ba Na Street – Suoi Mo / Hoang Van Thai go straight again and you get Ba Na Hill Tourist Area. This is the shortest and most used route.
Route 14B Highway: From Nguyen Huu Tho street, to the roundabout turn right on the August Revolution road / QL14B. You go along this road, then turn right to avoid the city road. Going about 7.5 km, you turn left to Ba Na – Suoi Mo / Hoang Van Thai Street. Continue going straight, you will come to Ba Na Hill tourist area.
3. Means of transport to transfer to Ba Na Hills
There are many ways to go from Danang center to Ba Na hills such as by motorbike, taxi, bus or car rental from Danang to Ba Na. Depending on who you go with, you can suggest the most suitable kinds of transportation.
Motorbike
Renting a motorbike is the choice of many young people to freely explore and economize on money. The price of renting motorbikes in Danang is about 120 VND – 150 VND / day. You can easily rent at your own hotel, or some other services will deliver motorbikes at the airport or hotels if you call them before going. However, you need to research about the way and start early.
Bus
Every day at around 8:45 a.m, there will be a bus to Ba Na with a fare of 70,000 VND / person. The latest time will be at 6:00 p.m, so you consider if you want to go and come back the city center in one day.
Taxi
There are many taxi companies to choose in Danang. You can take a taxi near you or ask hotel staffs to help call a taxi to travel to Ba Na hills. If you go with your family, taxi is quite suitable means that can take the initiative during your journey.
Renting a car to Ba Na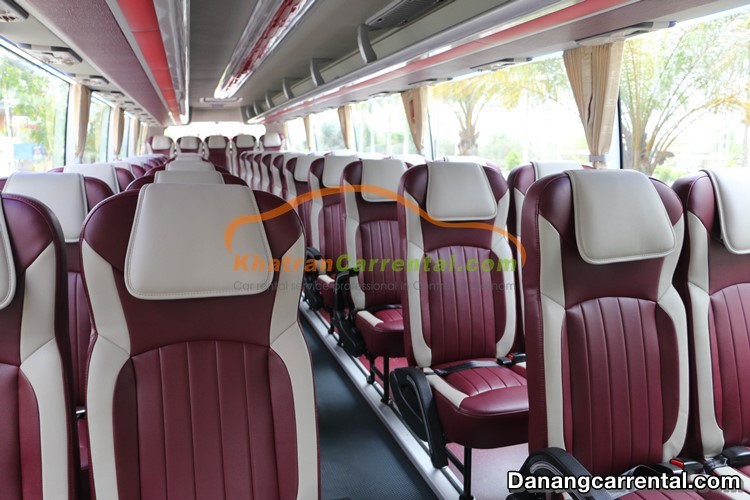 Car rental is usually more comfortable than a special taxi when traveling with crowds. You will be active on the time to experience on Ba Na hills that costs are not too expensive if the car rental period is over (or you can rent two-way car will get better price). Renting a car to Ba Na at Kha Tran will make you be assured of quality service, reasonable price, professional driver, courtesy, booking tickets support in advance for guests who need. Hotline car rental to Ba Na Hills (+84) 91 651 02 01.
4. Ba Na hills temperature
The temperature here is easily calculated, often ranges from 17 ° – 20 ° C, cool climate, pleasant all year round. Whereas, at the top of Ba Na mountain peak, temperature is not much different from that of Da Nang center, usually about 7-8 ° C.
Temperature in one day in Ba Na hills in Vietnam
Specially, only setting foot on Ba Na, you can enjoy the full temperature of 4 separate seasons in a day. The morning is early spring sunshine overflowing, cool weather and surrounding people with a misty mist. At noon is the atmosphere of summer but relatively pleasant and cool. In the afternoon, the warmth of autumn spreads all the space, then gave way to the cold winter at night.
In one day, the weather in Ba Na Hill changed markedly. It seems that in 24 hours, the space is divided into 4 climate cells, to create 4 beautiful landscapes, typical of 4 seasons, to help visitors admire the beauty of the spring – summer – autumn – winter weather of this fairy place.
Coming to Ba Na Hill, coming with the interference of four seasons of the day – a feature that cannot be found anywhere. And that is the reason this place is like the "climate of the Central region?" Do come here and feel that particular feature!
5. Famous landscapes on Ba Na Hills Danang Vietnam
Ba Na Hills is a popular tourist area in Central of Viet Nam, it is located in An Son village, Hoa Ninh commune, HoaVang district, Da Nang. Arriving in this fairy place, visitors will be amazed by the overwhelmingly beautiful landscapes.
Ba Na Hills cable car
Experience Ba Na cable car system with many world records is an interesting thing that many tourists can not miss when coming here. With modern European standard system, including 22 axes, 96 colorful cabins of all colors can serve 1500 guests / hour.
Further more, sitting on the cable car, from Vong Nguyet Hill through primeval forest, to Ba Na resort will bring you beautiful and memorable moments in your life. Collecting the poetic landscape of Ba Na from above, dim in the slight fog and the sound of the wind, the birds, the animals on the waterfall flowing non-stop bring great comfort.
Ba Na Hills French Village
Not only the cable car system, the French village – style European village area brings a lot of special feelings, awakening all the visitors' senses because of the design and sophisticated structure .
For instance, the restaurants, cafes, churches, bakeries in French village bring an European space of the 12nd, 13rd, and 14th centuries. Each line of carvings to each of the space reminds visitors of their own soulful stories imprinted with the ancient French architecture.
Thus, when visiting here, you will feel like you are lost in the French fairy village, be immersed in the romantic space, comfortably enjoy the flavors of Asian and European cuisine.
The Le JardinD'Amour flower garden
The Le JardinD'Amour flower garden has a design of 9 gardens associated with various interesting stories that are becoming one of the places can not be missed when traveling to Ba Na Hills.
9 gardens are the Suoi Mo garden; Garden of Eden – the place where the yin-yang and the Heaven – Earth; Mysterious garden highlights the world with towering walls; Mandarin garden; Thinking garden with European style; Mythological gardens are associated with ancient Greek gods; Thieng garden; Memories garden and vineyard.
Lost in every garden space, visitors will have interesting experiences that are hard to forget.
Linh Ung Pagoda Ba Na Hills
To admire the largest statue of Shakyamuni Buddha of Asia, Linh Ung Pagoda is a place for visitors to find their hearts and pray for good things. The special thing of Linh Ung Pagoda, also known as Ba Chua Thuong Ngan Temple, there is a Buddha statue of 27m high, around 8 sides, recreating 8 stages of Buddha's life.
See more >> Travelling to Da Nang city – Discover 3 famous Linh Ung pagodas
Ba Na Hills Golden Bridge
Besides Linh Ung Pagoda, "Buddha's Hand Bridge or Golden Bridge" is also the place that makes young people search because of the unique design and construction. The Golden Bridge is connected to Marseille and Bordeaux station to take guests from the foot of the mountain or the French village to visit the flower garden.
The bridge has a length of 150m, including 8 spans on a height of 1400m. The bridge has a height of 23.8m above the ground, 12.8m wide and 2m in diameter. From the bridge, visitors can admire the panorama of nature and majestic mountains below. A little bit of fog and light and thin clouds make the space extremely romantic. Many tourists come here to say that this is a unique "check in" place.
See more >> Golden Bridge – Da Nang, The Heaven In The Earth
In addition, visitors can visit Linh Tu Temple – the place where heaven and earth, the place of worship, remember the merit of Ba Chua Thuong Ngan, who has been carrying cover for Ba Na Hills. Or pilgrims who choose Mieu Ba to pray for good things are also ideal choices.
The shrine was built in 1931 and underwent a storm of storms and storms, the temple was not destroyed. In order to meet the needs of Buddhists near and far, the temple is continuing to be restored and upgraded to more fully.
6. Relaxing and entertainment in Ba Na
Ba Na Hills hotels
Located on the first place of Ba Na Hills, fully equipped hotels, resorts of international standards with many attractive services bring visitors a comfortable feeling.
For instance, 4 – star DebayHotel , Morin or Mercure Ba Na Hill French Villas. They has 494 rooms designed in the classic French style with full amenities and luxurious furniture.
Each room has a window overlooking the nearby mountain or French village. Some rooms above can enjoy the panoramic view of the majestic mountains and beautiful scenery of Ba Na in the misty, romantic fog.
Ba Na Hills Fantasy Park
Coming to Ba Na Hills, visitors will experience modern games at the International Fantasy entertainment area. Regardless of age, many parents and young people can immerse themselves in fun entertainment games to have relaxing moments.
Ba Na Hills Golf Club
Besides that, Ba Na Hills Golf Club is known as the best golf yard in the world. This is a new golf yard designed by golf world famous Lucke Donald right under the poetic Ba Na valley, near Ba Na Hills tourist area.
Come here, you will have the opportunity to experience the unique goft nights, the best suitable for businessmen who have just traveled on a business trip.
Ba Na Hills restaurants
Dubbed as a miniature Europe in the heart of Da Nang, you will not be surprised here with enough European – Asian cuisine.
Le Jardin Restaurant –  restaurant with European style
Some restaurants are loved by tourists, voted such as Le Jardin restaurant – one of the restaurants in the French village with deep colors, combining natural light from the glass windows to create a lively space to help visitors have just eaten, can see the outside. Here, visitors will be able to choose the buffet full of specialties of three regions and unique barbecue BBQ.
Brasserie restaurant Ba Na Hills
If you want to enjoy pizza or pasta in Europe style, the small restaurant called Brasserie  will meet all needs. There are also vegetarian pizzas that are as delicious as regular ones. So, visitors who want to lose weight, stay in shape and still have good pieces, this will be  not a bad choice.
La Crique& Cafe Postal
Another suggestion for you to choose is La Crique& Cafe Postal – where there are subtle and poetic Spanish dishes. The famous dishes of this Buffet restaurant are Pizza, Hambuger, Sandwich which are loved by many tourists.
7. Ba Na Hills tickets 2020
Kha Tran car rental will update the most accurate Ba Na Hills price 2020 for your reference:
Ticket price for tourists:
Adults: 750,000 VND / person
Children: VND 600,000 / person
Ticket price for residents with permanent residence in Da Nang:
Adults: VND 450,000 / person
Children: VND 350,000 / person
Note:
The price includes entrance ticket to Sunworld Ba Na Hills resort.
The ticket includes 10% VAT.
Children 1m high wedding is free of charge
Note: Tickets include: cable car, climbing train tickets, tickets to the Debay wine cellar, Le Jardin D'Amour flower garden, Golden Bridge, French village and games at Fantasy Park.
Except for Wax Museum, the ticket price is 100,000 VND / adult, there is a fee for the game of picking up dolls and skills at Fantasy Park.
8. Tips for you to travel to Ba Na Hills
When should go to Ba Na Hills

? 
You can go to Ba Na Hill at all times of the year, but according to everyone's experience of Ba Na tourism, the most convenient is still from March to September. It is relatively convenient for you.
In addition, the Ba Na program with snow in the Christmas Eve attracted the attention of thousands of outbound and inbound to visit, enjoy a meaningful Christmas season with family and relatives in quite cold weather of Ba Na
What to wear to Ba Na hills?
With the weather in Ba Na hills, you should choose the most suitable and comfortable outfit.
For example, you can wear sportswear when walking around Ba Na hill, or short skirts, feminine maxi skirts, can also be T-shirts, jeans and sneaker looks very active. It is very suitable for you to go by cable car, move or participate in thrilling games.
In addition to the fun places, if visiting Linh Ung Pagoda, you should choose for yourself a discreet and polite outfit to match the fine customs of this place.
Travelling to Ba Na Hills Vietnam, you are not only immersed yourself in the space of immense, majestic and poetic mountains, but also a time to admire the beauty of the ancient and romantic villas, churches in the French village, or the tranquility of the temple and enjoy the unique games in the Fantasy Park. Kha Tran hopes that the information we updated most recently will help you get an amazing trip in this wonderland.
For more information and advice to Danang tourism or rent a car to visit famous sites in Danang, do not forget to contact us via hotline Ms Katharine: (+84) 91 651 02 01 or (+84) 34 797 67 89.
Wish you and your family have a happy journey and many memorable experiences in Danang.
---
For booking or any information please feel free to contact us:
KHA TRAN TRAVEL & TRANSPORT CO.LTD
ENGLISH SPEAKER HOTLINE – LINE – WECHAT – WHATSAPP: (+84) 91 651 02 01
Website: danangcarrental.com
Fanpage Facebook: fb.com/danangcarrental/
Hotline (Ms Katharine): (+84) 91 651 02 01 – (+84) 34 797 67 89
Email: danangcar6789@gmail.com (Sales) – khatrancarrental@gmail.com (Manager)
Office in Da Nang: No.12 Bui Xuan Phai Street, ThuanPhuoc Ward, Hai Chau District, Viet Nam