ASIA PARK – SUN WORLD DANANG WONDERS is a cultural and entertainment park, located in the heart of Danang city with beautiful space. It is a very famous and attractive entertainment place for both tourists and locals. Spreading on an area of ​​868,694 square meters on the west bank of the Han River, Asia Park is a combination of unique features, novelty of entertainment models in the world with the special cultural highlights Asian style.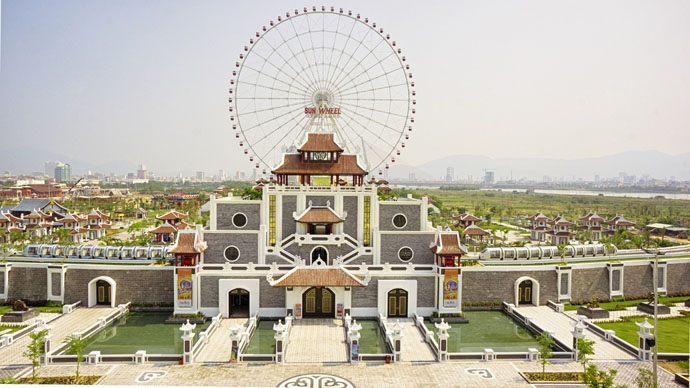 Asia Park consists of three main areas: modern outdoor amusement Asia park, Cultural Park with miniature architecture and art of 10 Asian countries and Sun Wheel – the intersection between modern and traditional style with luxurious gardens.
Outdoor amusement Asia park
Sky Treasure – thrilling game of sun world Asia park Danang
It is a thrilling game that is very popular with young people. In order to participate in this game, visitors need to be 132 cm or more in height, each turn will take place within 2 mins and include 20 participants. Surely, it will bring you a feeling of excitement and great happiness. Moreover, if you like thrilling games, what are you waiting for joining this game to enjoy the most interesting moments?
Love Lock – famous games at Asia theme park Danang
When coming to Love Lock, you will be able to ride on the train and listen to popular Kpop music and experience the feeling of entering the music world of the beautiful Korean country. Those who are taller than 125 cm will be able to join this game, for those who are 100m – 125cm have to be accompanied by adults when joining Love Lock game in Asia Park Danang Vietnam.
Besides that, this game is suitable for families and groups of friends or couples who love each other.
Dino Island – impressive spot of Asia park Sun World Danang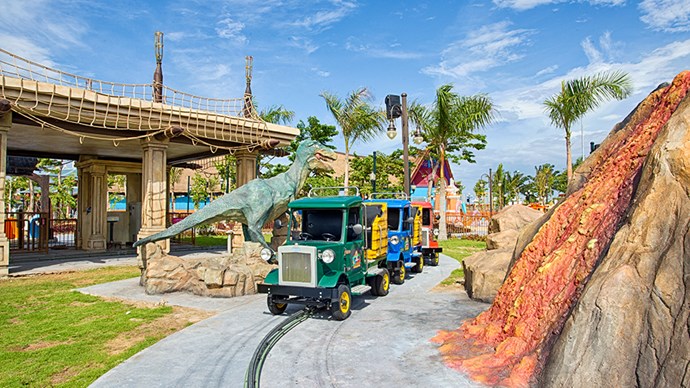 An impressive spot, especially for kids and children. It is " Dino Island? What is there on it? If bringing with young children, this place  for children to enjoy the supernatural fantasy moments in their dream life. What's more, they have a chance to discover a strange world of prehistoric dinosaurs. The game takes place within 1 minute 30 seconds., so you will see dinosaurs of all shapes and colors move excitedly. The other games on the island are very attractive to little kids.
Dino Island is an strange island for the whole family to discover and save memorable moments.
Festival Carousel – interesting game at Asiapark – sun world Danang wonders
Visitors will be sitting on colorful brightly colored horses in the space of light and music brings players back to colorful childhood memories. The game takes place within 2 minutes and children under 90 cm are required to be accompanied adult.
Happy Choo Choo
This game is suitable for families with young children and children under 90cm need adult accompaniment. This is a fun game that kids love.
Treehouse Playland.
Explore the world in the trunk, meet the singing birds, funny squirrels and many other lovely creatures.
Garuda Valley.
This is a roller coaster game for kids. Children less than 90cm will not be allowed to participate in this game, the children from 90cm to 120cm need adult to accompany.
In addition, visitors can participate in exciting games such as Angry Motors, Fireflies Forest, Ninja Flyer, Kabuki Trucks,…
Asia Cultural Park and Sun Wheel – two indispensable spots of Asia Park 
In Asia Cultural Park, visitors will visit the unique architectural, cultural and culinary diversity of 10 Asian countries such as Japan, China, Singapore, Indonesia, Korea, Nepal, Thailand. , Cambodia, India and Vietnam.
AngkorWat –
It was simulated by the architecture of AngkorWat, the most unique monument in Cambodia.
Dragon Lake – attractive spot in Asia park -sun world Danang wonders
Inspired by the Dragon Ball series, Dragon Lake has a height of 7.8 meters, is a symbol of power, force and luck.
The clock tower
Located next to Sun Wheel, the clock tower is extremely unique architecture with the combination of 10 Asian countries: Japan, India, Cambodia, Indonesia, Thailand, Korea, China, Nepal and Singapore. Vietnam.
Monorail – hightligh of Asia park sun world Danang
This is the elevated light-rail system of Asia Park – one of the most attractive places to play in Asia Park Danang to help visitors to the park to admire the panoramic view of Danang livable city.
Sun Wheel – must see place of Asia theme park Danang
Sun wheel has reached the top 10 largest wheel in the world and is the largest wheel in Vietnam. Sun Wheel is 115m high, when you reach the highest point of the Sun Wheel, you can admire the panoramic city of Da Nang sparkling and extremely beautiful.
Visitor can visit and experience other interesting games such as Dragon Boats, The Great Gate, Family Entertainment Center, …
See more: DA NANG – THE CITY OF THE BRIDGES
Asia park Da Nang entrance fee and opening hours
Asia park Da Nang opening hours:
It is open from 15 p.m to 22pm (daily)
Asia park Da Nang entrance fee (updated 2020):
Da Nang car rental will update the most accurate  Asia park Da Nang ticket price 2020 for your reference:
Ticket price for tourists:
Adults: 150.000 dongs / person
Children: 100.000 dongs / person
Baby: free
Ticket price for residents with permanent residence in Da Nang:
Adults:  100.000 dongs / person
Children:  80.000 dongs / person
Baby: free
Asia park – sun world Danang wonders – the place gives you a feeling of relaxation and fantasy. Do experience the most wonderful moments here with family and friends. Do not forget to keep in note our useful information to have a nice trip to Asia park Danang
If you have need of renting a car to visit Asia park Sun world Danang wonders and other famous places in Danang, do not hesitate to call us via Hotline: (+84)916510201 to make a reservation and get a specific quote.