What to do in Da Nang – Da Nang is a famous and well-known international tourist destination, praising the rich natural landscapes, especially the beautiful beaches.
Understanding the trend and meeting the demands of increasing vacation of tourists, Da Nang is focusing on building facilities and applying a series of brand-new water sports games and activities to satisfy the mind, connecting visitors closer to nature and the beach.
Let's discover the top of 7 best water sports in Da Nang so that your vacation with your loved can be more meaningful.
1. Diving – Best Da Nang Water Sports
Explore the vast ocean and experience your own way is something that visitors are always curious about when traveling to Da Nang. For that reason, take part in scuba diving activities to see coral reefs and bright little fish, and swim up at the beautiful beaches that are widely developed.
Among them are the most attractive spot are Cu Lao Cham Island or diving grounds near Son Tra Peninsula, Da Nang.
See more >> Da Nang Travel Experiences 2019
2. Jetski – fantastic water sports in Da Nang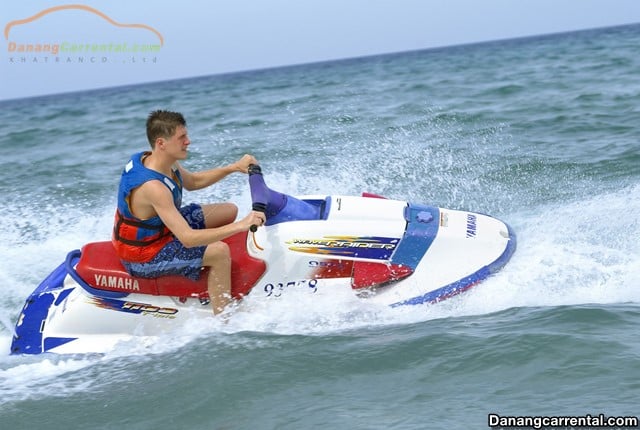 For those who love speed and adventure, experiencing jetski is an ideal choice. Surfing on the sea surface with high speed, welcoming big waves and feeling like flying up into the air will leave you an unforgettable vacation.
3. Parasailing – The Best Water Sports In Da Nang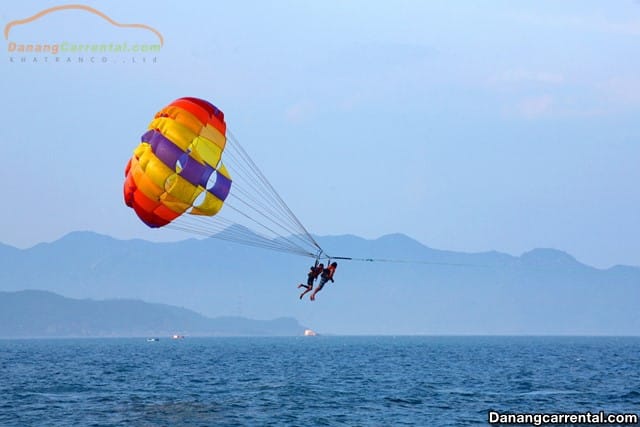 This is a sport that attracts many visitors because of being new and strange. Although hovering 70-100m from the sea surface, visitors will not worry about danger because of the canoes following to protect. And your duty is only focusing mind to "play" your best with this adventure game.
4. Kayaking – favorite Da Nang water sports activities 
Kayaking is a sport activity that helps players practice many useful skills such as the courage, flexibility of the body, calm skills to handle unexpected situations. Depending on the demand with different levels of difficulty, visitors can choose to row on the beaches with big waves, small waves or experience right on the Han River. All will promise many interesting and interesting things.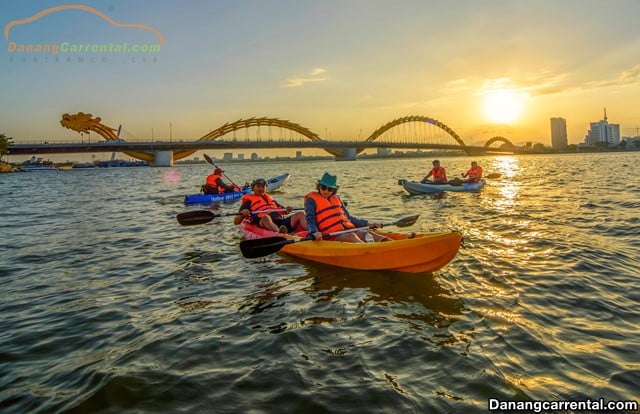 Futher more, right in the city center, at boat rental shops along the banks of Han River, Dragon Bridge, Love Bridge will offer you wonderful moments in your vacation.
What is more interesting than when rowing along the river to watch the romantic sunset, dropping your soul into the cool water and quiet atmosphere.This is also the time for you to see an unique Da Nang with romantic beauty.
See more >> Da Nang car rental with driver
5. Canoeing on the river – Water Sports in Da Nang
If tourists do not like to lose strength like boating by themselves but still experience strong feelings, then riding canoes pulling buoys on the river is the right choice.
Structure of smooth buoys fitted with canoes with strong cables, visitors just need to wear life jackets, fasten their seat belts and so on, to explore on the river surface with a speed of 50 – 80 km/h starting. Surely, this game will bring you moments of wonderful experience.
6. Surfing on the Han River – most popular water sports Da Nang
This type of sport is very popular at beaches. However, in the center of Da Nang city, surfing on the Han River will bring a completely new feeling to visitors.
Visitors just need to choose the type of single board, double or triple board according to the number of members. Then do concentrate on experiencing the feeling of skateboarding by dragging at high speed. This experience will help you relax and reduce stress.
7. Beach volleyball – Da Nang Water Sports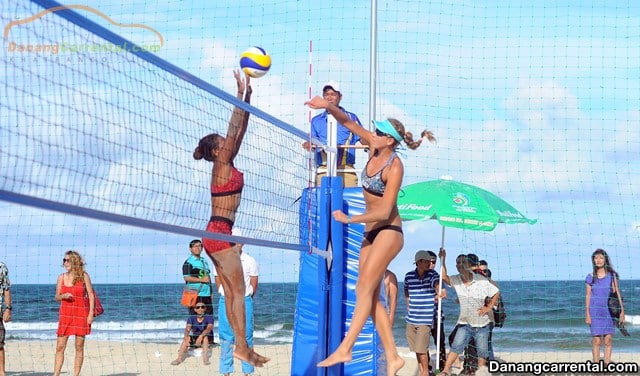 Volleyball is a sport game liked most on Da Nang beautiful beaches. On the stretch of white sandy beach, echoing jokes of laughter and cool breezes blowing into helps your mind comfortable.
Water sports in Da Nang, kinds of water sports as well as how to play, and their benefits Kha Tran has just mentioned above. We hope that this article will helpful for you.
For more information and advices to Da Nang tourism or rent a car to visit famous sites in Da Nang, do not forget to contact us via hotline Ms Katharine: (+84) 91 651 02 01 or (+84) 34 797 67 89.
Wish you and your family a happy journey and many memorable experiences in Da Nang.
---
For booking or any information please feel free to contact us:
KHA TRAN TRAVEL & TRANSPORT CO.LTD
ENGLISH SPEAKER HOTLINE – LINE – WECHAT – WHATSAPP: (+84) 91 651 02 01
Website: danangcarrental.com
Fanpage Facebook: fb.com/danangcarrental/
Hotline (Ms Katharine): (+84) 91 651 02 01 – (+84) 34 797 67 89
Email: danangcar6789@gmail.com (Sales) – khatrancarrental@gmail.com (Manager)
Office in Da Nang: No.12 Bui Xuan Phai Street, ThuanPhuoc Ward, Hai Chau District, Viet Nam