Is there anything new in Danang recently? Coming here, without experiencing the attractive travel experiences in Da Nang such as walking between the rainforest, taking a helicopter to admire the whole city, paragliding… what is a pity! Scroll down to Kha Tran's post to see the top 10 things to do in Da nang!
Watching the beauty of the city from Vietnam's largest Sun Wheel – things to do in Da Nang Vietnam
Right from being put into operation, Asia Park – Asia Park has created extremely strong attraction to visitors from near and far thanks to the Sun Wheel system in the top 5 highest revolutions in the world.
From the height of 115m, visitors will slowly admire the captivating beautiful scenes of Danang at night as well as unique works at the park. If you are afraid of heights, that's okay, do not need to go to the cabin, just stand in Asia Park campus, choose a beautiful coordinates near Sun Wheel is enough for you to have a lot of beautiful photos.
In the park, there are also many great and interesting games to entertain with friends. Seven miniature world wonders, the ever-brilliant wooden horse rotation that always attracts a lot of visitors are also check in coordinates you should not ignore.
Walk between coastal tropical forests at Son Tra Nature Reserve – What to do at Da Nang
If you have a passionate interest in pristine nature, the coastal tropical forest in Son Tra Nature Reserve is the option for you. In harmony with the nature here, you will admire the forest like in fairy stories with big old trees, the sunlight penetrating.  Moreover,  you occasionally may encounter rare animals such as red-shanked douc, langurs … And you can zoom out to the panoramic view of Da Nang and peaceful rivers by climbing Son Tra mountain.
The exciting things to do in Da Nang Vietnam: Watch Dragon Bridge spray fire and Han Bridge swing
Dragon Bridge is too famous in Da Nang, but looking at the Dragon Bridge is not enough. Attractive travel experience in Da Nang does not stop there, you have to see with your own eyes the "Golden Dragon" spraying water and fire to be called "cool."
On Saturdays and Sundays, at 21:00, choose a location near the Dragon Bridge with a clear view to start admiring this interesting scene. With only about 5 minutes, the Dragon will turn to spray water and fire. When combined with the lights at the bottom of the bridge, the lights on the two sides of the bridge, Dragon bridge is getting more sparkling, creating a shimmering beauty, flawless and extremely brilliant
Unlike the Dragon Bridge, the Han Bridge has its own special feature to attract tourists. You try to wait until 0 o'clock to see the Han River Bridge swing is best things to do Da Nang. The external rotating bridge creates a special feature and attracts visitors, it also works with aims to help the large ships on the river to navigate easily. Therefore, you should not miss the interesting thing at this Han River bridge.
Take a helicopter to admire the most famous landscapes in Da Nang – things to do in Da Nang and Hoi An
Try to feel of watching Da nang landscapes through helicopter! The departure of the flight departs from Da Nang airport, and you need to arrive 30 minutes before departuring Do imagine !you will be able to sit on the Cessna Grand Caravan 208B-EX aircraft with a maximum capacity of 12 passengers.
After that, the flight takes 30 minutes to take you to admire the Son Tra Peninsula, My Khe Beach, Ngu Hanh Son … The cost for the flight is from 2 million VND / person.
From the plane, you will understand why Danang is called the "City of Bridges". In turn, the 4 most beautiful bridges in the city continue to cross the river, the two sides are skyscrapers creating an overwhelming sight.
Firstly, helicopter will fly over the ocean, you will enjoy the emerald green color of the sea step, the white sandy beach embracing the enchanting My Khe beach. Next, it will take you to Linh Ung Pagoda, watch the highest statue of Bodhisattva Buddha in Vietnam overlooking the sea. The end of the journey will take you towards Hoi An with a series of beachfront resorts. On the way back, the plane will fly over Marble Mountains, the first time you will see all 5 mountains from above. This journey is a fascinating travel experience in Da Nang that will bring you new, unique and enjoy the nature more beautiful than ever.
Check in "live virtual" at the famous coffee shop in Danang – things to do in Da Nang
During journey to visit, explore the famous landmarks of Da Nang, perhaps you will need to sit down to see Da Nang city sometime, or simply review the photos you've just taken. So the beautiful and famous cafes in Da Nang is a great suggestion.
Some addresses you can drop by:
CONG coffee: 79 Ha Bong, Son Tra
Hanoi's famous "subsidized" coffee shop is already in Danang. Each decorative item from the glass, the spoon, to the curtains and the variegated walls are clearly recreated, giving you an old, peaceful and very loving memory.
"GOC NHA TUI MINH" coffee: K36 / 36 Le Duan, Hai Chau
This impressive restaurant's name also reminds you of the old time but it hits the childhood memories of each person. Throughout the space, everything is small and small, small round tables and chairs and small tablecloths, brick floors from the "grandparents" era, small pots … also recall the memory. Just a little vintage outfit, you will have dozens of beautiful photos no matter which corner you stand in the shop.
The Top Bar: Rooftop of A La Carte Danang, 200 Vo Nguyen Giap
Located in an extremely luxurious 4-star hotel near My Khe beach, the cafe here is considered the most luxurious Da Nang. From the top floor of the hotel, you can enjoy the whole city from above. In particular, you can also check in at the infinity pool facing the beach.
Some other suggestions are:
Danang Souvernir: 34 Bach Dang, Hai Chau
Wonderlust Danang: 101 Tran Phu, Hai Chau
Tit's Coffee & Studio: 90 Trinh Cong Son, Hai Chau
Holic Café: 690 Tran Cao Van, Thanh Khe
Zone Danang: 38 Paster, Hai Chau
Baali Café: 37 Tran Quy Cap, Hai Chau
Visit Ba Na Hill – things to do in Da Nang Vietnam
It is not easy for you to travel to a city many times, so if you have a chance to Danang, you should take the time to visit the most tourist resort in Vietnam – Ba Na Hills. One place that you can get sympathy immediately with this place is a very mild climate, it is like "Sapa of the Central", where there is in harmony between nature on the top of the mountain and the unique architecture.
To experience the wonderland of Ba Na Hills, you will take turns on the longest cable car system in Vietnam, walk around the French village, flower garden, Fantasy Park … In particular, there will be different themes and there will be many incentives so please choose the right opportunity to go at every festival.
Staying at a beautiful homestay – things to do in Da Nang
Instead of choosing a fully equipped hotel but lacking the feeling of being at home, you should choose a homestay in Da Nang to stay. When you travel to a strange land, to feel the life and people here, why not try homestay?
Da Nang residents are famous for hospitality, homestay you will find closer to the locals. In addition, if you want to know the fascinating travel experiences in Da Nang, you can ask the homestay owner for advice, they will enthusiastically help you.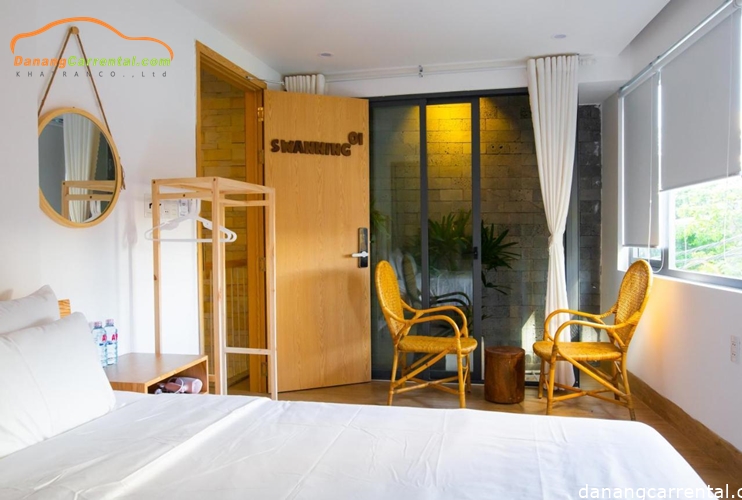 Danang, there is no shortage of beautiful and hospitable homestay such as:
Moc House: K35 / 30 To Hien Thanh, Son Tra District
Memory Hostel: 3 Tran Quoc Toan, Hai Chau
The 90's Hostel Danang: 63 Tran Khanh Du, Ngu Hanh Son
Rose Homestay: 7/30 Ha Bong, Son Tra
D-Green Hostel: 37 Mai Di, Hai Chau
Packo Hostel: 44 Lam Hoanh, Son Tra
Homestay: Hoa Trung hamlet, Hoa Ninh commune, Hoa Vang district
Eating seafood freely on the beach – top things to do Da Nang
Coming to the coastal city, you can't help eating seafood. Going to the beach area, especially An Bang beach, seafood is both cheap and delicious.
AN Bang beach with smooth, sandy beach is a place to enjoy seafood in Da Nang. The dining area is quite private when equipped in small huts overlooking the sea. Do organize a night party on the beach to enjoy this beauty!
Overnight camp at Cu Lao Cham – things to do around Da nang
Surely you have heard a lot about the beauty of Cu Lao Cham island.
However, when coming here, most tourists often choose to explore during the day only, but not trying to experience "overnight camping in Cu Lao Cham".
If you stay overnight here, you can open a seafood barbecue right on the beach with delicious food in Cu Lao Cham. Remember to get up early to watch the sunrise on the island. Certainly it will be a memorable experience for your trip.
Skydiving on My Khe beach – what to do, things to do in Da Nang is not for people who are afraid of heights
Skydiving is still a popular game in our country because it depends on weather and terrain conditions. However, in Danang, it became popular and responded to many people on My Khe beach.
In the peak season, there will be many tourists gathered here to witness the skilled parachuting, and have the freedom to swim among the clear blue water of one of the 6 most attractive beaches on the planet.
Things to do in Da Nang are really enjoyable and interesting. Have you tried it all? With countless famous destinations on the S-shaped strip of land, Da Nang will be a special highlight of your discovery journey. Kha Tran hopes you will have great time playing in this land.
If having need of renting a car, please contact us via Hotline (+84) 91 651 0201 – (+84) 34 797 6789 to get specific quotation