Ngu Binh Mountain is an excellent symbol of Hue tourism. Not as majestic as other mountains, this mountain is a gentle, calm and charming as the soul of the people of Hue. Come along with Kha Tran to discover this stunning place!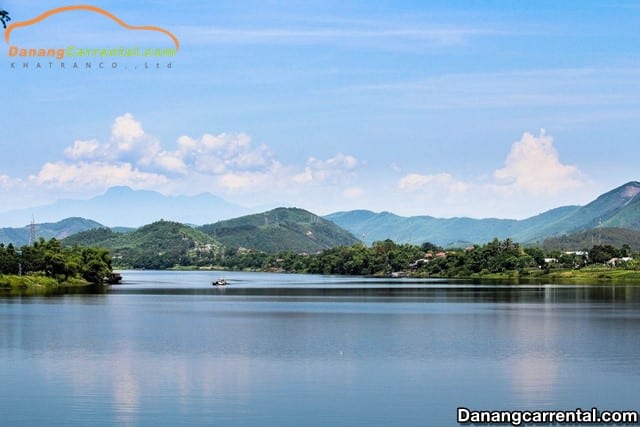 Where is Ngu Binh Mountain?
Located 4km south of Hue city center, it stands out with a height of 105m and is surrounded by green pine forest.
With being in a majestic position, between of Ta Phu Son and Huu Bat Son, Ngu mountain is an ideal destination for tourists.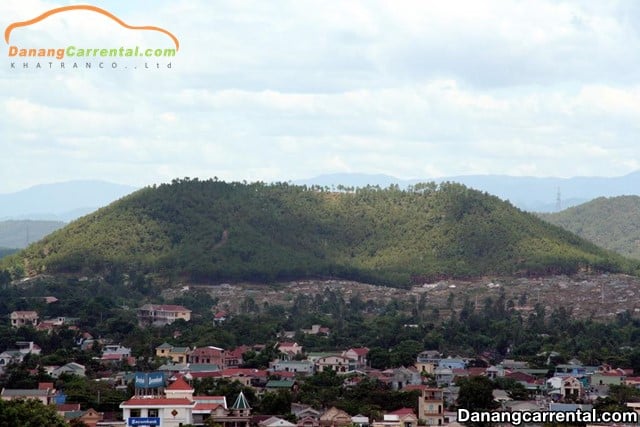 Through many generations, Ngu Binh is always the place to enjoy the beautiful nature. Many people think that this mountain is beautiful because of the fengshui, this mountain protect the city of Hue.
But not only that, Ngu Binh Mountain is beautiful because it is close to Hue people. On beautiful days, standing on the top of Ngu Binh, you can listen to the sound of the pine forset has just been collected into the panoramic view of the immense sky of Hue ancient capital with rivers, plants, palaces, temples, mausoleum,…
In front of Mount Ngu Binh are the hills and pine forests. Next to a large delta of districts: Huong Thuy, Phu Vang, Huong Tra. Farther away, hidden behind white clouds are the Truong Son Mountains. To the east, there are the faint white sand of Thuan An gates and the deep blue of the East Sea. Although not being high, being bumps but the appearance of a thoughtful man, elegant to the soul of the soul.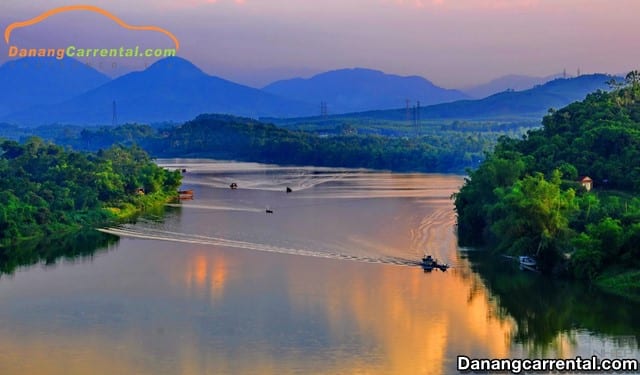 Because of that romantic beauty, Ngu Binh Mountain was used poem by Emperor Minh Mang and Emperor Thieu Tri to praise the beauty of this place. Ngu Binh Mountain is also an endless source of inspiration for many poets, writers and photographers.
Along with the Huong River, Ngu Binh Mountain blends together to create the charming nature of the Ancient Capital, which is the symbolic image of Hue tourism. Therefore, people call Hue is the country of "Perfume River and Ngu Binh Mountain". The beauty of the Huong River – Ngu Mountain makes Hue more beautiful and more poetic in the eyes of the people of Hue and tourists.
Other attractions near Ngu Binh mountain
Visiting Ngu Binh mountain, visitors can visit another famous sights of Hue, just a few kilometers from Vong Canh hill. Standing on the hill, visitors can admire many beautiful sights of Hue. Excursions on the Perfume River, visit Thien Mu Pagoda or visit some of the tombs of the Nguyen Dynasty. Using Hue Car rental service, you can easily visit the tourist sites Hue in a safe, convenient and comfortable way.
Ngu Binh Mountain has gradually become the ideal destination for visitors who love nature, want to enjoy the fresh air.
For more specific advice or rent cheap car to visit famous sites in Hue, do not forget to contact Kha Tran Car rental via hotline Ms Katharine: (+84) 91 651 02 01 – (+84) 34 797 67 89.
Wish you have a fun trip with many memorable experiences.
---
For booking or any information please feel free to contact us:
KHA TRAN TRAVEL & TRANSPORT CO.LTD
ENGLISH SPEAKER HOTLINE – LINE – WECHAT – WHATSAPP: (+84) 91 651 02 01
Website: danangcarrental.com
Fanpage Facebook: fb.com/danangcarrental/
Hotline (Ms Katharine): (+84) 91 651 02 01 – (+84) 34 797 67 89
Email: danangcar6789@gmail.com (Sales) – khatrancarrental@gmail.com (Manager)
Office in Da Nang: No.12 Bui Xuan Phai Street, ThuanPhuoc Ward, Hai Chau District, Viet Nam