Perhaps for those people who once visit Hue fall in love with the lyrical and charming beauty of Hue. Kha Tran car rental offers a very ideal waypoint to discover Hue tourism with beautiful sceneries have made tourists amorous – it is Lap An lagoon.
Where is Lap An lagoon?
Lap An lagoon (also known as Vung An Cu) is a large brackish water lake with an area of about 800 hectares, a part of Lang Co Bay, Phu Loc District. Lap An Lagoon is located in a beautiful position at the foot of Phu Gia pass, near the National Highway 1A through Lang Co town, Phu Loc district on the road from Da Nang to Hue. It is surrounded by Bach Ma Mountain and Lang Co – one of the most beautiful bays in the world.
See more >>> Hue car rental service 
When should you travel to Lap An lagoon?
According to some tourists' experiences, Lap An lagoon is beautiful all year, but the best time for travelling is may from March to June. Although the weather is quite hot during this time, but the beautiful sceneries here will be a source of endless inspirations for your pictures. This is also the appropriate time if you intend to combine Lang Co beach, or Lap An lagoon as a great waypoint on your journey to explore Lang Co, Bach Ma in Hue.
Fascinating beauty of Lap An lagoon
Anyone who comes here is also completely surprised at Lap An lagoon beauty, especially at dawn or sunset. Lap An lagoon makes a fanciful picture in harmony with vast nature and scenery in order to make visitors infatuated in various emotions.

In the days of clear skies without a cloud, the glittering sunshine makes Lap An lagoon as a giant mirror shine the shimmering beauty of Hue beautiful nature. You will also be amazed at seeing the shadows of the clouds in the lake or even the rainbow in the sky after the rain shower in Lap An lagoon.
See more >>> Da Nang to Hue by car
Lap An lagoon makes a painting of the beautiful scenery like a mysterious dream that many people have fallen in love with. In any corner, we also contemplate the lyric, peace and charm of the lake.
Lap An lagoon is associated with the rustic and simple life of the local people here. You will see the image of the countryside, such as speading nets between the immense lake, the children swimming in the lake or the scene of people picking mussels, oysters hidden in the swamp…
Enjoy the specialties of Lap An lagoon
Lap An lagoon not only attracts tourists by its charming beauty but also makes visitors unforgettable by its delicious specialties as well, and the most famous dishes are made from oysters.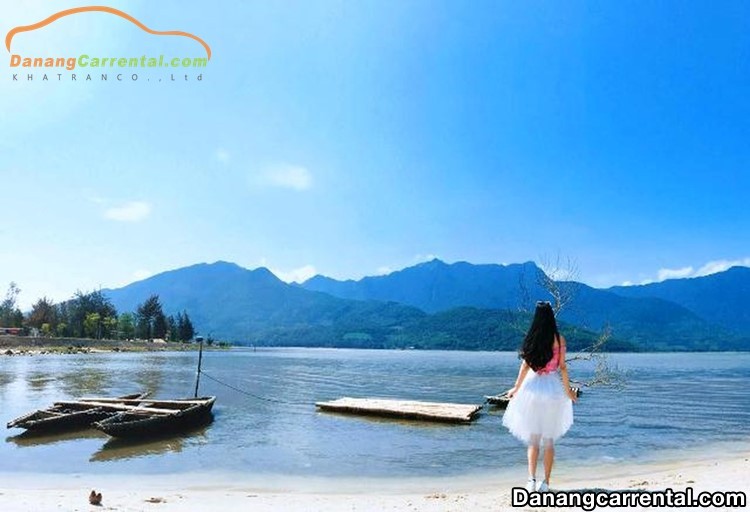 Some notes when traveling to Lap An lagoon
You should bring a hat, a puggaree and a tube of sunscreen to protect your skin when coming to Lap An lagoon because there are not many large trees for shade here.
Surrounding the lagoon is Bach Ma Mountain, Lap An is also a part of Lang Co Bay, so travellers can completely combine the Lang Co – Lap An – Bach Ma tours in one day or more.
Lang Co town has a lot of motels, hotels with the prices from the popular to the luxury, so you do not have to worry about the accommodation.
Do not forget to visit Lap An lagoon – the poetic and peaceful land to make yourself enjoy comfortable moments. All needs of Hue cheap car rental, please contact Kha Tran by hotline (+84) 91 651 02 01 to experience wonderful services for your own journeys.
Kha Tran Car Rental
---
For booking or any information please feel free to contact us:
KHA TRAN TRAVEL & TRANSPORT CO.LTD
ENGLISH SPEAKER HOTLINE – LINE – WECHAT – WHATSAPP: (+84) 91 651 02 01
Website: danangcarrental.com
Fanpage Facebook: fb.com/danangcarrental/
Hotline: Ms Katharine: (+84) 9 1651 0201 – (+84) 3 4797 6789
Email: danangcar6789@gmail.com (Sales) – khatrancarrental@gmail.com (Manager)
Office in Da Nang: No.12 Bui Xuan Phai Street, ThuanPhuoc Ward, Hai Chau District, Viet Nam.