Trigger all your senses with the series of festivals during 4 summer months with Helio Summer Festival 2018, a food, festive and shopping event, promising an eventful entertainment atmosphere!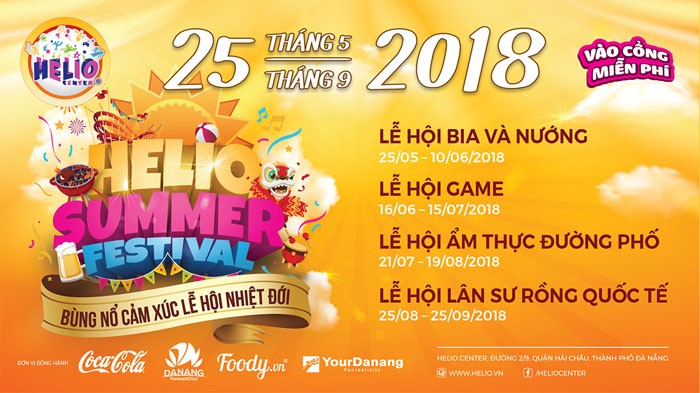 The festival will be from 25/05 to 25/09 at Helio Center, the biggest night and entertainment center in Danang, with the top 4 events: Beer & Grill Festival, Helio Game Festival, Food Festival and International Dragon Dance Festival. These events are totally free for locals and tourists, so come to enjoy this super show this summer 2018 in Helio Center!
GAME FESTIVAL 
Show off your skills in the world of games with the first Game Festival in Danang, happening in Helio Center from 16/06 to 15/07/2018 with more than 10 different areas and 250 game machines. The Festival will bring visitors opportunities to discover and enjoy different games: video game, music game, carnival game…in different areas: folk games, game machines, CD games …
STREET FOOD FESTIVAL
Get lost in the food paradise of the Street Food Festival this summer! The event is from 21/07 to 19/08 in Helio Summer Festival, with more than 200 food stalls and 100 shopping stalls, and endless exciting events. The event is packed with many activities organized every night of the festival.
DRAGON DANCE FESTIVAL
Proud to show of our cultural beauty to international friends, the International Dragon Dance Festival will be organized at Helio Center from 25/08 to 25/09 with the participation of 6 international dragon dance team and more than 20 from different provinces of Vietnam. The festival is a reunion of top dragon dance artists from South East Asia, bringing the guests the top performances.
BEER & GRILL FESTIVAL
Get ready for some fun and tastiness with the top combination between cold beer and grilled dishes at Beer & Grill Festival from 25/05 to 10/06/2018 at Helio Center. There will be more than 50 Vietnamese and imported beers, with 150 different grilled dishes, in many carnival and street events. Raise your beers and say "Cheers" or "Prost" with the locals and tourists!
See more: BEER FESTIVAL – B'ESTIVAL 2018 AT SUN WORLD BA NA HILLS
For booking car or any information please feel free to contact us:
ENGLISH SPEAKER HOTLINE – LINE – WECHAT – WHATSAPP: (+84) 91 651 02 01