Tra Que vegetable village is an attractive tourist destination in Hoi An.  People here used to work as fishermen on De Vong river and now they are  father a famous vegetable growing job in Hoi An.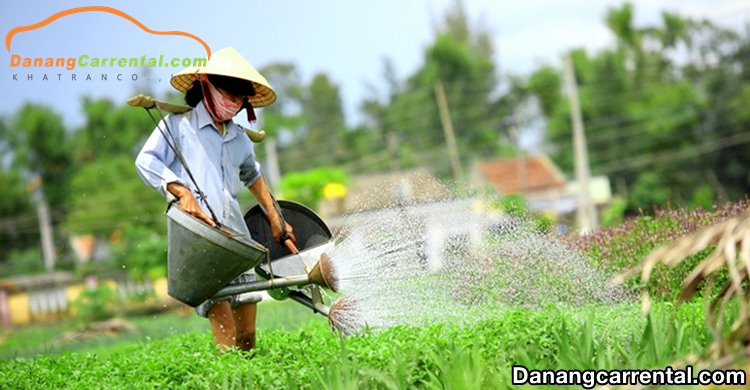 Follow Kha Tran car rental to visit the Tra Que vegetable village and enjoy the delicious dishes from this vegetable. Surely, it will bring you the realistic, new and interesting experiences.
1. Location of Tra Que vegetable village
It is located between De Vong river and Tra Que lagoon, Tra Que village, Cam Ha commune, Hoi An city. It is about 2 km distance from the Northeast of Hoi An ancient town.
See more >>> Car rental from Da Nang to Hoi An
2. Characteristics of Tra Que vegetable village Hoi An
Tra Que vegetable is a famous brand for many years with many high quality vegetable products. They are grown on fertile soil, are used inorganic fertilizers made from mosses in the river flowing around the village. Therefore, the vegetable here has a special flavor.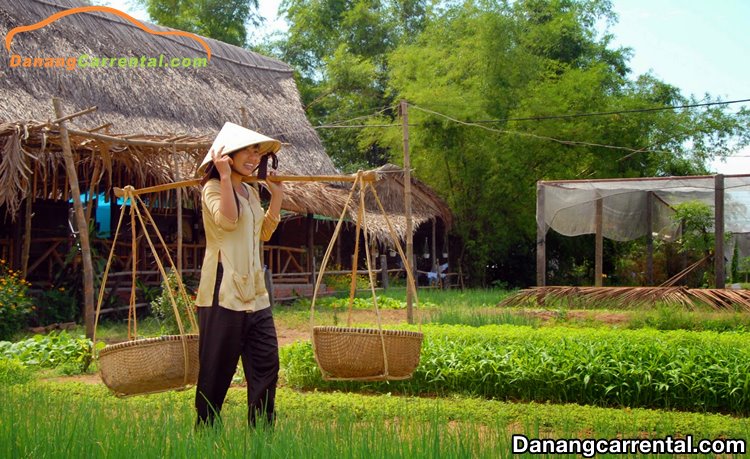 It has nearly 20 hectares, more than 200 households working in agriculture, of these, 130 households specializing in growing rotational and inter cropped vegetables to develop tourism. Up to now, this vegetable village has really been famous for over 20 kinds of vegetables for leaves and spices. Especially, there are many kinds of delicious and fragrant vegetables such as basil, Thai basil, perils …
Nowadays, Tra Que vegetable village has become a hot spot for those who want to learn and experience the life of vegetable growers.
3. Interesting experiences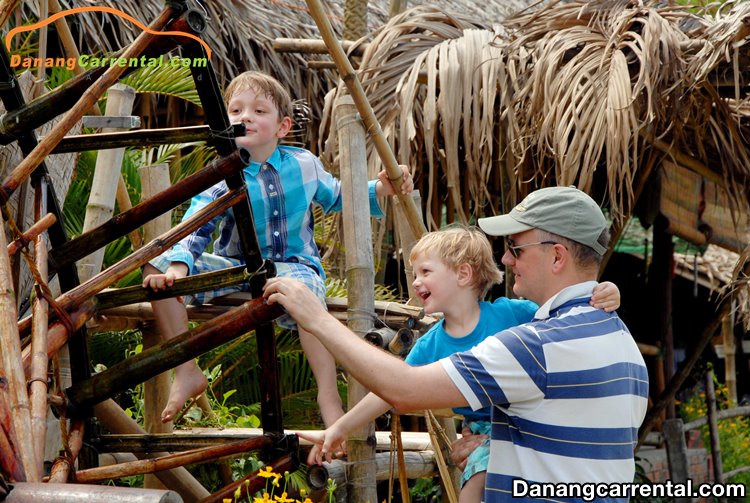 There are many households providing homestay services for tourists to participate in clean vegetable cultivation and experience growing vegetables. You will be turned into a real farmer in the peasant clothes, slippers, palm-leaf conical hats . They teach you how to hoe, grow and cultivate vegetables by the villagers. Together with them, you can grow and water vegetables as well as ride buffaloes around the village by yourself.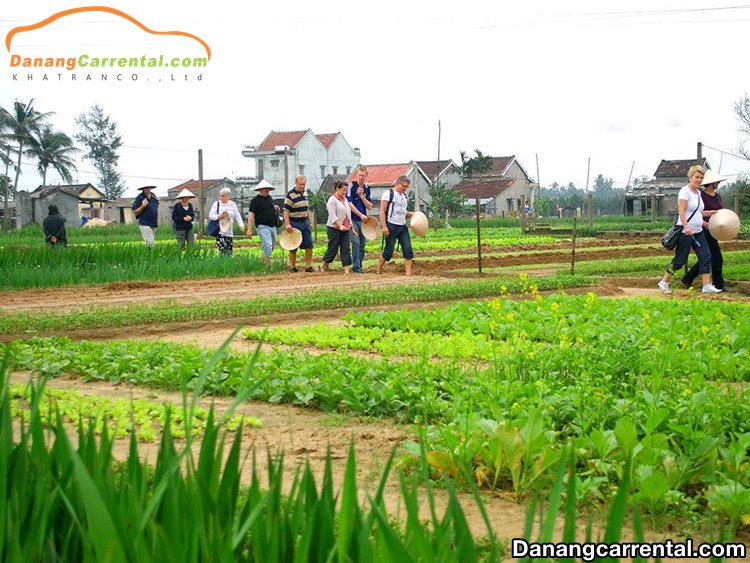 For those who do not grow up in the countryside, this will be a very new and exciting experience, surely after the trip you will love the gentle farmers with their quite hard and meticulous jobs more.
See more >>> Hoi An private car
Tra Que vegetable village has 2 crops, winter crop from November to March and summer crop from May to November every year. So, coming here at this time, visitors can travel around the village by bikes, by boats and witness farmers planting and cultivating vegetables.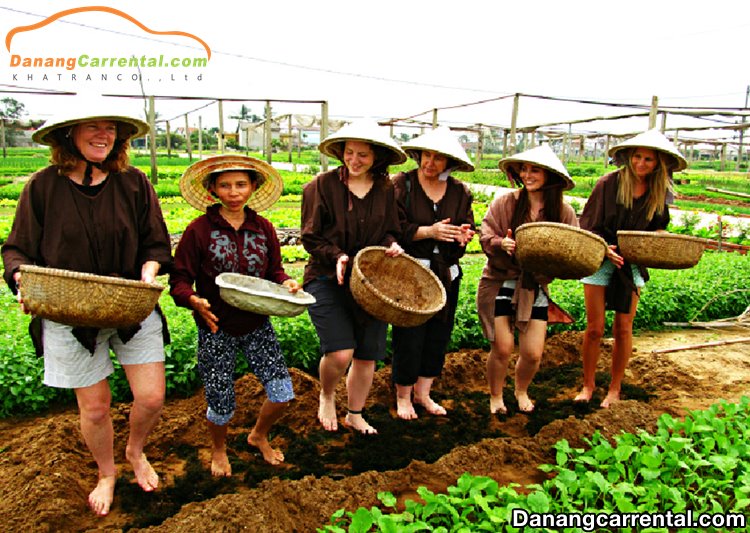 The famous dishes in Hoi An are gathered here and especially their main materials is Tra Que vegetables. This is why Hoi An specialty food is more delicious.
You freely enjoy many delicious dishes of Hoi An and countryside specialties with clean and fresh vegetables such as Quang noodles with shrimps and pork, stuffed pancakes with pork, Tom huu (or Tam huu), pork mixed with the aroma of Thai basil and perils, fried mussels with coriander and onions, … will make you unforgettable.
4. Cau Bong festival at Tra Que vegetable village Vietnam
This is a typical festival with aim to be grateful to the ancestors and pray for giving fertile land and a new year of timely rains and favorable weather to have a vegetables crop abundant than usual.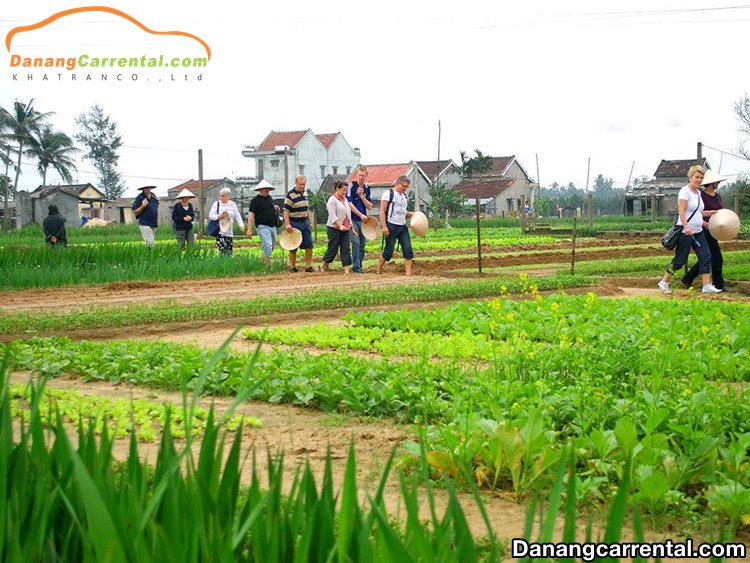 Cau Bong festival is held regularly in January, exactly on the 7th lunar of the year. This is an opportunity for people in the village to pay homage to the predecessors have publicized the Tra Que vegetable village as well as pray for good weather and bumper crops. Guests can come here to enjoy the animate atmosphere of this festival.
In recent years, Tra Que vegetable village has become an ecological tourist destination that attracts domestic and foreign visitors as well as enriches the famous tourist services in Hoi An. Tourism development at Tra Que vegetable village not only helps the people here have more income but also encourages the younger generations in Tra Que village to take over their fathers to preserve the village and Tra Que beauty so that they can promote Hoi An tourism in particular and Vietnam tourism in general.
Kha Tran car rental
---
For booking or any information please feel free to contact us:
KHA TRAN TRAVEL & TRANSPORT CO.LTD
ENGLISH SPEAKER HOTLINE – LINE – WECHAT – WHATSAPP: (+84) 91 651 02 01
Website: danangcarrental.com
Fanpage Facebook: fb.com/danangcarrental/
Hotline: Ms Katharine: (+84) 916510201 or  (+84) 34 797 6789
Email: danangcar6789@gmail.com (Sales) – khatrancarrental@gmail.com (Manager)
Office in Da Nang: No.12 Bui Xuan Phai Street, ThuanPhuoc Ward, Hai Chau District, Viet Nam.