Cham Island Hoi An was honorably recognized as a World Biosphere Reserve in 2009 by UNESCO. Come along with Kha Tran to discover this stunning island: its location, how to get there, interesting things as well as experience of travelling here.
Where is Cham Island Hoi An?
Cu Lao Cham is a group of islands in Tan Hiep commune, Hoi An city, Quang Nam province. It is about 15 kilometers from Cua Dai beach. There are 8 islands: Hon Lao, Hon Dai, Hon Mo, Hon Kho Me, Hon Kho Con, Hon La, Hon Tai, Hon Ong.
In particular, Hon Lao – the main island having the largest population and is the center of commercial activities and tourism.
Best time to travel to Cham Island
The best time is from March to August every year, because the weather is sunny and the beach is calm at that time. In the other months of the year, you should not go here because of the stormy seas, the island becomes an isolated area.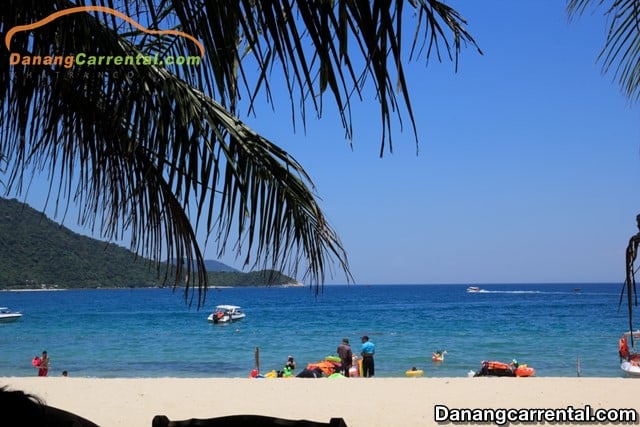 If you want to combine your trip with the sightseeing the colorful lanterns in Hoi An, go on 14, 15 th of lunar month. Especially, on the 14th, the ancient town is more shimmering than the 15th.
Additionally, if you want to participate in special festivals, note the following time: Worship fishing festival (from 3rd to 4th of April lunar calendar) or Yen festival (from 9th to 10th of March lunar calendar).
Means of transport to transfer to Cham island
Cham island is in Hoi An, so to move here, you have to transfer from Da Nang to Hoi An, then go to Cham island.
How to move to Hoi An
It is 30 km from Hoi An to Da Nang. And there are many ways to here: by airplane, by train, by coach, by taxi and by car. Among them, car is the perfect choice for you because of safety, convenience, and comfort. You can refer to our service with the best quality service and affordable price.
Hoi An car rental for tourists: At present, the transfer place to Hoi An is mainly wharfs or Da Nang cars. For convenience, you can contact cheap car rental from Da Nang to Hoi An at Kha Tran to be served quickly, thoughtfully and professionally by hotline (+84) 34 797 67 89.
How to move to Cu Lao Cham
You can visit Cham island by cannoe, wooden sampan
Canoe: From Hoi An, It will take you about 20 minutes to move, the departure time is 8 a.m – 10:30 a.m. The ticket is about 150,000 VND and is sold at Cua Dai or Hoi An travel agents.
Wooden sampan: You should go to Bach Dang wharf at 7 a.m or Cua Dai at 8 a.m daily to buy tickets. The ticket price is about 30,000 VND per person and 80,000 VND if carrying a motorcycle.
Means for moving around Cham island
The most popular vehicles are motorbikes. You can rent at the island resorts for 80,000 – 200,000 VND/day.In addition, you can also visit the island by boat at a price of 500,000 VND/time – 1.500.000 VND/time. These boats also include snorkeling and scuba diving.
Where to rest on Hoi An Cham island
The majority of homestays in Cu Lao Cham are located in Bai Lang, Bai Huong. A double room costs about 150,000 VND. If you only want to rent that room, the price is about 50,000 – 100.000 VND/person.
Further more, Bai Lang is also the landing place of wooden sampan, Bai Huong is canoe. Depending on your transportation, you can choose a motel near the landing area.
Some interesting activities at Cham Island
Besides the beautiful beaches, attractive seafood, Cham island also has many interesting tourist attractions that you can not ignore.
Visit Cham ancient wells 
Another name is Gieng Xom Cam, dating back 200 years, It is located at the junction of the concrete road of Cam hamlet. The structure of the well is similar to many other types of other one. Local people say that it is a good source of water for people in the area. Especially, the water of this well is never dry, even in the dry season.
Set foot on Sea Cham Museum
The first stop when the boat to Cu Lao Cham pier is the museum of Cu Lao Cham. This is the place where you can learn about the history, traditions, festivals, marine products … of this island, giving you a panoramic view of the island and people here.
Drop by Hai Tang Pagoda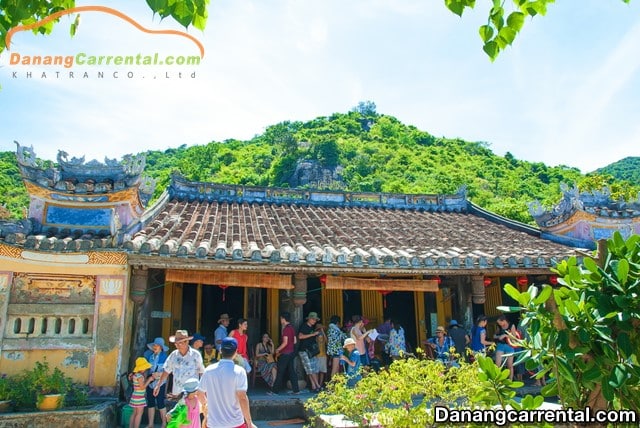 Hai Tang Pagoda was built in 1758 at the foot of the mountain to the west of Hon Lao Island. Inside the pagoda, there is a massive statue and a large bell. This is the place where people and traders come to the Buddha and pray for blessings on the way of doing business.
Enjoy "It la gai" cakes
"It la gai" cakes are available in many places but this dish in Cu Lao Cham still has its own distinctive flavour. Previously, it is only served on the festivals on the island, but today there are year round to serve the needs of tourists.
Pick up Jungle vegetable ( Rau rung)
Cu Lao Cham forest consists of 16 kinds of forest trees which have the flavor of male medicinal herbs and grow wildly on the foot of mountains such as "rau don", "rau san", "raului", "ma de" and so on. Early summer is the main harvest of wild vegetables on the island. The simplest and most tasteful recipe to enjoy this dish is boiled vegetables and dip into the fish sauce with garlic and chilli.
Camping on Cham Island Hoi An Vietnam
In addition to homestay, if you go into large groups, or want to be in harmony with nature, you also have another option is camping. Camps in Bai Huong, Bai Ong are more supportive. But if you like a completely open space then you can choose Bai Be. Tents for people on the island cost 150,000 VND/tent.
Some notes when traveling to Cham island
Cu Lao Cham island is a part of the World Biosphere Reserve, so the people here always pay attention to protect the environment. Thus, when visiting the island you should also respect the principles such as: absolutely not use plastic bags, not litter indiscriminately and minimize the dumping of waste on the island.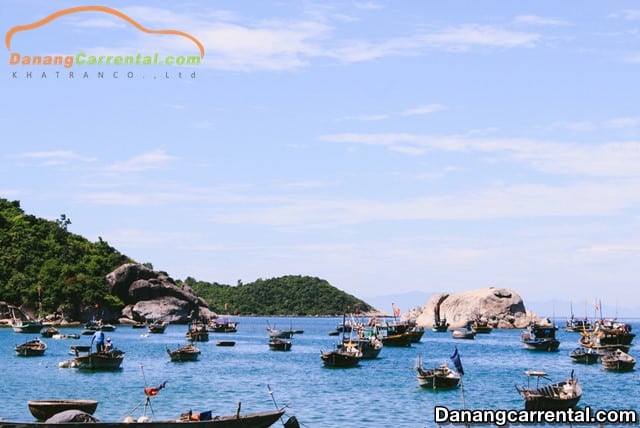 You should prepare your own personal items to go to sea such as hat, sandals, glasses, sunscreen, insect repellent (if you intend to camp).
If you intend to rent a motorbike, you should bring a personal identification card for car rental.
When watching coral reefs, you are not allowed to break the coral reefs or take coral reefs to your house. Bring sunscreen and water with you because of the hot weather.
Cham island Hoi An is always favorite destination for inbound and outbound. The above are the full and detailed experiences of travelling here. Hopefully, you will have a perfect trip here after reading useful information.
See more >> Hoi An travel information
If you need more specific advice, do not hesitate to contact Kha Tran via hotline Ms Katharine: (+84) 91 651 02 01 or (+84) 34 797 67 89. Kha Tran car rental is always looking forward to bring you the most enjoyable and meaningful travels.
Wish you and your family a happy journey and many memorable experiences in Cham Island Hoi An
---
For booking or any information please feel free to contact us:
KHA TRAN TRAVEL & TRANSPORT CO.LTD
ENGLISH SPEAKER HOTLINE – LINE – WECHAT – WHATSAPP: (+84) 91 651 02 01
Website: danangcarrental.com
Fanpage Facebook: fb.com/danangcarrental/
Hotline: Ms Katharine: (+84) 91 651 02 01– : (+84) 34 797 67 89
Email: danangcar6789@gmail.com (Sales) – khatrancarrental@gmail.com (Manager)
Office in Da Nang: No.12 Bui Xuan Phai Street, ThuanPhuoc Ward, Hai Chau District, Viet Nam