Vinpearl Land South Hoi An is known as the "paradise of relax" when you come to Da Nang – Hoi An. If you intend to explore this place, do you know how to "play" Vinpearl Hoi An extremely well? How to visit Vinpearl Land Hoi An and what to play? Let Kha Tran give you the answer right away
South Hoi An Vinpearl Land Overview
As a part of Vinpearl resort and entertainment chain, Vinpearl Land Nam Hoi An is the largest entertainment complex in Vietnam, combining thrilling amusement park, fascinating cultural experience & wildlife discovery. This place will surely be a must-visit destination in Da Nang – Hoi An for any traveler on the journey to explore central Vietnam.
Officially open for guests from April 28, 2018, Vinpearl Land Nam Hoi An offers world-class entertainment modules and technology and promises brilliant, thrilling moments for visitors.
Spreading over a total area of 62.4 hectares, Vinpearl Land Nam Hoi An is indeed the boundless entertainment paradise with its signature image of 12 ships anchoring right at the entrance. There are a variety of extreme games, all are unique around the world, such as Tourbillon Fast & Furious, Swiss Tower from 80m height, Super Chaos…; 95 indoor games, 5D film castle with 114 seats, Water Music Stage with 2500 seats.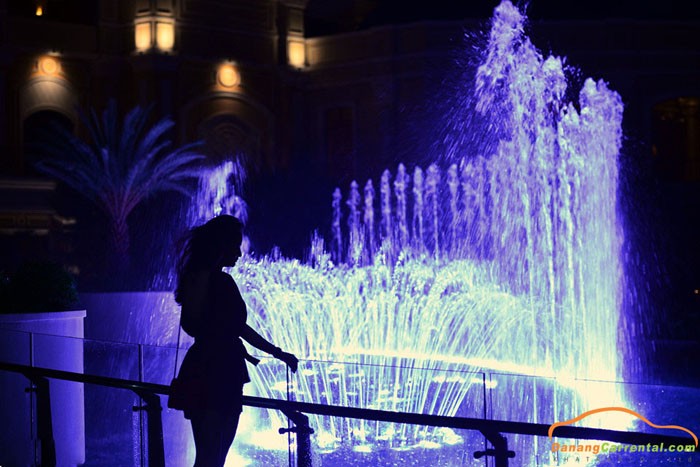 What's more, guests will get to experience rich cultural heritage at Harbor Corner, situated between Riverside Old Town and the Western-style Avenue of Dreams. Explore Folk Island with stalls replicating Handicraft Village and rural games from all over the country. Also, don't miss out on the Water World with over 10 exciting games for all ages.
River Safari – The very first and only wildlife sanctuary in Vietnam that offers exploration via river way. Taking care of over 39 exotic species, River Safari is modeled after the huge Amazon River, a natural habitat for animals. Guests can explore by boat and observe over 4000 animal individuals: Bengal tigers, white lions, antelopes, giraffes, rhinos… Heeding to the quiet sound of the river, falling leaves and birds singing, guests will experience the perfect tranquility of nature.
What to play ?
Spread over an area of 62.4 hectares, Vinpearl Land Nam Hoi An is an amusement park unlimited, with the image of 12 giant ships parked in the river at the gate greeting.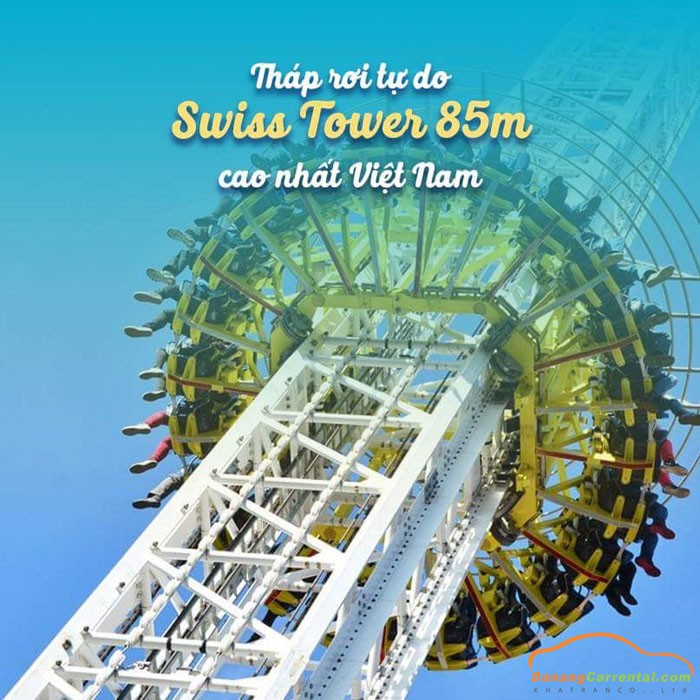 Swiss Tower
With a height of 85 m, Swiss Tower in Vinpearl Land South Hoi An was officially recognized as the highest drop tower in Vietnam. With this new experience, who will be brave enough to conquer and bring back the test certificate?
Speed Coaster
This is a familiar game in many amusement parks, in Vinpearl Hoi An, this game is invested quite elaborately and is chosen by many people to play here. Step on board the train, buckle up, and prepare to yell loudly along the sky's acrobatic roads. With tremendous speed, you will experience the most adventurous moments with this game.
If you are not afraid of height, love speed. Speed Coaster is the game for you.
Tree Swing
Do you still remember the old swing from your childhood? One step on the "Tree Swing" at South Vinpearl Land Hoi An, all your definition of a normal swing will definitely be changed for good! The Tree Swing will send you flying at the height of 12 m with many different dropping points. Fly freely in the air like a bird, enjoy a full view of Binh Minh Ocean, but make sure you don't forget your way home!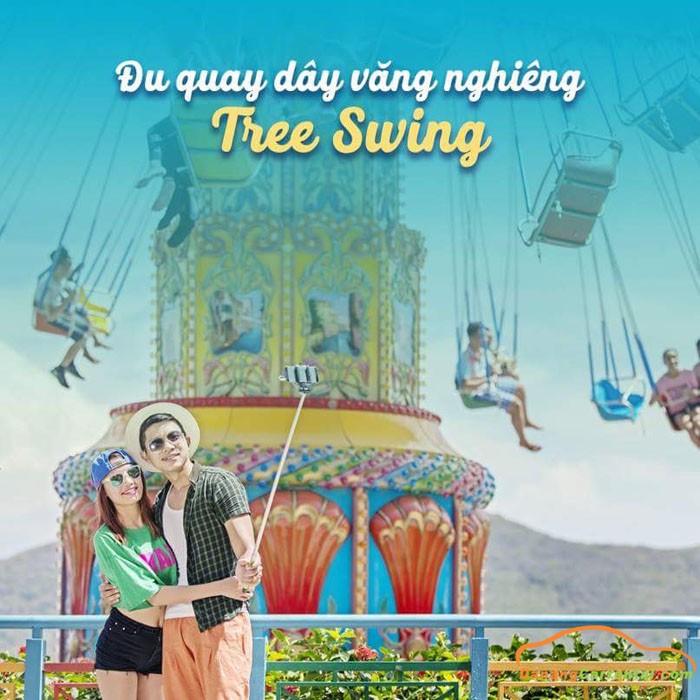 Vinpearl Land Nam Hoi An  have 95 indoor games, 4D movie theater with 114 seats, 1 MODERN WATER MUSIC with 2500 seats.
What to see?
Vinpearl River Safari
This is the first and only wildlife sanctuary in Vietnam that offer exploration via river way. Instead of observing the wild animals from Tuk Tuk windows or jeep, coming to Vinpearl River Safari, guests will feel like touring the famed Amazon forest, witnessing exotic, rare species on the sides of the boat. River Safari nurtures over 39 wild species such as Bengal tigers, antelopes, kangaroos, rhinos, giraffes, zebras…Not only they are extremely well cared for and constantly under strict surveillance, animals at River Safari are also provided natural habitat that is unique to each species.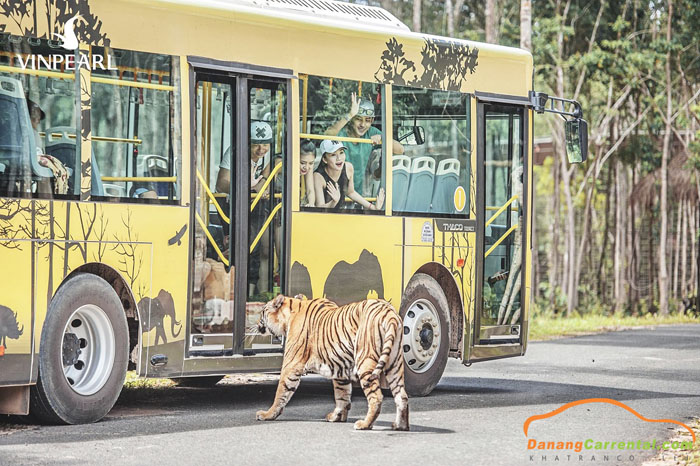 What's greater than briefly seeing lions and Bengal tigers lurking right before your eyes, a herb of giraffes and antelopes lazily grazing on the green field, or flashy display of over 40 colorful parrots species… River Safari is the biggest scale wildlife riverside sanctuary in Vietnam. Enjoy the truest habitat of wildlife animals, it will surely leave deep impression.
What to eat and drink?
Food and bar in Vinpearl Land Hoi An
At Vinpearl Hoi An, there are restaurants and bars for you to relax in accordance with the standard resort travel. Here are some addresses for your reference:
Oriental restaurant
In the culinary system of Vinpearl Land Hoi An, you will enjoy a variety of delicious dishes from traditional to European dishes. Especially, in Oriental restaurant, seafood is the most popular dish of tourists. All the food here is caught in the recent seas of Hoi An, so freshness is always guaranteed.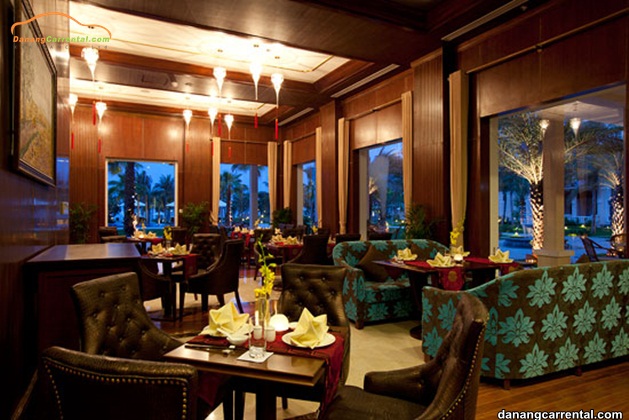 The restaurant is located on the 2nd floor of Vinpearl Hoi An is very large and modern. 2 dining areas divided into a cozy, quiet indoor area and airy outdoor area where you can freely choose your favorite seat.
The Writer's Bar – The famous place of Vinpearl Hoi An
Writer's Bar has the perfect ambiance and Western decor for you to have a great relaxing night. A light cocktail and listening to soothing piano music will help you dispel tired fatigue effectively.
Pool Bar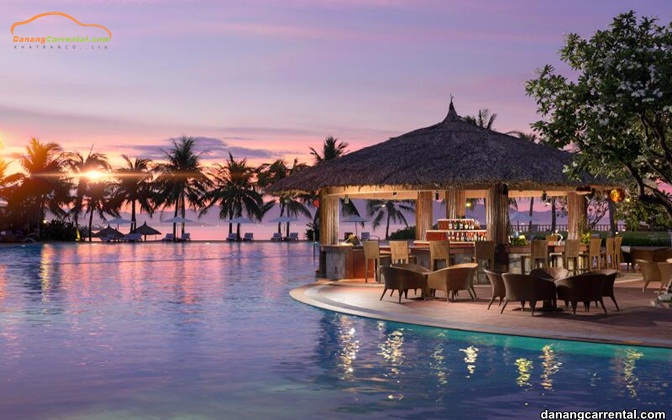 Different from Writer's Bar, Pool Bar in Vinpearl Resort is designed with a youthful and dynamic outdoor next to the pool. The space is ideal for you to sip a cool drink and lean back on the lounge chair. The sunshine and the natural scenery are the great pluses that make the Pool Bar always attract customers.
Cuisine Restaurant
At Cuisine restaurant, European food is the forte and the most famous here. If you want to experience a sophisticated cuisine, candlelight meals will be the perfect suggestion for you. The light space at this restaurant is suitable for you to have a romantic date.
How to get to Vinpearl Land South Hoi An?
From Hoi An city center, you transfer to Cua Dai Street, then turn right at Tran Nhan Tong Street and continue going straight to Cua Dai Bridge. From here, go straight along the road for about 10 km, you will see Vinpearl Land Hoi An. The total travel distance is 15 km.

There are many ways to get there: by shuttle bus, by taxi, motorbike or car
Vinpearl Land Nam Hoi An offers free shuttle bus to pick up guests from Hoi An old town following specific time frames. Please dial 1900 6677 – press 5 or 094 258 1212 for more details.
You could always take a taxi to get to Vinpearl Land Hoi An, for example Mai Linh Taxi with Hotline:  0235 3929292
Moreover, guests can also rent a motorbike at hotels in the city central of Hoi An.
Beside that, Da nang car rental is a choice that visitors can refer. It takes about 30 km from Da nang to Vinpearl Land Nam Hoi An. We have many options that visitors can choose from 4 seats to 45 seats, suit for family and group. With experienced, English speaking driver and reasonable price. What's more, you can ask driver to stop to snap beautiful photos or take a rest on the way.
Events – Activities
No.
Activity
Time
Place
1
Mascot
09h00 – 11h00 | 13h00 – 15h00
Main Gate
Adventure Land
2
Living statues
15h00 – 15h30 | 15h40 – 16h10 | 16h20 – 16h50
Avenue of Dreams
3
Photograph with parrots
10:00 – 18:00
River Safari
4
Animal Face Painting
14h00 – 17h00
River Safari
5
Chibi portrait drawing
15h00 – 18h00
Riverside Ancient Town
6
Water fights
16h00 – 18h00
Water World
7
Characters walking on stilts
09h30 – 10h30 | 14h00 – 15h00
Central Square
8
Folk games
15h00 – 18h00
Folk Island
Vinpearl Land Hoi An price
| | | | | |
| --- | --- | --- | --- | --- |
| No. | Ticket types | Adults(1) | Children(2) | Elders(3) |
| 1 | Standard entrance ticket | 500.000 | 400.000 | 400.000 |
| 2 | Entrance Ticket after 4:00pm (4) | 250.000 | 150.000 | 250.000 |
| 3 | Entrance ticket for local residences (5) | 300.000 | 200.000 | 300.000 |
Notice:
+ (1) Adults: Guests with a height of 140cm or more
+ (2) Children: Guests with a height of 100cm to under 140cm. Children under 100cm are free of charge.
+ (3) Elders: Guests who are 60 years old and above. Kindly present identity papers to earn incentives.
+ (4) Entrance ticket after 4:00pm: applies to all guests & only available after 16h00
+ (5) Entrance ticket for local guests: Guests whose Identity papers' address is at Quang Nam province or Da Nang. Not available on public holidays.
+ (6) Because this tourist area is extremely crowded, if possible you should come early to buy tickets, from long queues offline. Vinpearl Land Hoi An  opens at 8:30 and closes at 21:00.
Visit information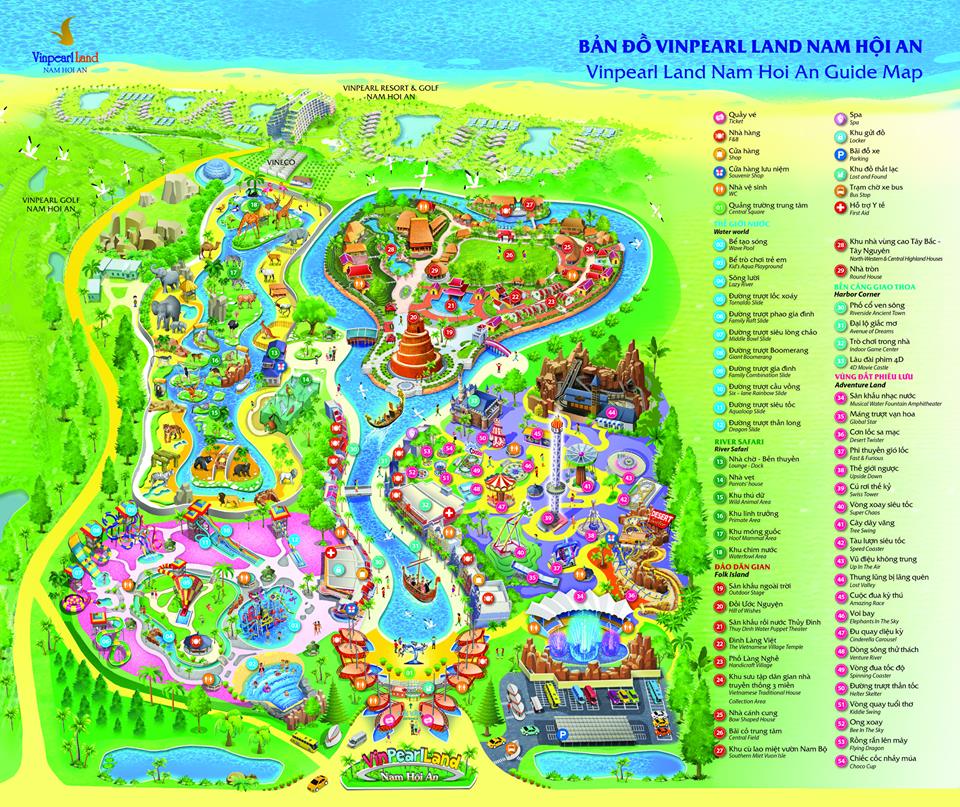 See more: TOP 10 FAMOUS TOURIST DESTINATIONS IN HOI AN
For booking car or any information please feel free to contact us:
ENGLISH SPEAKER HOTLINE – LINE – WECHAT – WHATSAPP: (+84) 91 651 02 01