Danang reviews 2020 – Danang is a famous city located on the Central Heritage Road of Viet Nam which is being loved by inbound and outbound.
With the speed of development and change every day, the transformation of Danang always gives visitors new mesmerizing impressions. Each feeling of tourists about Danang is not only  makes this city more popular, but also affirms and demonstrates the pride of the Danang people.
Famous tourist destinations in Danang
Come to Danang for first time, many tourists always spend their love for its magnificent beauty. Only seeing this landscape at different times, you can feel the special things of each place.
Right in the center of the city, "Four Great Bridges" in Danang (Han River Bridge, Dragon Bridge, Tran Thi Ly Bridge, Thuan Phuoc Bridge) are majestic enough to mesmerize the tourists from near and far.
Futher more, in the evening, when the whole city lights up, the magnificent beauty of the lights on the bridge reflects sparkling, dimly on the water surface of the Han River creating an extremely romantic space.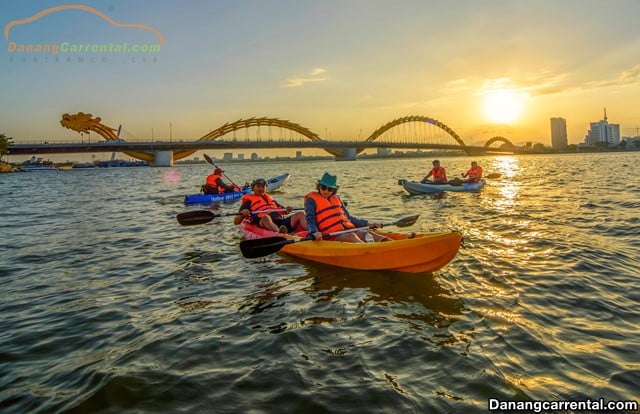 At dawn, along with relatives watching the sunrise in the sea also made many tourists impressed and excited. What is more interesting than watching the white sand stretching endlessly, feeling the clear sea, immersing in the quiet space of a dawn in the sea.
Therefore, sunrise in the sea in Danang is always a hot topic for photographers from all over the world to come.
Many adventurous travelers have had impressive experiences on Hai Van Pass, Linh Ung Pagoda, the top of the Ban Co peak, and Ba Na Hills, And also from Da Nang, in one day, visitors can conveniently arrange time to visit both Hoi An ancient town, My Son Holy Land,… because the locations are not too far away, but the traffic is easy. This is the reason that many tourists come and just want to stay in a long time.
The friendliness and hospitality of Danang people
Danang people always make impression for tourist first time. They are so friendly that they always keep smiles on their lips. Whether you get lost, want to ask for directions, want to understand more about the city, they are willing to sit and talk to you friendly and naturally.
Hence, there are stories shared by many tourists that "They have very detailed directions but I do not understand the Central accent, just stand silly so they have to take me to the place I want to go". Only one sentence has spread the friendliness of the people of Danang to all regions, the sound of the rumors is far away, the keyword searching for "Da Nang tourism" can be search more on internet.
Traveling to Da Nang, just visiting is not enough, so what to eat when you come to Da Nang is also a question. But setting foot on here, you will be no longer anxious by sidewalks vendors with enough delicious dishes – tonic – cheap bearing the taste of Da Nang in front of your eyes.
These are Quang Noodles, Banh Xeo, NemLui,… and a whole row of streets has a full range of restaurants with a rich menu made from fresh seafood, containing culinary culture everywhere.
Nice and high quality sea view hotel system
Coming to a beautiful coastal resort city like Da Nang, the problem of resort at hotels with beautiful sea view, high service attitude greatly affects the quality of your vacation. Many tourists come here, have been experienced in Da Nang hotels of international stature with comfortable and complete equipment and enthusiastic praise for this poetic city.
A series of hotel names voted on by many tourists, including the InterContinental Da Nang, Furama Resort & Villas … or the cheap hotels that always put the needs of customers first: Hilary, Dana Sea, Robin Da Nang,…
See more >> Top 10 best cheap hotels in Da Nang
Danang transportation
The most convenient means that many tourists choose is motorbike. This vehicle will help them conveniently move to every corner or on a bumpy hill road. However, there are so many transports suitable for you such as : taxi, car, cyclo,…
It is great that you choose a car as your transportation for your trip to Danang. You will clearly see the benefits that it brings: safety, comfort and convenience. We would like to recommend Da Nang car rental car rental service with affordable price and experienced driver. Rest assured because of our new model and high quality car.
Especially, we own a Limousine car with a large and large luggage compartment which is popular with many foreign customers. Wheelchairs, or child seats, are available. If there is a need, please contact us via the Hotline Ms Katharine: (+84) 91 651 02 01 or (+84) 34 797 67 89.
Danang reviews 2020 and all information about it, we have just shared with you. Do plan your trip to Da Nang after reading our article! Wish you and your family a happy journey and many memorable experiences in Danang.
---
For booking or any information please feel free to contact us:
KHA TRAN TRAVEL & TRANSPORT CO.LTD
ENGLISH SPEAKER HOTLINE – LINE – WECHAT – WHATSAPP: (+84) 91 651 02 01
Website: danangcarrental.com
Fanpage Facebook: fb.com/danangcarrental/
Hotline (Ms Katharine): (+84) 91 651 02 01 – (+84) 34 797 67 89
Email: danangcar6789@gmail.com (Sales) – khatrancarrental@gmail.com (Manager)
Office in Da Nang: No.12 Bui Xuan Phai Street, ThuanPhuoc Ward, Hai Chau District, Viet Nam