Da nang car rental is proud of being a pioneer in the field of car rental in Viet Nam. With slogan "Always listening – Always understanding – Always in service", we will bring you the most comfortable when using our services. In Da nang car rental, you have many options to choose from 4 seats to 45 seats, private car to groups car, normal car to luxury car. We are committed accompany you all the journey.
Vietnam is a safe tourist destination and is one of the few travel destinations that encompass incredible scenery, deep and heroic history. The beauty of nature is one of the major reasons to visit Vietnam. Other important reasons are opportunities to get to know local people and their unique culture.
There are so many reasons to travel to Vietnam and people who visit Vietnam will never feel short of fascinating travel experiences across the beautiful country. And now, Da nang car rental will list 10 reasons to visit Viet Nam
Breathtaking landscape
If you have opportunity to discover the hidden charm of Vietnam, you will be surprised by the intense beauties of some top-listed World Heritage Sites, namely Ha Long Bay, Phong Nha Ke Bang National Park, Hoi An Ancient Town…  
The 1500 islands and islets in Ha Long Bay form a spectacular seascape of limestone pillars. If you are a photographer or a nature lover, you will rack up piles of satisfying pictures of different subjects.
Phong Nha-Ke Bang National Park is of high conservation value as one of the largest areas of intact forest habitat remaining in Vietnam. As part of a continuous forest block with the neighboring Him Namno Biodiversity Conservation Area in Laos it forms one of the largest areas of forest on limestone karst in Indochina. The presence of tall lowland forest, which is regionally threatened as a habitat type, in the National Park increases the area's conservation value.
Some of the non-heritage sites will astonish you even more. Dalat is picturesque with many French style villas; Sapa is misty and romantic just like a girl waking up in the morning; and Vietnam's long coastline brings seemingly endless scenic sea views, leisurely and private sunbathing, or a simple stroll along the beach.
Friendly and hospitable people.
Most clients travelling with Paradise Travel send feedback on their trip experience highlighting their deep impression of the friendliness and hospitality of Vietnamese people. According to travelers, Vietnam really has a precious treasure: its people. You are warmly welcomed by local people from North to South, whether or not you are familiar with them. Ethnic minority people in Sapa especially always consider you as a friend, even if you are on your first visit to their home with a local guide. People in Hue are royal-like in attitude but welcoming, while Hoi An people are known as honest. Local farmers in the Mekong Delta always welcome you to their families with enthusiastic smiles.
Affordability
There is almost a place for every budget if you travel to Vietnam. Many budget travelers choose Vietnam on their list of destinations. There are plenty of hostels and guest houses in most cities at prices below 30 US$/ room/ night. And even high end adventure travelers often enjoy experiencing the local street food, which is both delicious and cheaper than in many other countries. In fact, although Vietnam is suffering from high inflation, with prices rising monthly, it is still a more affordable destination than many other nations.
Memorable travel experience
A unique travel experience has to suit your tastes. Are you looking for an off-the-beaten-path experience? You want to be like local people? Trek to ethnic minority villages around Sapa to photo the terraced fields, experience a home-stay here and enjoy the mountain atmosphere and lifestyle. Watch the sunrise or sunset while you are cruising the Thu Bon River in Hoi An. Paddle your kayak on Ha Long Bay to feel the magnificent beauty of thousands of islands and islets. Beyond the scenery and people, the excellent services available here will add more pages to your trip diary.
Coffee
Caffeinate up with the best coffee in the world. Vietnam is the 2nd leading producer of coffee worldwide and this stuff is good – strong, rich, and grown in the coffee plantation 20 feet away. Enjoy a cup of black coffee or iced coffee with condensed milk and watch life goes by on a corner of the street- you will never forget Vietnam. For those who would like to take some coffee home, visit Café Mai (79 Le Van Huu, Hanoi) or Highland Coffee (26 Le Loi, Ho Chi Minh City).
Tasty and exquisite cuisine
Pho noodles, Spring rolls and Bun Cha might be familiar to you, as they may be available in your country. But Vietnamese food goes beyond that and varies by region with different types of fresh vegetables, meat, poultry and seafood. Culinary adventurers are fond of exploring the foods available on the street, whereas high end customers often take meals in luxury colonial restaurants. Honeymooners are inspired by dinners in the caves, tasting delicious menus at candlelit tables. Many travellers have decided to return to Ha Long Bay simply due to the excellent and memorable seafood served onboard the traditional junks. Thus, why don't you visit Vietnam this time not only to see, do, and touch, but also to smell, taste and memorize?
Traditional festivals
Cherry flower for Lunar New Year
Thanks to its long history, rich tradition and Buddhist influence, Vietnam has festivals organized all year round- many of which are unheard of in the West and really fun to learn about. Tet holiday, for example, is an ideal time to see how families celebrate their love for their ancestors and for each other. Tet should not be mistaken or called Chinese New Year, which may even be an insult to some nationalists. It resembles the Lunar New Year in many ways, but modified with a Vietnamese feel in it. For example, in the countryside, people stay over night and make Chung cake- over a bit of fire and some end-of-year gossips. In Hai Phong, the buffalo fighting festival is a well-known occasion: the winning buffalo will get killed and presented to the village god. Even public holidays in Vietnam are worth joining: come to Vietnam on the 2nd of September and you will see nation-wide parades. The whole streets will be lighted by the red flags- and fireworks take over the sky at night. Check our events page to see what events you can join in your next trip.
World famous beaches
What is more relaxing than spending time in the blue water under the shining sun? Let the waves of Da Nang, Nha Trang or Mui Ne relieve all the stress of the busy day-to-day life. Vietnam has several of the world's top beach listing. Most of them are safe to swim and there are opportunities for water-sport activities as well. In Nha Trang, for example, you can do kite-running and wind surfing. In Da Nang, enjoy one of the world-class beach resorts- a romantic get away for couples and families alike. In Mui Ne, enjoy the quite with some added wildness while planning for your seafood dinner venture. For beach fans, Vietnam should really be on your list.
Floating Markets in the Mekong Delta
Navigate through the floating markets in the Mekong Delta. The river town of Can Tho boasts some of the most popular floating markets, but they can be found all along the Mekong. As crowded, bustling, and chaotic as street markets, the floating markets of the Mekong are truly an experience to witness.
Cu Chi Tunnel
Crawl through the Cu Chi Tunnel network just north of Ho Chi Minh City. The famed tunnels were successfully utilized by the Viet Cong during what the Vietnamese call the "American War." Many of the tunnels were bombed during the war, but the Cu Chi network is one of the best preserved and most stirring. The famed Ho Chi Minh Trail is also nearby and accessible for exploration.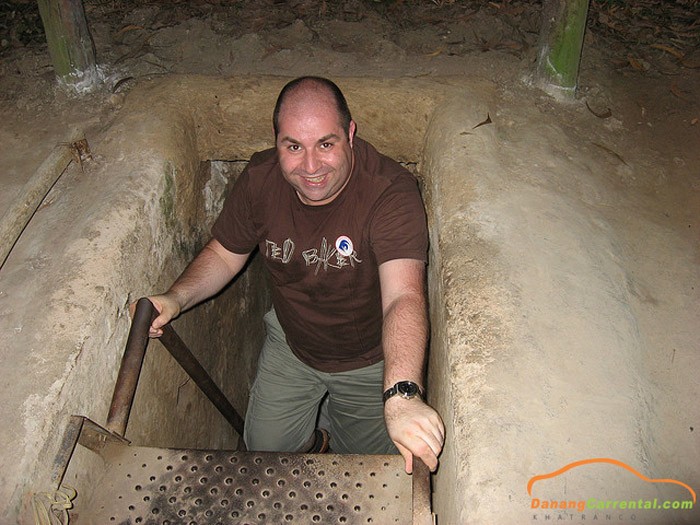 Cu Chi Tunnel
Vietnam is a difficult country to travel based on communication difficulties, limited infrastructure, and confusing customs, but it's exactly this difficulty that makes the experience unique and rewarding. The highlights listed above barely scratch the surface of Vietnam's attractions, but it's high time for you to discover the rest for yourself!
(From: www.vietnamparadisetravel.com)