My Khe beach is one of the six most attractive beaches in the world by Forbes – American Economic Magazine. My Khe beach is about 900m long with long and flat sand, sunlight and wave levels are suitable for playing sports. In addition, there are luxury resorts and villas of international standard.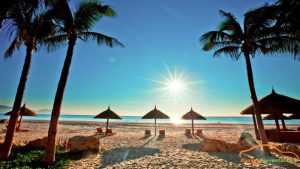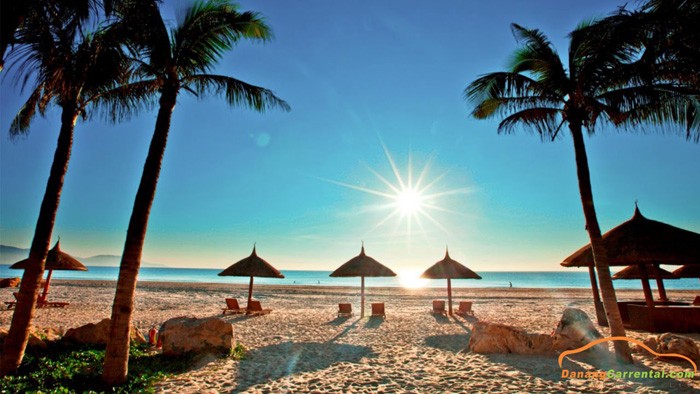 THE BEST TIME TO MY KHE BEACH
Suitable time to My Khe Beach is in summer, from April to September. By this time in My Khe Beach is blue seawater, sunny sun, is the most beautiful time travel.
TRANFER TO MY KHE BEACH
To travel to My Khe Beach – Da Nang you can go by the following transports:
Getting to My Khe Beach by air
From Ha Noi to Da Nang, ticket price range from VND600,000 to VND2,200,000. It takes 1 hour and 30 minutes to get to Da Nang. Sai Gon to Da nang is the same. Some airlines should refer to: JetStar, Vietnam Airline and VietJetAir.
Getting to My Khe Beach by train
From Hanoi or Saigon, there is always train to Da Nang (North-South route). Ticket prices range from VND 300,000 to VND 1,200,000 depending on type of boat and type of seat. Visitors will take 14 – 20 hours to arrive (from Saigon will be longer, because the distance is longer)
When you have arrived in Da Nang, you continue to take taxi and tell driver to put into My Khe beach.
Getting to My Khe Beach by Car
Car to Da Nang are usually the North-South route. Visitor will take 18 – 20 hours to arrive Da Nang.
From Ha Noi to My Khe Beach: Giap Bat Coach Station or Nuoc Ngam Coach Station. The ticket prices range from VND 400,000 to VND 500,000.
From Sai Gon to My Khe Beach: Mien Dong Coach Station. The ticket prices range from VND 400,000 to VND 500,000.
When visitors come to Da Nang to get to My Khe Beach, visitors can pick up Taxi of motorbike for rent with prices range from VND 60,000 to VND 150,000/ 1 motorbike/ 1 day.
Da Nang car rental to My Khe Beach from airport/station is an ideal choice for visitors who want to find an ideal place to relax after a long trip. With Da Nang car rental, visitors can choose car model with the best price and services. Visitors can visit the attractions places of Da Nang such as Asia Park, Marble Mountain, Son Tra Peninsula,… In addition, visitors can Ba Na car rental, Hoi An car rental,….
PRICE IN USD PER CAR RENTAL DA NANG AIRPORT / TRAIN STATION TO MY KHE BEACH
For car rental from Da Nang to My Khe beach quotes, please contact us via hotline (+84) 91 651 02 01 or email danangcar6789@gmail.com
Service Includes:
New and air conditioned car, Fuel, Driver Allowance
Toll fee and parking fee
Free wifi – Wet Tissues – Mineral Water
Note
Rate in USD/ transfer
Rate is quoted in USD, however payment will be settled in VND according to daily exchange rate of the State bank or Vietcombank
Rate is not applied for festival seasons. Please make reservation at least before 24 hours. And provide us your flight details and accommodation detail.
Fleet car of Kha Tran – Da Nang car rental services: Model 2016 – 2018
9 seats VIP Ford Dcar Limousine
4 seats car: Chevrolet Cruze; Toyota Vios; Toyota Altis; Toyota Altis; Toyota Camry; Mercesdes C200, C250, E250; Audi A4, A5, A6, A7.
7 seats car: Toyota Innova; For Everest; Chevrolet Captival; Toyota Fortunner; Huyndai Santafe.
16 seats minibus car: Ford Transit; Mercedes Printer (model 2010 – 2012); Toyota Hiace.
24 – 29 seats car: Isuzu Samco; Huyndai County; Thaco County; Thaco Town.
34 seats car: Huyndai Thaco; Isuzu Samco; Thaco Town; Huyndai Univer.
45 seats car: Huyndai Universe; Huyndai Space; Huyndai Hiclass.
For booking or any information please feel free to contact us:
ENGLISH SPEAKER HOTLINE – LINE – WECHAT – WHATSAPP: (+84) 91 651 02 01
We also supply bussiness and tour car rental services in Da Nang, Hue, Hoi An daily, monthly or long term period with special offers. Please email us danangcar6789@gmail.com for detail information
Booking Online