Thien Duong Cave or Paradise Cave is one of the most beautiful caves of Vietnam and all over the world. Together with Phong Nha Cave,Dong Thien Duong is the most attractive destination in Quang Binh. Likely as the name of Thien Duong, when you come here, you will get lost a completely different world, extremely new and full of amazing landscapes – all created by the hand of "mother of nature".
 Experiences Of Travelling to Thien Duong Cave
Phong Nha also retains the original nature, so if you have passionate travelling, you can not miss this place. Kindly to refer to the experience of traveling to Thien Duong Cave that Kha Tran car rental share below to have the most complete trip to this paradise!
How to get to Paradise cave, Quang Binh?
Vietnam Airlines, Vietjet Air and Jetstar Airlines operate flights from Hanoi and Saigon to Quang Binh with fares from 400,000 VND to 1,500,000 VND. Moving to Quang Binh by train is the choice of many visitors by the safety, reasonable fare.
You can also pick up a passenger car, or rent a car to go to Thien Duong Cave on a large group. If departuring from Da Nang, it will take you 5 hours to get there. Thien Duong Cave is located in Phong Nha Ke Bang National Park, so you can go by motorbike or rent a car to Bo Trach then go through the forests to explore and visit the Thien Duong Cave.
See more >> Da Nang to Paradise cave by car
Direction the way to Dong Thien Duong Cave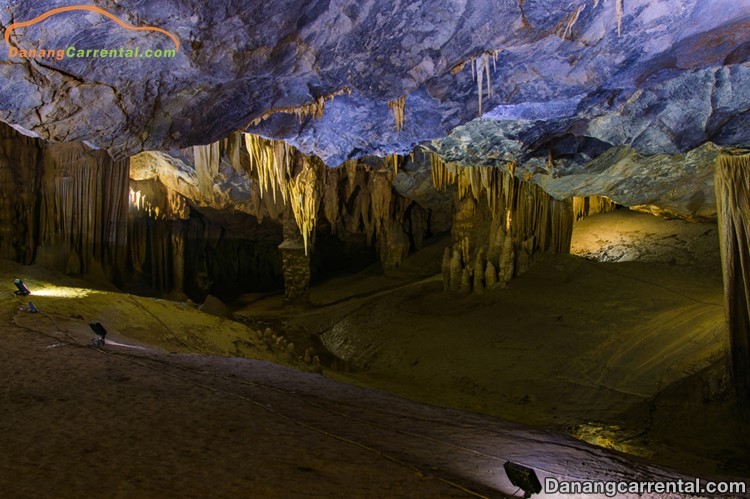 From Dong Hoi, go straight on Ho Chi Minh trail about 30 km and then you will go to the junction for Phong Nha, Ke Bang. From the fork and take the left hand track of the road to the Indochina T-junction. Then you turn left direction Sea Beach 16 km to the resort. You park the car there and then go for a further 1.5 km and climb 524 steps to reach the gateway of Thien Duong Cave.
Note:
You can rent a motorbike taxi to the foot of the mountain, which costs about 60.000 VND , followed by a climbing 524 steps up the mountain that also requires you have a good healthy.
Take the breathtaking scenery from the Ho Chi Minh T-junction to Thien Duong cave. This is also an area with many undeveloped caves so the feeling of cool, windy will make you remember forever unforgettable.
The best time to visit Thien Duong Caves
If you want to explore the Thien Duong Cave, you should choose the time from April to August. Because this weather favorable weather, less rain and suitable to go through the forest, explore the cave.
How long to discover the cave?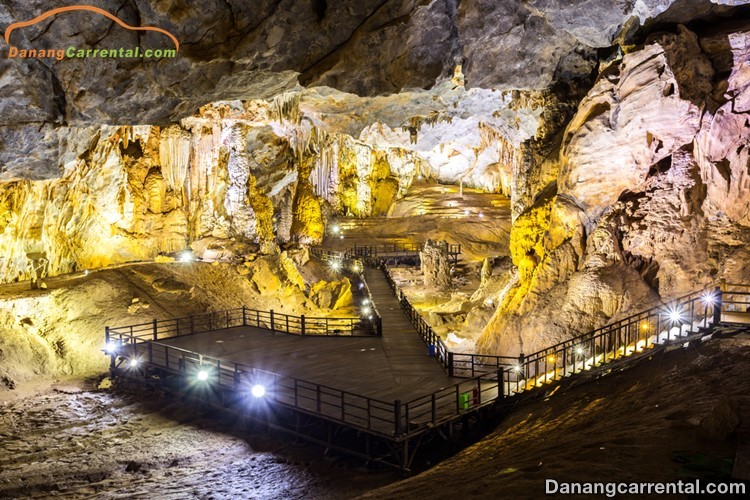 You can spend about a day to admire the stalactites and miraculous artifacts of nature in Thien Duong cave. Then, spend one or two days exploring Phong Nha – Ke Bang National Park – one of the most unique and rich ecosystems in Vietnam.
Visiting 7 km inside 
This cave is an extremely famous natural wonder in the heart of Phong Nha – Ke Bang National Park. The length of up to 31.5 km to the height of 40 to 100 m and the width to 150 m. It's very cool temperatures range from 18 to 19 degrees Celsius.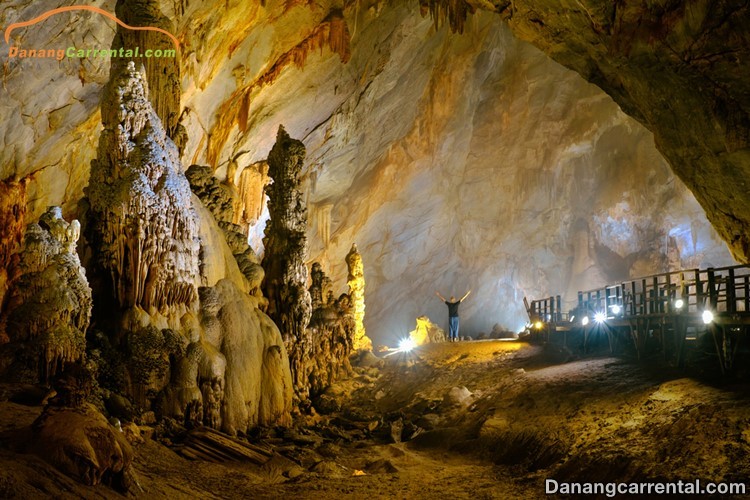 Heavenly Paradise has many caves that run after each other, along with numerous stalactites for millions of years, flowing from the ceiling of the cave to the ground with countless strange shapes. Just set foot on here, you will be overwhelmed by the sparkling, fanciful beauty of the stalactite system here.
Fare to Thien Duong cave: 250.000 VND / person.
The price of electric car is 60.000 VND / way or 100,000 VND / 2 ways
5 unforgettable experiences that you can not ignore in Thien Duong caves
Conquer 500 steps stairs of stone
Before you enter the fascinating area, you must overcome the first challenge of conquering 500 steps stairs of stone along the mountain slopes.
Overcome 1000 meters of wooden stairs
After the stone steps, you will admire this wonderful cave by enamel under nearly 1000 meters of wooden stairs winding in the cave.
Admire the stalactite system
Formed through the hundreds, thousand years of stone pillars, stalagmites in the heart of Thien Duong cave which created a beauty like the heaven.
Underground stream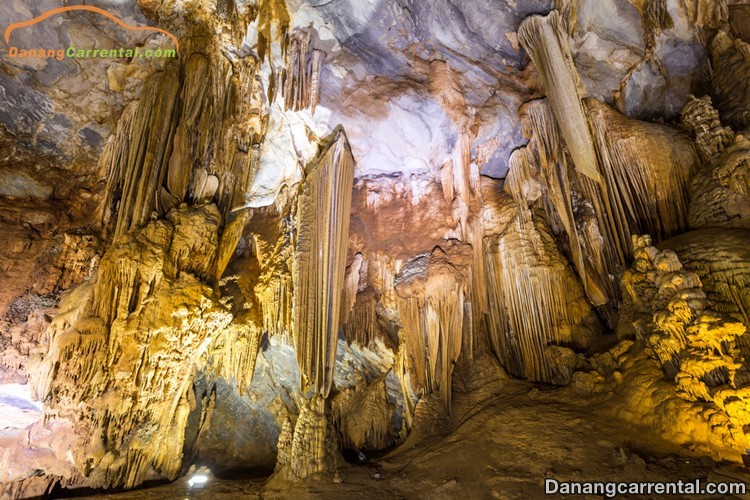 Along with the large stone pillars, Dong Thien Duong also has an underground system running underground. In some sections, you can go by kayaking to discover and enjoy the stalactites.
Area of the oculus
It is the named as the place of reconciliation between heaven and earth, you will see the glow of light from the ceiling to the bottom as the light shining down from heaven.
Eating at Thien Duong cave
There is no food service and there are no snacks available so you can bring snacks during your sightseeing trip. If you want to find a stop to enjoy the specialties Quang Binh with good prices should stop at the Mooc waterfall restaurant with a fee for a meal at about 100.000 VND / per.
For the most perfect experience, visitors can choose the professional car travel service at Kha Tran Car rental to visit the Thien Duong cave and other famous landmarks and caves during the journey.
We hope to bring you an interesting information in your tour to Thien Duong cave. For more specific quotes, do not hesitate to call us via hotline Ms Katharine: (+84) 91 651 02 01 or (+84) 34 797 67 89.
Wish you have a fun trip with many memorable experiences!
Kha Tran Car Rental
---
For booking or any information please feel free to contact us:
KHA TRAN TRAVEL & TRANSPORT CO.LTD
ENGLISH SPEAKER HOTLINE – LINE – WECHAT – WHATSAPP: (+84) 91 651 02 01
Website: danangcarrental.com
Fanpage Facebook: fb.com/danangcarrental/
Hotline: Ms Katharine: (+84) 916510201– : (+84) 34 797 6789
Email: danangcar6789@gmail.com (Sales) – khatrancarrental@gmail.com (Manager)
Office in Da Nang: No.12 Bui Xuan Phai Street, ThuanPhuoc Ward, Hai Chau District, Viet Nam.