The central province of Thua Thien – Hue held a ceremony on May 4 to announce its tourism identification logo.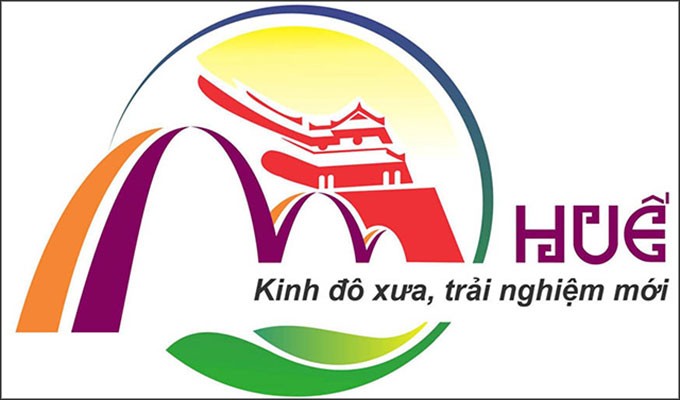 Logo and slogan of Thua Thien – Hue tourism
Speaking at the event, Deputy Director of the provincial Department of Tourism said the logo comprises a corner of Five-Phoenix Pavilion, several spans of Trang Tien bridge, and the external circle as a rising sun.
The logo, mostly in purple and red colour, is designed by Nguyen Thien Duc and Nguyen Phu Duc.
Tourism is considered a spearhead economy of the province with the tour "Hue – One Destination, Five Heritages". In the four months this year, Thua Thien – Hue welcomed more than 1.5 million visitors, up 40 percent annually. Of them, over 600,000 were foreigners, up 70 percent.
In particular, over 400,000 arrived in the province during the freshly concluded Hue Festival 2018, half of them were foreigners.
This year, the provincial tourism sector strives to serve 4 – 4.2 million tourists, marking a 10-12 percent increase year-on-year, 40 – 45 percent of them were foreigners. Those staying overnight reached 2.1 – 2.2 million, up 17-19 percent, bringing nearly 4 – 4.2 trillion VND (177.7 – 186.7 million USD) to the local State budget.
Hue city was the imperial capital of Vietnam for hundreds of years. It is home to five UNESCO-recognised heritages, namely the Hue ancient citadel relic complex – a World Cultural Heritage site; Nha Nhac (Hue royal court music) – an intangible cultural heritage item; Nguyen Dynasty's wood blocks – a documentary heritage item; Nguyen Dynasty's Chau ban (royal administrative documents) – part of the Asia-Pacific Register of UNESCO's Memory of the World Programme; and literature on Hue royal architecture – a documentary heritage.