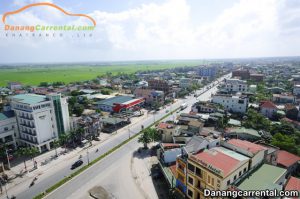 Dong Ha City is an economic, political, cultural and social center of Quang Tri Province, north borders Cam Lo and Gio Linh districts, south and east borders Trieu Phong district, west borders Cam Lo district. Visitors are staying in Da Nang and visitors would like to transfer from Da Nang to Dong Ha. Da Nang Car rental offers transfer from Da Nang to Dong Ha by Car rental.
How to get from Da Nang to Dong Ha (Quang Tri)?
From Da Nang to Dong Ha about 172 km on high way 1A. Da Nang to Dong Ha by Car rental takes about 3 hours 30 minutes transfer without stop. From Da Nang to Dong Ha, visitors will go through many landscapes such as Hai Van Pass, Lang Co Bay, Luxury resorts, Hue Citadel, La Vang,… make the trip more exciting.
On the way from Da Nang to Dong Ha, visitors can stop at Hai Van Pass – one of the most scenic and dangerous roads in Viet Nam. And next, Lang Co Bay – one of the most beautiful bays in the world. In Lang Co, visitors can delicious some special seafood with fresh and reasonable price. Come to Hue, visitors can visit Relics Of the Ancient Capital of Hue – It was recognized by UNESCO as World Cultural Heritage. To Quang Tri province, Quang Tri Citadel and Hien Luong Bridge are places that visitors can not be ignored.
Kha Tran Car rental is committed to bring visitors the most perfect services.  Visitors can view more details and booking on website danangcarrental.com or hotline  (+84) 916510201 – (+84) 34 797 6789.
PRICE IN USD PER CAR FROM DA NANG TO DONG HA
For car rental from Da Nang to Dong Ha quotes, please contact us via hotline (+84) 91 651 02 01 or email danangcar6789@gmail.com
See more at Da Nang private car service
Service Includes:
New and air conditioned car, Fuel, Driver Allowance
Toll fee and parking fee
Free wifi – Wet Tissues – Mineral Water
Note
Rate in USD/ transfer
Rate is quoted in USD, however payment will be settled in VND according to daily exchange rate of the State bank or Vietcombank
Fleet car of Kha Tran – Da Nang car rental services: Model 2016 – 2018
9 seats VIP Ford Dcar Limousine
4 seats car: Chevrolet Cruze; Toyota Vios; Toyota Altis; Toyota Altis; Toyota Camry; Mercesdes C200, C250, E250; Audi A4, A5, A6, A7.
7 seats car: Toyota Innova; For Everest; Chevrolet Captival; Toyota Fortunner; Huyndai Santafe.
16 seats minibus car: Ford Transit; Mercedes Printer (model 2010 – 2012); Toyota Hiace.
24 – 29 seats car: Isuzu Samco; Huyndai County; Thaco County; Thaco Town.
34 seats car: Huyndai Thaco; Isuzu Samco; Thaco Town; Huyndai Univer.
45 seats car: Huyndai Universe; Huyndai Space; Huyndai Hiclass.
For booking or any information please feel free to contact us:
ENGLISH SPEAKER HOTLINE – LINE – WECHAT – WHATSAPP: (+84) 91 651 02 01
We also supply bussiness and tour car rental services in Da Nang, Hue, Hoi An daily, monthly or long term period with special offers. Please email us danangcar6789@gmail.com for detail information
Booking Online